I don't know about you, but I find it hard to get my daily recommended dose of green veggies. Our list of Spinach smoothies recipes is the best way to get your daily dose of green veggies.
Common Ingredients In Spinach Smoothie Recipes
Pineapple, Mango, Blueberry, Cherries, Kiwi, Kale, Strawberries, Raspberries, Berries, Bananas, Apples, Yogurt, Almond Milk, Avocado, Watermelon, Orange Juice, Soy Milk, Coconut Milk, Frozen Berries, Frozen Strawberries, Frozen Mango, Frozen Peaches, Frozen Bananas, Other leafy greens, Pears, Blackberries, Papaya. Baby Spinach
Greek yogurt, hemp seeds, plain yogurt, vanilla yogurt, low-fat yogurt, kefir, tofu, almond butter, different types of nut butter, almonds
Other Spinach Smoothie Add-ins
Flaxseeds, Chia seeds, Ginger, Tumeric, Hemp Seeds, Protein Powder, Nuts, Oats, Cinnamon
How To Make the Best Spinach Smoothie
The first thing you need is a good blender. This is especially important if you want to avoid those pesky leafy bits from spinach. Our favorite models are Vitamix and Blendtec. 
If you don't have a powerful blender, blend the liquid and spinach into a puree and then mix in your other ingredients. You will find you have a smoother, creamier smoothie.
The apple and banana in this smoothie make it a creamy green smoothie that is hard to resist. The flaxseed and yogurt add an extra nutritional punch to this smoothie.
Strawberries, bananas, and pineapples are my favorite fruits for spinach smoothies. I feel like I have hit the jackpot when I find a smoothie recipe that uses all three fruits. The addition of chia seeds will give you a daily dose of omega-3s.
The mild flavor of spinach makes it the perfect addition to green smoothies for a nutritious start to the day. You barely taste the spinach when combined with the pineapple, bananas, and apples in this recipe.
The mild flavor of spinach makes it the perfect addition to smoothies for a nutritious start to the day.  You barely taste the spinach when combined with the pineapple, bananas and apples in this recipe.
The natural sweetness of apples and bananas is a perfect combination for spinach. This smoothie uses water; however, if you require a creamier texture, you can add almond milk.
Easy to make and healthy, what more could you ask for? Like most of the spinach recipes on our list, the fruits in the smoothies disguise the green taste of spinach. This recipe is no exception, with the addition of apples and bananas.
The combination of berries and spinach in this smoothie is irresistible! Strawberries and blueberries are paired with spinach, greek yogurt, and soy milk, making this smoothie an irresistible option for your morning smoothie.
Smoothies make fruits and vegetables taste so good. Even your kids will love this smoothie recipe. Adding pineapple, mango, and yogurt disguises the taste of spinach. You won't even know that the smoothie contains spinach.
I bet you didn't think a spinach smoothie could taste like a creamy peanut butter banana shake!  The ingredients in this smoothie are simple: spinach, peanut butter, almond milk, banana, and mixed berry.  An added plus is it only takes 2 minutes to prepare.
You will love this recipe if you are not a fan of bananas. The main ingredients in this smoothie are spinach, blueberries, oats, and protein-rich Greek yogurt. The oats and greek yogurt add some bulk, so this is a perfect breakfast smoothie.
This smoothie is easy to make and, like most of the smoothies on our list, absolutely delicious. This smoothie utilizes some of our favorite smoothie ingredients, such as pineapples, ginger, and coconut water.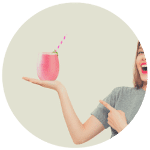 Hi, I am Charms, a self-confessed smoothie fanatic!  Here I will share some of my favorite smoothie recipes, tips and guides and gear reviews.   Learn more .