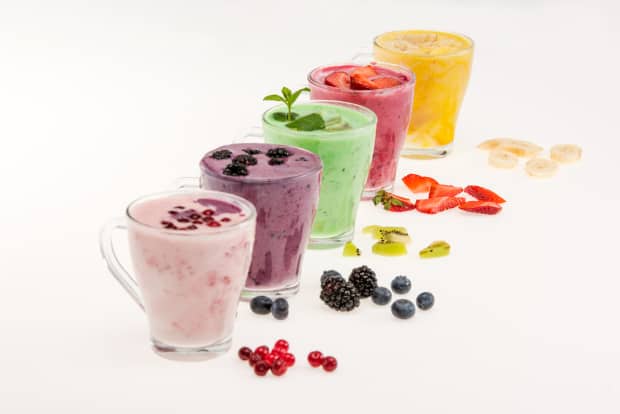 I don't know about you, but I am a great fan of the magic bullet blender. As a matter of fact, it was my first personal blender before I upgraded to its bigger cousin, the nutribullet.
I don't know about you, but I loved the compact size of the personal blender, the fact that it was reasonably priced, and it's great for single-family households. So as a new owner and a smoothie fanatic, I am sure you have been searching for some magic bullet smoothie recipes.
We have included a comprehensive list of blender recipes below for your blending pleasure.
Common Ingredients for Magic Bullet Smoothie Recipes
Strawberries, Blueberries, Mangoes, Coconut, Pineapple, Kiwi, Honeydew Melon, Matcha, Orange, Ginger, Carrots, Tumeric, Ginger, Maca Powder, Almond Milk, Coconut Milk, Coconut Water, Soy Milk, Nut Milk, Tofu, Spinach, Frozen Berries, Kale
Protein Powder, Hemp Seeds, Cashew Nuts, Nut Butter
Honey, Dates, Stevia, Monk Fruit, Ripe Bananas
What Can You Make With a Magic Bullet
A Magic bullet is a versatile blending apparatus. You can chop onions, mince garlic,  and make smoothies, sauces, Salsa, guacamole, pesto, or hummus.
How To Use a Magic Bullet for Smoothies
For the best blending experience, you can add your smoothie ingredients in the following order: (1) greens, (2) fruits, (3) powders, seeds, and nut butter, (4) liquids (5) ice. If you are having problems with blending consistency, add more liquid.
Magic Bullet Smoothie Recipes
I don't know about you, but the word creamsicle brings a smile of fond childhood memories to my face. This orange smoothie is a bright and refreshing way to start your day. Adding vanilla yogurt and bananas provides just the right amount of creaminess.
This blueberry banana smoothie will have you smiling from ear to ear. It's packed with nutritious fruits and vegetables such as blueberries and spinach. Additionally, it contains tofu which provides a healthy serving of protein. This flavorful smoothie is a great way to start your day.
Get a taste of the tropics with this green smoothie! Spinach is rich in vitamins and minerals. On the other hand, the Pineapple and Kiwi give you the fruity sweetness needed for any green smoothie. Adding hemp seeds for an extra nutritional boost is a nice touch.
This smoothie is easy to make and great for any time of the day. This strawberry banana smoothie only contains four ingredients, strawberries, bananas, orange juice, and some ice.
It's hard to go wrong with blueberries and bananas in your protein smoothie. The almond milk gives it a nice creamy texture. Adding the plant-based vanilla-flavored protein powder gives you a healthy dose of protein. This smoothie is great for someone looking for a healthy breakfast on the go.
Don't be fooled by the name chunky monkey; this smoothie is a nutritional powerhouse. The base liquid is nut milk. You can use almond milk, cashew milk, or any other nut milk. The chocolate protein powder gives you a healthy dose of protein, and the frozen banana is a natural sweetener and gives you a thick creamy texture.
Just the thought of mangoes transports me back to the Caribbean. Sweet bananas, juicy mangoes, and zingy ginger are a dream team. Adding spinach and flaxseeds gives it an extra nutritional boost.
I love adding matcha to my smoothies because it contains antioxidants. This smoothie has a unique green tea flavor which is boosted by spinach, bananas, and coconut flakes.
It's always hard to get kids to eat spinach and broccoli. This healthy smoothie recipe disguises the taste of spinach and broccoli with strawberries and bananas. Your kids will love the sweet flavor of the fruits and will end up begging you for more.
The addition of kiwi provides extra fruity goodness to your smoothie. This triple-berry goodness is full of antioxidants and vitamin C. It's hard to go wrong with a combination of strawberries, blueberries, and raspberries in your fruit smoothie. You can add some green vegetables, such as spinach or kale, to your smoothie if you are inclined.
This smoothie is a great option for breakfast and is guaranteed to keep you full until lunchtime. I love the combination of spinach, green apples, and bananas. The addition of hemp seeds and chia seeds provides an extra nutritional punch.
Bananas and beets are a great combination and will make you feel energized. The bananas and berries are natural sweeteners. I like that this smoothie recipe uses coconut water which is one of my favorite liquid bases for smoothies.
If you like Pina Coladas, you will love this recipe! This smoothie has the great flavor of Pina Coladas, but it's packed with healthy stuff. I don't know about you, but pineapples are one of my favorite fruits for smoothies. The addition of vanilla almond milk, greek yogurt, and bananas make this smoothie an excellent way to enjoy a healthy breakfast or snack.
Melons are an underrated smoothie ingredient. I wish it were used more in smoothie recipes since it gives smoothies a unique flavor. This recipe combines honeydew and canteloupe melons with coconut water for a light, refreshing flavor. The addition of power greens provides an extra nutritional boost.
This vibrant yellow smoothie is guaranteed to brighten up your day. Adding carrots, oranges, and mangoes provides high doses of antioxidants such as beta-carotene. These fruits are also a good source of vitamin c and vitamin a. An added plus is the addition of potent spices such as ginger, turmeric, and cayenne which offer anti-inflammatory and immune-boosting properties.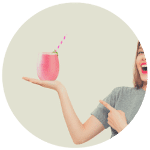 Hi, I am Charms, a self-confessed smoothie fanatic!  Here I will share some of my favorite smoothie recipes, tips and guides and gear reviews.   Learn more .