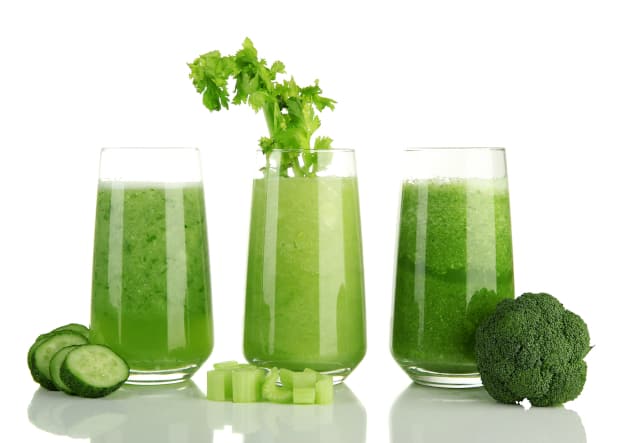 The main thing I like about the alkaline diet is it reinforces clean eating. This diet is based on the premise that acid-forming foods should be replaced with alkaline foods, which will increase good health.
We have incorporated several alkaline foods into our list of alkaline smoothie recipes below.
What Is an Alkaline Diet and What Is an Alkaline Smoothie?
The alkaline diet is based on the premise that some foods cause your body to be acidic, which is harmful to your body.
It is felt that if your body is in an acidic state, it is more hospitable to such diseases as cancer.
Supporters of the alkaline diet believe that you can change your body's acid or pH level by eating certain foods and liquids. The range of pH levels is on a scale of 0-14.
It is felt that something is alkaline if it has a pH of 7 or greater. The diet does, however, have its detractors, and there is not much scientific research to support the validity of this diet. 
The alkaline diet does, however, promote good, old-fashioned healthy eating with its emphasis on green vegetables and nutritionally dense food and its aversion to red meats and processed foods.
The alkaline diet recommends certain fruits and vegetables that are alkaline. Our smoothie recipes below utilize these ingredients.
There are not many alkaline fruits. The only exceptions that I discovered are avocados, grapefruits, lemons, limes, and coconuts. There are, however, a few fruits that are mildly acidic.
A few fruits that are rated as mildly acidic are:
Berries (black), Berries (blue), Raspberries, Cranberries, Guava, Kiwi, Watermelon, and Tangerines.
A few fruits that are rated as moderately acidic are:
Papaya, Mangoes, Grapes, Apricots, Apples, Bananas, Peaches, and Pears.
I used the alkaline chart on this site.  While researching, I recognized that the definition of the alkaline/ acidic value of fruits tends to differ, so think of the information listed as a rough estimate.
Vegetables That Are Alkaline
Fortunately, some of our favorite smoothie ingredients are on the higher end of the alkaline charge. We have included a list below:
Spinach – Spinach is a prevalent ingredient in smoothies mainly because it has a mild taste and is healthy. If you want a list of easy spinach smoothie recipes, click here. 
Kale – Kale is hands down my favorite smoothie ingredient. I love that it has a mild taste, so it blends well with other fruits and vegetables.
Cucumbers – If you don't want to add just plain water to your smoothie, add a few cucumbers. Cucumber is another vegetable on our list that has a mild taste.
Broccoli – Broccoli is not a very common smoothie ingredient. I lightly steam my broccoli before adding it to my smoothie.
Beets – Beets are an acquired taste; you either love them or hate them. I use beets sparingly in my smoothies. If you use too much, it can overwhelm the taste of the smoothie.
Cabbage – This is not a common smoothie ingredient; however, if you are trying to get your daily dose of cabbage, adding it to your smoothie is a great way to incorporate cabbage into your diet.
Carrots – Carrots are usually used for juicing. However, it is another excellent addition to your smoothie. Make sure you have a strong blender. If you have a weak blender, you will find bits and pieces of carrots in your blender,
Avocado – Avocado is a great way to thicken and increase the creaminess of your smoothie. An added benefit is the additional nutritional benefits.
Collard Greens –  I love adding collard greens to my smoothies. Collard greens have a mild taste and are nutritionally dense.
Celery – Celery tends to have a mild taste, so if you add it to a smoothie, you probably won't know it's there.
Watercress – Watercress has a unique taste. I prefer to avoid adding watercress to my smoothies. If you do add watercress, use it sparingly in your smoothies.
Benefits of Alkaline Smoothie
Studies have been skeptical about the ability of the alkaline diet to change your blood PH level. 
However, the alkaline diet does emphasize nutritionally dense foods such as spinach and kale., so having a smoothie utilizing these ingredients is always a good thing. 
Alkaline Smoothie Recipes
Starting your day with a green juice packed with nutrients is a great way to start your day. This recipe is packed with alkalizing ingredients such as spinach, lemon juice, cucumber, and ginger. The low-acid fruits of honeydew melon and kiwi add some extra sweetness.
An alkaline smoothie is the best way to start your morning. However, even though the smoothie is packed with nourishing goodies, you might get hungry before lunchtime. This smoothie alleviates this problem and will keep you hunger-free until lunchtime.
This alkaline smoothie differs from the smoothies. However, it is a great addition to our list since it contains some of the most alkaline foods. The main ingredients in this smoothie are spinach, grapefruit, tomato, and carrots
I love adding avocados to my smoothies. They give the smoothie a nice creamy texture. An added plus is they are one of the top alkaline ingredients. This smoothie also contains other green goodies such as kale, spinach, and swiss chard.
Consuming an alkalizing smoothie first thing in the morning is the best way to start your day. This smoothie contains alkalinizing greens such as kale, spinach, cucumbers, celery, and cilantro. The addition of avocado makes this smoothie extra creamy. This recipe is delicious and nutritious.
This green smoothie powerhouse is packed with alkaline vegetables. The ginger gives it an extra zing, and the carrots are a great sweetener. This recipe consists of watercress, chard, beetroot, and baby spinach.
This smoothie reminds me of a spiced shake. The liquid base is coconut milk or almond milk. The avocado in this smoothie helps to thicken the smoothie. This smoothie is spiced with cinnamon, ginger, nutmeg, and cardamom.
This smoothie does contain some fruit. In this case, it's cherries that are not an alkalizing product. You will find most fruits are not alkalizing. However, cherries are a good choice if you want to use fruits. This smoothie also contains kale and beet, two very alkalizing products.
This green goddess smoothie will make you feel like a goddess in the morning. As with most of the alkalizing smoothies on our list, the main ingredients in this smoothie recipe are green leafy vegetables such as spinach or kale.
This smoothie uses coconut milk, one of my favorite liquid bases for smoothies as its liquid base. Blueberries act as a natural sweetener. This smoothie also contains spinach and almond butter.
This alkalizing smoothie is one of the simplest smoothies on our list and can be ready in 10 minutes are less. Yes, it's that easy to prepare! The main ingredients are cucumber, kale, and coconut water. You can add a little honey if you need to sweeten the smoothie.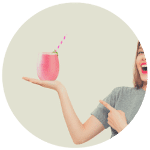 Hi, I am Charms, a self-confessed smoothie fanatic!  Here I will share some of my favorite smoothie recipes, tips and guides and gear reviews.   Learn more .