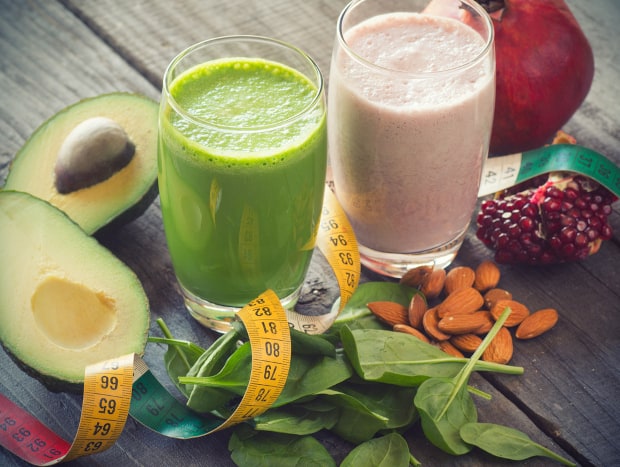 As someone who has consumed a million and one smoothies in her time, I can confidently tell you that not all smoothies are created equal.
Some smoothies have left me full for hours, and others have had me raiding the fridge because I felt like I hadn't eaten anything all morning.
Studies show that liquids don't provide the same satiety as solid foods.
Smoothies are like most things in life; you get what you put into them. Smoothies can serve as a meal replacement and weight loss option when done right.
Below are some of the foods you should consider adding to your smoothie, a few tips, and a list of our favorite weight loss smoothie recipes.
What Smoothies Are Good for Weight Loss
Research studies have shown that smoothies can be a great weight loss option if done right. You are looking for smoothies that contain fiber, protein, and healthy fats. This will help you to feel full for a more extended period of time.
How To Make Smoothies for Weight Loss
Base Liquid: You want to choose a base liquid for your smoothie that is low in calories. An ideal choice is water or coconut water. You can also use unsweetened nut milk. Avoid using fruit juices as your liquid base since fruit juices contain a lot of sugar.
Protein: A high-quality protein is essential for your smoothie. Protein not only helps with satiety, thus keeping hunger at bay, but it is essential for building and repairing muscles. Diets higher in protein have been touted as a successful strategy for improvements in body weight management. If you are using protein powders, make sure you use protein powders with little to no added sugars and zero artificial ingredients.
Healthy Fats: Researchers state that healthy fats are a major source of energy, and it helps you to absorb some vitamins and minerals. Most importantly, healthy fats make you feel fuller for a longer time period.
Fiber: Fruits and vegetables will provide most of your fiber and nutrients for your smoothie. Fiber also helps you feel fuller longer, thus staving off those hunger pangs.
Low Sugar: You want to limit added sugar since they increase your calorie intake and provide minimal nutritional value.  
Common Ingredients for Weight Loss Smoothie Recipes
Fruits: Blueberries, Strawberries, Raspberries, Acai Berries, Mango, Banana or Frozen Banana, Frozen fruit, Pineapple or Frozen Pineapple.
Vegetables: Spinach, Kale
Proteins: Plant-based protein powders, Greek Yogurt, Kefir
Healthy Fats: Cashew butter, Almond Butte
Add-ons: Oats, Nut Milks, Coconut Milk, Cacao, Chia seeds, Flax seeds, Vanilla extract, Cinnamon, Green Tea, Spirulina
Healthy Smoothie Recipes for Weight Loss
Smoothies To Lose Belly Fat
This avocado banana smoothie is extremely simple with just four ingredients.   The ingredients are avocado, coconut milk, cacao powder, and a banana.  This site reminds me of a healthy version of a chocolate milkshake.
This recipe not only blasts belly fat, but it's also delicious! The addition of greek yogurt provides protein and calcium, and the addition of chia seeds and blueberries provides added nutrients.
Give your belly some love with this smoothie. This smoothie has a bit of everything that combines into a delicious and nutritious concoction. This recipe has a lot of protein, calcium, and fiber and will help to keep you full. I love that it also includes a large amount of spinach for an extra nutritional boost.
Protein Shake Smoothies for Weight Loss
This blueberry banana protein smoothie tastes as good as it looks! It is chock full of protein, and if you want extra protein, you can add a serving of protein powder to this smoothie. The combination of blueberries, bananas, and vanilla extract makes this smoothie a delicious and nutritious treat. The addition of chia seeds is a plus for this smoothie.
Mango and raspberry is not a combination you will often see in smoothies, but it definitely works. This smoothie only has four ingredients, but it is high in protein and low in sugar. If you want to experiment, you can garnish this smoothie with nut butter, nuts, chia seeds, or hemp seeds.
Fruit Smoothies for Weight Loss
The fun thing about making smoothies at home is that you control what goes into it. This smoothie is a healthy version of a pina colada with the addition of pineapples, coconut milk, and coconut flakes to top it off.
This smoothie has only 277 calories and is delicious to boot! This weight loss smoothie recipe has some of my favorite ingredients, blueberries, and spinach. The banana offers a natural sweetener, and it provides a good dose of protein with the addition of a pea protein powder.
Do not let the name of this smoothie fool you. It sounds downright decadent, doesn't it, with the mention of peanut butter, blueberry, and banana. However, this smoothie is a great way to start the day. The ingredients such as blueberries, peanut butter, spinach, hemp seeds, bananas, and a scoop of a plant-based protein powder make this smoothie a great way to start the day.
This recipe uses two of my favorite fruits for smoothies, strawberries, and blackberries. The addition of banana adds some creaminess to your smoothie and helps to sweeten your smoothie. Pea protein provides protein that will help to keep you full longer.
Green Smoothies for Weight Loss
I won't lie; spirulina is really not the best thing to add to a smoothie. If you add too much, you will think you are drinking pond scum. This smoothie recipe achieves a miracle of sorts. It's managed to make a smoothie recipe that uses spirulina palatable
The beauty of using kale in a smoothie is it has a very mild taste and combines well with most smoothie ingredients. An added benefit is that it is a nutritional powerhouse. This recipe incorporates unsweetened peanut butter, banana, and unsweetened almond milk.
This recipe is a great way to start the day, and with only five ingredients, it is the ideal smoothie for when you are in a hurry and time is not on your side. Even though this smoothie has only five ingredients, it has the perfect combination of healthy fats, protein, and fiber.
This is a great green smoothie for weight loss. This smoothie contains coconut water for hydration and electrolytes, avocado for healthy fats, a plant-based protein powder, hemp seeds for protein, and spinach for vitamins and minerals. This green smoothie is a great meal replacement option and is ideal for breakfast or lunch.
Best Breakfast Smoothie for Weight Loss
This healthy breakfast smoothie is not only good for you but tastes great and is the ideal way to start the day. This smoothie only has 224 calories, yet it contains 20 grams of protein. This smoothie recipe includes blueberries, vanilla almond milk, almond butter, and a plant-based protein powder.
This smoothie is packed with orange goodness and is a great way to start your day. The main ingredients are unsweetened coconut or almond milk, carrots, pineapple, orange, and hemp hearts. The addition of turmeric and ginger will provide an additional pick-me-up to this smoothie.
Almond Milk Smoothies for Weight Loss
Don't let the name of this smoothie fool you. This smoothie is the perfect combination of healthy fats, fiber, and protein. You have cashew butter for healthy fats, oats for fiber, and vanilla protein powder for your protein fix. The addition of blueberries and vanilla extract is the icing on the cake (or in this case, muffin)
This smoothie is packed full of superfood goodness. It contains blueberries, almond butter, chia seeds, flax seeds, and almond milk. It has an extra nutritional boost from spinach which provides additional minerals and vitamins.
A smoothie is not going to magically help you lose weight. It is just part of the puzzle to get you started on your weight loss journey. We also suggest that you contact a health care professional before embarking on any type of weight loss diet.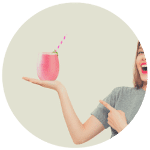 Hi, I am Charms, a self-confessed smoothie fanatic!  Here I will share some of my favorite smoothie recipes, tips and guides and gear reviews.   Learn more .