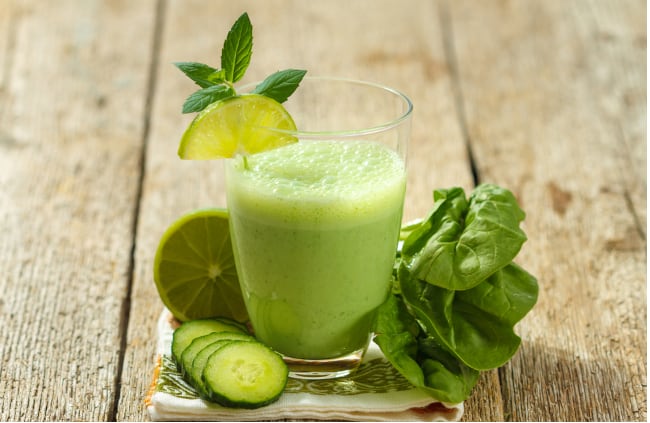 I get all the benefits green vegetables provide in a delicious smoothie concoction. I don't know about you, but I am not a lover of green vegetables, so incorporating green smoothies into my diet is a great alternative. Below you will find some of my favorite green smoothie recipes.
Common Ingredients in Green Smoothie Recipes
Mangoes, Pineapples, Bananas, Coconut Water, Coconut Milk, Nut Milk, Strawberries, Raspberries, Kiwis, Apples, Blueberries, Almond butter, Spinach, Kale, Broccoli, Avocados, Cherries, Broccoli Sprouts, Cucumber, Carrots.
Protein Add-ons
Flavored or plain protein powder, Greek Yogurt, Hemp Seeds, Skyr Yogurt
Common Sweeteners
Ripe Bananas, Monk Fruit Extract, Dates
Other Green Smoothie Add-ins
Flaxseeds, Chia Seeds, Tocos, Collagen, Cinnamon, Pumpkin Seeds, Turmeric, Ginger
How to Make a Green Smoothie
When making green smoothies, I tend to stick to a set formula. I use 50% greens and 50% fruits. Using fruits such as mangoes, pineapples, or ripe bananas, you don't need a sweetener. However, if you need an extra sweetener, you can add fruit such as a ripe banana, pineapple, or date.
For liquids, I tend to stick with water; however, quite a few recipes use nut milk or coconut milk. The most popular nut milk used is almond milk, but you can use any other nut milk.
I also like to add a few add-ons for a more nutritional punch. A few of my favorite add-ons are greek yogurt, pumpkin seeds, chia seeds, flaxseeds, and nut butter.
The Best Green Smoothie Recipes
This green smoothie will have you reminiscing about your time on a tropical beach where you were enjoying the sun and the sound of waves crashing on the shore. Adding pineapple, mangoes, pineapple, and coconut water provides an island vibe.
The added benefit of this smoothie is the introduction of spinach to this concoction. If you need an extra boost, you can add protein powder.
I love adding pineapples to my smoothies. Actually, I love pineapples! Whether you decide to use it in your smoothie or eat it on its own is up to you.
However, frozen or fresh pineapple will work if you choose to use it in your smoothie. The benefits of adding frozen pineapples are it naturally thickens your smoothie and gives you the texture of a slushie.
This recipe also has frozen bananas which act as a natural sweetener. Other ingredients include milk and yogurt.
This keto green smoothie recipe is sure to please any palate. I am a fan of using avocado pears in smoothies because of the mild taste and nutritional benefits.
This smoothie uses strawberries as a sweetener and is topped off with almond milk and hemp seeds. If you need the smoothie to be a bit sweeter, you can use monk fruit extract.
I love the simplicity of this smoothie. You know, sometimes just a few ingredients are the way to go. This smoothie contains kiwis, apples, spinach, bananas, and water. That's it; this smoothie is simple and can be prepared in a few minutes. It's ideal if you want a quick option for breakfast. Look at our kiwi smoothie recipes if you want smoothies that focus only on kiwis.
This smoothie gives you a double dose of green goodness with the addition of kale and spinach. I especially like this smoothie as a breakfast smoothie for the variety of ingredients added.
The additional ingredients are strawberries, nut butter, collagen, tocos, almond milk, pumpkin seeds, cinnamon, and flaxseeds. If you need an additional sweetener, you can add dates or a ripe banana.
One of the great things about green smoothies is it's a great way to get your kids to consume more fruits and vegetables. Adding pineapples, mangoes, and bananas will make you forget you are drinking a green smoothie. This smoothie is ideal for kids as a snack or a breakfast option.
Broccoli is definitely not the first thing that comes to mind when making a green smoothie. However, in hindsight, it is the perfect green vegetable to use in your smoothie. It doesn't have a distinctive taste, so it blends well with fruits.
Additionally, it is packed full of nutritious goodies. The additional ingredients in this smoothie are spinach, apple, banana, and carrot.
This is a kid and toddler-friendly smoothie. This smoothie is a great way for your kids to consume more green veggies. This smoothie tastes like a mango lassi with the addition of mango and yogurt.
The addition of ground flaxseeds provides an additional nutritional boost. Mangoes are a seasonal fruit, so if you don't have fresh mangoes available, you can use frozen mangoes.
This tropical green smoothie is packed full of luscious goodness. It contains two varieties of green veggies, broccoli and spinach. The lovely thing about these two veggies is they have a mild flavor so that they won't overpower the smoothie's taste.
This smoothie provides a tropical feel with the addition of orange juice, pineapple, and banana. The addition of non-dairy milk gives it a rich, creamy texture.
For this smoothie recipe, you get two versions of a recipe that utilizes broccoli sprouts. Broccoli sprouts are not something I would normally put in a smoothie, but in hindsight, it's a great option. It has a mild taste, and it is nutritionally dense.
The first recipe doesn't utilize any fruit. The main ingredients are broccoli sprouts, avocado, orange, cucumber, turmeric powder, plain water, and coconut water.
The second broccoli sprouts recipe has fruit added to it. This recipe utilizes frozen cherries. The other main smoothie ingredients are walnut almond cashew butter, skyr yogurt, vanilla milk, protein powder, and MCT oil.
This is a kid-friendly, vegan smoothie that is a great option if you want your kids to get more green veggies.
The frozen mangoes and bananas add a tropical feel to this smoothie recipe. This smoothie also has a creamy texture thanks to the addition of yogurt and almond milk to the smoothie.
This smoothie tastes as good as it looks! The green ingredient in this smoothie is kale, which has a mild taste and packs quite a nutritional punch.
The addition of mango, pineapple, and ginger adds a nice fruity flavor to this smoothie. The greek yogurt adds additional protein to the smoothie.
This smoothie uses mixed greens, including spinach, kale, dandelion, and nettles. The liquid utilized in this smoothie is coconut milk, which is one of my favorite liquids for smoothies.
This smoothie is topped off with a medley of fruits such as green apples, bananas, pineapple, and avocado. You can add dates or a ripe banana if you need an additional sweetener.