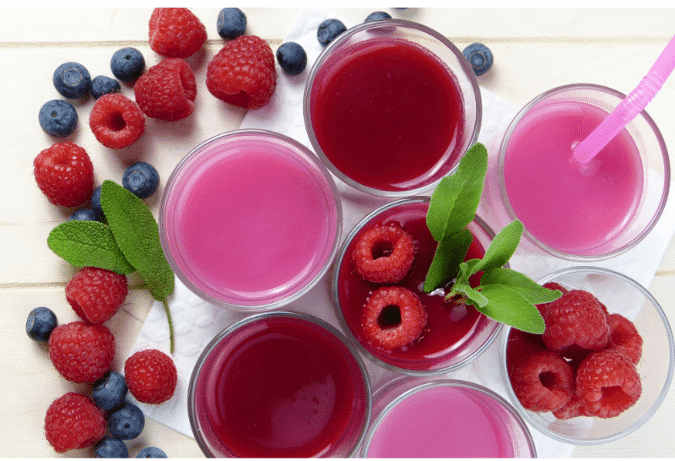 Berries are the perfect ingredients for your smoothie. Not only are they healthy since they are filled with vitamins and antioxidants, but they are also tasty. Below you will find some of our favorite berry smoothie recipes.
Common Ingredients for Berry Smoothie Recipes
Strawberries, Blueberries, Raspberries, Blackberries, Goji Berries, Acai Berries, Apples, Greek Yoghurt, Frozen Banana, Frozen Peaches, Raspberry, Frozen Strawberries, Kale, Spinach, Carrot, Pear, Soy Milk, Rolled Oats, Ginger, Flax seed, Carrot, Oatmeal, Melon, Grapes, Cucumber, Papaya,  Mint leaves, Almond Milk, Avocado, Bananas, and Spinach.
Greek yogurt, Low Fat Yogurt, Whey Protein, Hemp Seeds, Tofu, Almond Butter, Chia Seeds, Nut Butter, and Protein Powder
Honey, Bananas, Mangoes, Agave, and Dates
Are Berry Smoothies Healthy?
Yes, berry smoothies are healthy. Berries are some of the most nutritious fruits to use in smoothies.  
Additionally, the beauty of smoothies, in general, is you can add a variety of healthy ingredients such as chia seeds, flax seeds, greek yogurt, protein powders, hemp seeds, and a variety of vegetables.
What Berries Are Best for Smoothies?
How Do You Make a Berry Smoothie Taste Better?
Usually, the natural sweetness of berries will help with the taste. However, if you don't like the taste, consider adding a banana or some honey.
How To Make the Best Berry Smoothie
First, add your liquid. You can use yogurt, water, milk, or fruit juice. Secondly, add your frozen ingredients. If you are using frozen berries, now is an excellent time to add them! Thirdly add any chopped-up items, nut butter, powders, or seeds.
This recipe offers a great combination of mixed berries and yogurt! 
The addition of almond or coconut milk combined with a banana adds to the creaminess of this smoothie.  
The addition of mint and fresh berries for garnish is a nice touch!
Get all your berry goodness in this smoothie with the delicious combination of strawberries, blueberries, and raspberries! The addition of yogurt will give you your protein fix, and almond milk makes this smoothie a creamy treat.
This banana berry smoothie has the perfect blend of protein, carbs, and fats.
Adding ingredients such as avocado, nut butter, greek yogurt, and chia seeds to this smoothie makes it the perfect choice for a healthy breakfast or snack.
The thought of mangoes and blueberries has my mouth watering. Can you think of a more perfect combination for your morning smoothie?
The banana in this smoothie gives you a smooth, creamy taste, and adding greek yogurt will give your smoothie a protein lift.
This berry smoothie recipe has only four ingredients, making it the perfect recipe for those mornings when you are in a hurry and can't do without your smoothie fix!
This recipe consists of frozen berries, yogurt, milk, and our favorite addition to smoothies chia seeds.
Coconut water is one of my favorite drinks. I am surprised more smoothie recipes don't use this as their liquid base instead of water or nut milk.
Other notable ingredients in this smoothie recipe are cinnamon, goji berries, and bananas.
Strawberries, blueberries, raspberries, sigh… I am suffering in berry heaven over here!   Bananas, Almond milk, and a few scoops of protein powder complete this recipe.
This triple-berry goodness is the perfect way to start your day. This berry smoothie is the ideal combination of protein, fruits, and milk with the addition of such ingredients as almond milk, chia seeds, bananas, and protein powder.
Adding oats makes this smoothie perfect for breakfast, especially if you are in a hurry and need a nutritious start to the day.
Strawberry and blueberries, coupled with almond milk, chia seeds, and honey, make this a delicious morning smoothie.
Sometimes simple is just better.  This smoothie has only four ingredients and is ideal for when you are looking for a quick fix for breakfast.  An added benefit is this smoothie is vegan-free, dairy-free, and gluten-free if you select the correct oats.
This classic triple-berry smoothie is easy to make. This smoothie's banana and coconut milk give you a nice creamy texture. Add chia seeds, hemp seeds, or flaxseeds for an extra superfood kick.
This smoothie combines frozen berries with orange juice and greek yogurt. The oats are great for extra fiber, and the greek yogurt gives you a good dose of protein.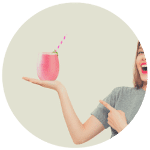 Hi, I am Charms, a self-confessed smoothie fanatic!  Here I will share some of my favorite smoothie recipes, tips and guides and gear reviews.   Learn more .