If you have a small kitchen or if you are on a budget, I'm sure you have wondered can you use a blender instead of a food processor? 
A short answer is yes you can use a blender instead of a food processor.  Read on for more details.
Most modern blenders are capable of basic food processing. They either have the functionality out-of-the-box or you can attach a food processing accessory to the blender base. 
You have to buy the accessory separately. To sum it up, you can use a blender instead of a food processor 9 times out of 10 – although there are some caveats
You can't typically shred, grate, or slice
Blenders without a food processor attachment struggle with shredding, grating, and slicing tasks.
That's because blenders come with traditional blunt, many-pronged blades. Manufacturers design these blades to mash ingredients and liquefy them – not precisely shred, grate, or slice. Unless your blender comes with separate blades, it's a one-dimensional product that can only pulp. 
The Ninja Intell-Sense Kitchen System Blender comes with a slicer blade attachment as well as a food processor bowl.  Additionally, such brands such as Vitamix can be used as a food processor.
You can use any traditional blender – even if it doesn't have a food processor capability – to chop up food into chunks. 
The result won't be as consistent as what you'll get from a food processor, but it will be good enough. You can chop almost all fruits and vegetables in a blender, provided you prep them a little first.
Don't expect food-processor-level quality
If you do use a blender for processing food, you should keep your expectations in check. 
You aren't going to get perfect, evenly chopped ingredients or perfect mixes in a typical blender. 
You may have to intervene manually on occasion to rescue ingredients in danger of mashing. This applies to blenders with in-built food processing features too.
You should consider buying a food processor attachment
These days, popular blender models come with food processor attachments. You mount the attachment jar on the blender base to turn it into a food processor. 
The attachments may have interchangeable blades. You can use them for all sorts of food processing tasks like mincing, chopping, and dicing. It saves you from having to purchase a separate appliance.
Vitamix offers an incredibly-good food processor accessory jar for its Ascent Series and Venturist Series blenders. If you'd prefer something cheaper, take a look at the Ninja BN801 Kitchen System instead.
What to keep in mind using a conventional blender as a food processor
If your blender has a food processor attachment, you can follow the manual. If it's a conventional blender without any attachments, then keep these things in mind:
Make sure to stick to lower speeds
Blenders typically have much more powerful motors than food processors. To avoid pureeing your ingredients or turning them into a paste in seconds, make sure you stick to lower speeds. For best results, use the pulse settings. Running the blender in short bursts allows you to more evenly chop the ingredients.
Don't overload the container
When processing food in your blender, make sure you don't put in too many ingredients inside the jar. The more the ingredients, the more likely they will turn to paste instead of chunks. Depending on the size of the jar, we recommend that you use about a quarter to half of the ingredients you'd normally add.
Go for a trial run
Every blender is different in how it performs as a food processor. Try to get to know your machine a little better and see how it processes different ingredients differently. Does your blender work better if you slice your ingredients up beforehand? Is it too powerful to work as a food processor for liquid-heavy ingredients? The more you experiment, the better your final result.
To dough or not to dough?
Unless you have an industrial-grade blender or a blender equipped with a dough blade, we suggest hand-mixing dough. Most kind of dough is too tough for a typical blender. It will strain the motor to the breaking point, causing it to stall. Not to mention it could stick to the interior of the blender, which will be a hassle to clean. This is especially true for dense dough like yeast bread.
Blendtec makes ultra-powerful blenders that can turn an iPhone to dust in under a minute. A Blendtec with a WildSide jar can handle dough mixing in small quantities. You can also purchase the Twister jar attachment for better results.
Follow official recipe guides
Finally, it's always a good idea to follow the official recipe guide that comes with your blender (or read tutorials online). Manufacturers design these recipe guides after thorough testing and experimentation. They allow you to optimally blend and process food. This includes how to prep ingredients, the exact quantities of ingredients to add, and the speed settings you should use.
Frequently Asked Questions
Can you use a blender instead of a food processor for hummus?
Yes you can use a blender instead of a food processor for hummus.  However, it is recommended that you use a high powered blender such as a Vitamix or Blendtect blender.
Can you use a hand mixer instead of a food processor?
Yes you can.  It will also save you more space if you have a small kitchen.  You will find that a hand mixer can mix solids and liquids and is a great replacement for a food processor.
You can use any traditional blender for basic food processing. But it won't give you optimal results. If you'd like better results and cook often, you're best off purchasing a blender with a food processing attachment. 
We can recommend any Ninja Kitchen System for budget buyers. If you want top-tier quality, you can go with a Vitamix A3500 with a Food Processor attachment (bought separately).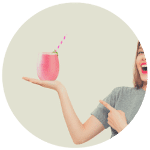 Hi, I am Charms, a self-confessed smoothie fanatic!  Here I will share some of my favorite smoothie recipes, tips and guides and gear reviews.   Learn more .