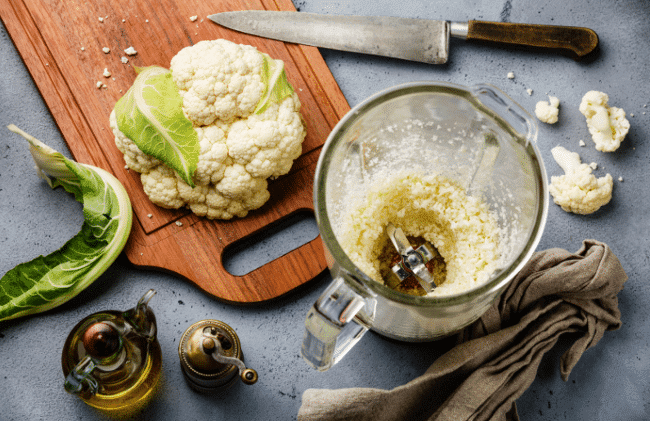 Every Vitamix doubles as a food processor. They say that its food processing (pulse) function is as good as anything you'd find on a dedicated food processor. But is that truly the case? Can your Vitamix truly go toe-to-toe with a good food processor? Or are you better off buying a separate appliance for food processing instead? Read this Vitamix vs. Food Processor comparison guide to find out!
Can you use a Vitamix as a food processor?
Unless you truly need a specialized food processor, we think a Vitamix blender by itself is more than good enough for most users. It gets the job done 9 times out of 10. And you can always get the food processor attachment if that's not good enough.
Difference Between a Blender and a Food Processor
The main differences between a blender and a food processor are the jar shape, blade design, and functionality. Blending is synonymous with mashing and mixing. Food processing is chopping, slicing, and dicing.
Blenders have narrow, upright, and angled jars that push ingredients into the blades. The blades themselves are sturdy and moderately sharp. 
The motor is extremely powerful. It needs to be to push the blades through dense ingredients. Volume-wise, blenders have a huge capacity. In terms of functionality, blenders crush and mash ingredients into a fine paste.
Food processors, on the other hand, have wide, short bowls. The blades are usually set low in the middle and tend to be super-sharp. The motor is not as powerful as the one you find in a blender. 
The wide design of the jar and the positioning of the blades allow the food processor to chop food into chunks or slices. It's a lot like a knife chopping through ingredients, unlike the mashing and crushing motion of a blender.
Similarities Between a Blender and a Food Processor
Both blenders and food processors have similar jars, blades, and motors. In a pinch, a food processor can puree, mix, and crush – and a blender can chop, mince, and dice. 
However, a food processor tends to make a mess of liquids. And a blender will often turn ingredients into a paste instead of chunks or slices. Often the same companies release both blenders and food processors.
Ideal Use for a Vitamix Blender
A Vitamix blender is best-used for making liquids and liquid-heavy solids. A blender will take anything chunky and make it silky smooth in seconds. 
A powerful Vitamix can crush ice cubs to powder, which you need to do when making cocktails. You'll be able to make super-smooth, granule-free smoothies. Further, you can make hot soups with Vitamix's friction heating technology.    
Vitamix blenders come with wet as well as dry food container attachments. You can make almost anything under the sun with a Vitamix, from nut butters to smoothies and dough to ice cream.
Ideal Use for a Food Processor
A food processor is ideal for chopping and mincing fruits and veggies. It excels at combining dry ingredients and blitzing mixtures into fine granules. 
Compared to a blender, a food processor will make better pesto, hummus, and nut butters – with better consistency. The food processor will also mix dough – like pie crust, pizza dough, and shortbread. It'll be able to grate cheese and make breadcrumbs.
If the food processor has a slicing attachment or blade, it can slice and shred. This is perfect for shredding meat or slicing fruit.
Information about the Vitamix Food Processor Attachment
Price: Like with all Vitamix accessories, the Food Processor attachment isn't cheap. It costs as much as a mid-range blender from an everyday brand in fact.
Blade Options: The Vitamix blender comes with an "S" multi-purpose blade and 2 reversible slice/shred discs.
Warranty: 3-year warranty on the bowl, 1-year warranty on the blades and discs.
Capacity: 12 cups dry and 9 cups wet.
Dishwasher safe: Yes, BPA-free Eastman Tritan.
Compatibility: Only Ascent and Venturist Series blenders.
Description of the Vitamix Food Processor Accessory
Usually the container packed in-the-box with your Vitamix can handle basic food processing. Sometimes it falls short. 
That's why Vitamix has come up with a new, cutting-edge food processor attachment for its high-end Ascent and Venturist series blenders. You just pop it on and start slicing, chopping, dicing, and mincing.  
Frequently Asked Questions
Will a food processor work as a blender?
Yes, a food processor will work as a blender in a pinch, provided you aren't too picky. Be careful with liquid-heavy mixes, though. 
Making liquids like soup in a food processor is messy. Not only does the consistency tend to be lumpy, but the ingredients also get under the blades and get stuck there.
Can you make smoothies in a processor?
Yes, you can make smoothies in a food processor. Don't expect a flawless, lump-free liquid though. 
Food processor motors aren't usually powerful enough to crush seed granules from fruits. The shallow, bowl-like structure of the jar also doesn't push the mixture into the blades at the bottom.
What does a food processor do that a blender doesn't?
These days, a food processor can do everything a blender can – and vice versa. The only difference is in how good the end result is. A food processor chops better and a blender crushes better. A Vitamix blender with a food processor attachment is the best of both worlds.
Conclusion, Vitamix vs. Food Processor
Blenders (Vitamix or otherwise) mash and puree while food processors chop, slice, and dice.
Blenders have more powerful motors and can hold higher quantities of food.
Blenders are more suitable for liquid-heavy mixes, food processors for ingredients prep.
Blenders, especially Vitamix ones, are more versatile than food processors.
Unless you truly need a specialized food processor, we think a Vitamix blender by itself is more than good enough for most users. It gets the job done 9 times out of 10. And you can always get the food processor attachment if that's not good enough. If you have any questions or insights to share, please leave us a comment below!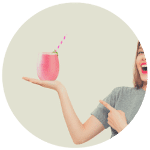 Hi, I am Charms, a self-confessed smoothie fanatic!  Here I will share some of my favorite smoothie recipes, tips and guides and gear reviews.   Learn more .