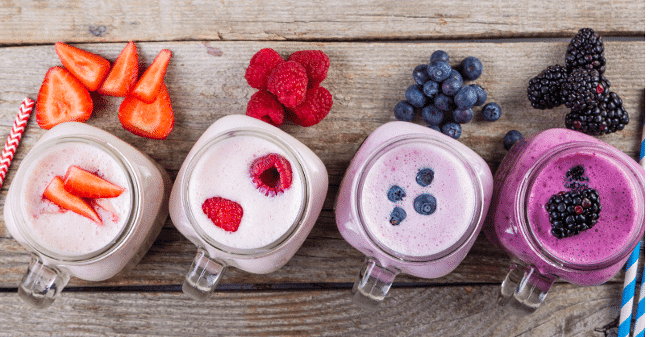 So many blenders, so little time! You've come to the conclusion that the thing that will take your kitchen game from "meh" to "wow" is the perfect blender.
But who wants to spend all day sifting through model after model that looks just the same – each one saying that they can do everything you need, really!
Don't get bogged down with the scroll-brain fog or advertising untruths. Let our blender buffs lay out how to choose a blender that will work for your very own kitchen wizardry!
Considerations When Choosing a Blender
Countertop blender: The most common type of home blender. They are highly versatile and come in a wide range of sizes and price ranges. These may also be referred to as standard blenders.
Commercial blender: Incredibly powerful and durable, commercial blenders are built to handle extreme volume. Some can handle hundreds of blends per day for years.
Bullet blenders: Small and convenient, bullet or personal blenders are a jar with bladed lid that is screwed on top. Pop a to-go lid on it and you can take your smoothie to work in a jiffy. This style was popularized by the Magic Bullet.
Immersion blender: Also known as hand or stick blenders, these are small and highly portable because they don't have a base and jar. You can use this type to blend directly in the pot on the stovetop, or wherever you have an outlet.
Blender combos: Some blender models come with various attachments so that you can use one motor to power a blender, food processor, and/or juicer.
$30-100: Bullet and immersion blenders are the least expensive. But if you're willing to sacrifice warranty and features, you can find cheap countertop models too. Some cheaper brands include Magic Bullet and Mueller.
$150-350: For a balance of durability, performance, and price check out mid-range brands like Ninja, Oster, and some Vitamix and Blendtec.
$400 and up: The more you spend, generally the more durable and versatile the appliance. Blendtec and Vitamix are the best high-end blenders.
What do you plan to use it for? (Frequency of blending)
Light usage: If you're just looking for an occasional smoothie, protein shake, or salsa you can consider a cheaper, less versatile model. Immersion, bullet, and budget countertops are great.
Regular home usage: For the home cook who will be using their blender for daily tasks (soups, salsas, ice cream) and the occasional power-intensive blend like nut butter, consider a versatile mid to high-end blender.
Commercial or heavy-duty home usage: In food service settings or home kitchens where you plan on making lots of thick, tough blends like nut butters, acai bowls, and daily smoothies it will save you time and money in the long run to go for a heavy-duty appliance.
Low power: 200-500 watts. Lower powered blenders can be good for fresh fruit smoothies, salsas, protein shakes, and such. Under 200 is so weak that it's more of a mixer. Magic Bullet and Mueller make good low watt blenders.
Medium power: 600-1000 watts. The more power, the more versatile the blender. This range can handle all the lower power jobs in addition to frozen fruit or ice in smoothies, soup purees, and dips like hummus. Consider brands like Ninja and Oster.
High power: 1100-1800 watts. These blenders can take on nearly any kitchen project imaginable. Nut butter, ice cream, heated soups, smoothie bowls, ground spices, and more! Blendtec and Vitamix are great examples.
Plastic/copolyester jars: Shatter resistant, scratch resistant, and thermal shock proof. However, over time odors and dents can build.
Glass jars: Great looking and scratch proof. But can crack and shatter in response to thermal shock, like if the jar is cold and you pour hot liquid in.
Borosilicate glass jars: Shatter resistant, scratch proof, thermal shock proof. You get the snazzy look of glass, but the strength of plastic. It is just a bit more expensive though.
Smart jars: Some like the Vitamix A2500 even have jars with built in wireless connectivity to tell the blender base exactly how much power to use for the size of the container.
Ice crushing: For the margarita fanatic, specialized ice crushing blades may be the right choice. Ninja's stacked Total Crushing Blades are set at many different angles and have tons of prongs to smash ice from every angle.
Hardened stainless steel: These blades are of superior durability, and almost never need to be sharpened/replaced. Blendtec and Vitamix use the highest quality, hardened stainless steel for their blades.
Extra-thick: Blendtec's blades are also 80% thicker than their competitor's. That means they're extra-strong too, as you can see in their viral video series Will It Blend?
Personal: Mueller's immersion blender and the Magic Bullet blender are some of the smallest models available. Bullet blenders are usually only big enough for one though.
Small family: Couples and folks that host small gatherings are more likely to need something bigger, but not huge. Oster's 24 oz and Vitamix's 48oz jars are a great size for small families.
Large family: Those with a larger family or ambitious home chef's that want their blender to be able to handle any recipe should go for the extra-large jars of brands like Blendtec. Immersion blenders may also be appropriate, as you can blend them in a container of any size.
Want to use your blender for lots of different tasks, but hate the clean up? Look for these key features to make sure your blender is easy to clean:
Dishwasher safe parts
Removable blades
Self-cleaning function
If you're looking for a blender that will last the test of time, keep an eye on the warranty. The longer the warranty, the more durable the blender and its materials are likely to be.
Here are some of the brands with the best warranties on their blenders:
Blendtec: full warranties that range from 5-10 years
Vitamix: full warranties that range 3-8 years
Oster: 10-year motor warranty
These days, many blender brands have pre-programmed cycles that allow for hands free blending and consistent texture. Here are just a few brands that include these handy features:
Blendtec
Vitamix
Ninja
Jusseion
Oster
 Looking to fill out your kitchen accessories? Many blenders come in bundles that include helpful tools.
Some of our favorite blender accessories are:
Tampers
Vented lids
Recipe books
Spatulas
To-go cups and lids
Food processor attachments
Blendtec's Twister Jar
Some blenders come with even more than just the typical array of accessories. If you're looking for storage containers and solutions in addition to a good blender, check out brands like:
Magic Bullet: This 11-piece Magic Bullet set includes to-go lids, screw on sipping rims, different blade sets, and extra small storage jars and lids so you can blend your connections up and store them all in one convenient container.
EVLA: This baby food maker from EVLA steams/cooks food and purees in one container. It also comes with reusable baby food squeeze packets, so you can go green and keep baby healthy.
Need a blender that's not just versatile, but super versatile? Consider a multifunctional or combination appliance.
The most common combination appliances you'll find mixed with blenders are:
Cookers or heating elements
Food processors
Baby food makers
Juicers (does not remove fiber)
Pre-programmed cycles: For the perfect consistency, every time. Blendtec, Ninja, Vitamix, NutriBullet, and many other brands include these handy pre-sets.
Noise bafflers or noise enclosures: Many blenders are incredibly noisy. With noise baffling technology you can blend in the room next to the baby without waking them every time. Blendtec and Vitamix both have commercial models that include noise reducing casings.
Smart blender technology: Another way to ensure the best texture with every blend is to seek out "smart" blenders that sense the thickness, water levels, or jar size. Ninja's AutoiQ and Vitamix's Ascent series smart jars are great examples of this.
Conclusion, How To Choose a Blender
We know it can be daunting scrolling through page after page of blender models that look so similar.
But we hope that this breakdown and our knowledgeable advice will help you get a better handle on how to choose a blender that's just right for you.
Do you have any questions, or advice for us? Comment below!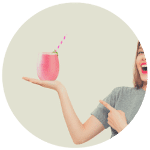 Hi, I am Charms, a self-confessed smoothie fanatic!  Here I will share some of my favorite smoothie recipes, tips and guides and gear reviews.   Learn more .