Are you seeking a low-profile blender that can duke it out with the best of them? It really boils down to two options: go for a less expensive product like the Magic Bullet, or shell out for a more powerful candidate like the Ninja.
But you can stop weighing and researching, because we're here to tell you everything you need to know about the Magic Bullet vs Ninja match up.
In this article you'll find out why we think the Ninja Personal Blender is the top choice, thorough product reviews of each, a list of important features to compare the blenders head on, as well as a look at what each is best for.
Magic Bullet vs Ninja : Which One is Better?
In this case we would go with Ninja.  They have more blending power and some models have a similar price to Magic Bullet.
Magic Bullet vs Ninja: Features Face to Face
Though sales and discounts may skew the price point in either direction, you will usually find the Magic Bullet priced about 20% below that of the Ninja.
This reasonable price and options of extended warranties are sure to please college kids, office managers, and first-time blender buyers alike.
Most single serving blenders like these are less powerful than their standard cousins. Motor wattage generally runs between 200-500.
But the Ninja scoffs at the wimpy competition because it has a seriously powerful, 700-watt motor. 
That means traditionally tougher ingredients for small blenders like ice, frozen fruits, and firm fleshed vegetables are a snap for this pint-sized powerhouse.
What can they blend? (Ex - smoothies, ice and frozen drinks, pureeing, chopping, grinding, hot food, nut butter and milk)
Though the Magic Bullet comes with two different blades for different jobs, the sheer power of the Ninja blows its opponent out of the water.
The Ninja Personal Blender can blend:
Ice and frozen drinks, pureed sauces and soups, smoothies and frozen fruit, nut and seed butters, as well as chopped salsas and dips.
Whereas the Magic Bullet has a smaller range of uses:
Mixing powders and liquids, salsas and dips, milling and grinding, and other lower-intensity recipes that do not require homogeneous purees.
Though neither has a comprehensive warranty, Ninja beats out the Magic Bullet with an included 1-year limited warranty.
You can, however, purchase extended warranties. Magic Bullet provides longer warranties that cover more situations, all at lower costs than Ninja.
For handy accessories, Magic Bullet wins hands down! Whether it's a replacement blade, to-go lid, or a different sized jar the company has affordable and available accessories of all sorts.
It's a tie for programs, as neither of these single serving blenders have any presets or different speeds. Both are one speed, which you can pulse manually.
It may be pertinent to note for some buyers that the Magic Bullet is the only one that has hands free operation. Ninja needs constant pressure from the user to blend, whereas the Magic Bullet allows you to lock the jar in place and blend without exerting force.
For handy accessories, Magic Bullet wins hands down! Whether it's a replacement blade, to-go lid, or a different sized jar the company has affordable and available accessories of all sorts.
Jar Sizes and Number of To-Go Cups
As you might have guessed from the winner of the 'accessories' category, the Magic Bullet is the choice for folks that love having just the right jar size for the job.
This model comes with 11 pieces altogether, including two medium-large jars and one small. So, you can chop and store your salsa in one easy little container and still have that morning protein shake.
Once again, it's a tie. Both blenders are completely dishwasher safe (excluding the base, of course).
Both models have durable, stainless steel blades. But the Magic Bullet has the added advantage of readily available replacements at a low cost.
Plus, if you go for the full kit version of the Magic Bullet, you get two sets of blades. One set of two-pronged blades for grinding and milling, and one set of four-pronged blades for blending.
Magic Bullet is just barely heavier (by .4 ounces) but has a much smaller profile than the Ninja.
Even that slight difference can be huge when it comes to limited space, making the Magic Bullet perfect for dorms, RVs, offices, and any small kitchen for which counter space is at a premium.
It's a tie between these two single serving blenders when it comes to jar material. Both brands use BPA, high impact polycarbonate that can stand up to serious use.
Both little blenders are remarkably safe, as the blades are screwed on top of the jar and the pressed into the base to blend. That means the possibility of blending accidents are next to zero.
However, the Magic Bullet barely squeaks by with the win for this category as it has a hands-free operation twist-lock. For the Ninja, constant pressure is needed to operate.
Unfortunately, neither of these blenders is particularly known for durable design or long-lasting products.
However, we have to give the title to Ninja for this one because of the lengthier warranty. And if you properly care for this powerful little motor, it should last for years to come.
The number one motor care tip for blenders is that you should always pulse a few ties briefly before setting it to blend continuously for an extended period. Let it warm up and try not to wear it out by always going from 0 to 100!
Sometime in the early 2000s, the Magic Bullet revolutionized the shape of single serving blenders forever. You may have seen it first on the home shopping network or late-night infomercials.
Since its introduction, dozens of blender companies have copied the sleek, countertop space saving design, and easy grab-and-go attitude of the original Magic Bullet. 
And we can see why, because who'd bother assembling and cleaning an entire blender when all you need is pour, twist, blend?
And the Magic Bullet is still popular today due to those same easy to use, easy to clean design elements. It's a solid, dependable little blender that can chop, grind, and mix in seconds – and all at an exceptionally reasonable price.
You might also be interested in our comparison of the Magic Bullet vs Nutribullet review.
Features:
Twist lock feature for hands free blending
Low profile, can fit in any kitchen
Significantly quieter than a full-sized blender
Less expensive than your next manicure
Affordable accessories and blades
Wimpy warranty coverage
Low powered motor
Less durable
Ninja Personal Blender (QB3001SS)
Though it was started under a different name, SharkNinja is a respectable appliances manufacturer that has been in business for over 100 years. 
What began as a family run business slowly grew into a nationally recognized as a leader in the homewares, cleaning, and kitchen tools.
The Ninja is truly the best single serving blender on the market today. Priced at under $100, this little machine is also versatile and boasts a motor with double the power (or more!) of similar models from other brands.
And because of that power, the Ninja Personal Blender consistently outperforms the competition when it comes to ingredients that are usually tough for small blenders. Ice? Crushes it! Frozen fruit? Smooth as silk. Nuts & seeds? Say hello to homemade nut butter.
Folks seeking the most versatile single serving blender need look no further than the Ninja Personal Blender.
Features:
Double the power of most personal sized blenders
Versatile: crushes ice, blends frozen fruit, chops salsa, purees vegetables, and makes nut butters
Makes much less noise than traditional blenders
Powerful motor
Tough enough to handle a variety of ingredients
Poor warranty coverage
Moderately expensive
Must hold down to blend
More Products from Ninja and Magic Bullet
Ninja Personal Blender –  This personal blender comes with 2 extra cups.  The blending power is around 700 watts. 
Ninja Nutri Pro Compact – This is another blender in the Ninja personal blender line.  It comes with two extra containers.  These cups are larger than the ones in the Ninja personal blender above. 
Ninja BL480D – This blender is quite powerful with a blending power of 1000 watts.  It also has the Auto-IQ dashboard.  This blender also comes with two extra blending cups. 
Nutri Ninja Personal Blender – This blender is similar to the BL480D model.  It also has the Auto-IQ feature.  However, the main difference is it has three different blending cups. 
Ninja BL455_30 Nutri Personal Blender – This blender is similar to the previous model.  It has three blending cups.  An extra plus is the recipe book. 
Ninja Blender/Food Processor – This is a mini blender food processor model.  It doesn't have a lot of blending power at 400watts.  However, if you have limited space and don't plan to do much blending or chopping, this is a handy kitchen appliance.  
Magic Bullet Blender
Magic Bullet Mini
Magic Bullet Kitchen Express
Conclusion – Our Recommendations
The winner: Ninja Personal Blender
This lightweight, less noisy little blender packs a serious punch with its 700-watt motor that simply knocks out the competition. 
Though it's a bit pricier, you unlock nearly endless kitchen project potential when you choose this powerful single serving blender.
Still need a little more information before deciding? Take a look at our recommendations for uses for both of the competitors.
Use a Magic Bullet blender if:
You're more of a protein shake person than a smoothie lover
You plan on using it for chopping, dicing, and combining
You have a small kitchen and need every inch of counter & cabinet space utilized efficiently
You don't want to pay a lot for a decent blender
Want to know more? See what people are saying about the Magic Bullet on Amazon!
Use a Ninja Personal Blender if:
You plan on using it to crush ice.
You make a lot of smoothies with frozen fruit, ginger root, or other tough ingredients
You want a small blender that can handle big blender jobs
Think this might be the blender for you? Check out the latest prices on Amazon!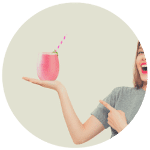 Hi, I am Charms, a self-confessed smoothie fanatic!  Here I will share some of my favorite smoothie recipes, tips and guides and gear reviews.   Learn more .