Are expensive blenders better than their budget counterparts? Not always. The competition in the blender business is stiff. Manufacturers have to make high-quality blenders at affordable prices, without forgoing features – or risk going out of business.
Basically, you're spoilt for choice if you're looking for a high-quality budget blender under 100. We've handpicked 6 of the best budget blender out there for you in this buyer's guide. The best blender under $100 is the Oster Blender Pro – it's a wonderful mix of features and quality.    
Oster Pro 1200 Oster is a good solid brand. This blender has great power and comes with 7 manual speeds.
Ninja BN701 This blender would have been our top pick but we are a bit wary about the short warranty.
Best Blender under $100 Product Reviews
Oster Blender Pro 1200 With Glass Jar
The Oster Blender Pro is a beautiful machine with a brushed nickel finish, suitable for modern kitchen layouts. 
The blender comes with a 6-cup main food jar and a smaller, easy-serve smoothie cup. The build quality is great. The 1200 watt motor offers more than enough power for most blending tasks.
The dual-direction blades technology is a highlight of this blender. The blades spin automatically in both directions at intervals. Because of this movement, the food blends finely, without getting stuck to the sides of the jar.
This blender is compact in size and easy to store. It's very easy to clean too. All in all, this appliance is cheap, powerful, and effective. 
Best value-for-money option, incredibly-long warranty.
Blends great thanks to the 1200W motor and dual-direction blades.
Easy to clean & dishwasher safe.
Smoothie cup won't lock down.
Ninja BN701 Professional Plus Blender with Auto-IQ
The Ninja BN701 is a quality appliance from a well-known brand. It comes in an eye-catching glossy black finish and attractive one-touch buttons. 
The appliance comes with a "Total Crushing" pitcher that has blades stacked up to the top. This allows better mixing. The 1400W motor is a beast.
This blender crushes most blending tasks. The motor is very powerful. Combined with the stacked blades assembly, food gets chopped to bits. Ice gets crushed to snow in seconds. It's suitable for most foods, including smoothies.
You may have some trouble storing the blender, as it's bigger than average. It also makes a lot of noise. It's on the higher end of the pricing spectrum, but still a good deal.
Powerful motor, consistent blending capacity.
Cleanup is very easy.
Modern design, good quality.
Big, cumbersome blender.
Makes a lot of noise.
Plastic jar.
Instant Ace Cooking Blender – Hot and Cold Function
The makers of Instant Pot also offer blenders – The Instant Ace Cooking Blender being one of their best ones. 
This blender is a well-designed product. It looks elegant and has a nifty LCD screen. It has 10 easy-press buttons on the side. The 1000W motor offers ample blending power.
The heating element is one of the highlights. You can cook hot food and blend it at the same time. 
Examples include soup, fresh vegetables, and even meat. You can't control the temperature, though. That's automatic. It does a good job of blending, but it's not exceptional.
You will have trouble cleaning this blender. It's not dishwasher safe, nor is the design conducive to rinsing. And it's loud – very. It's a good blender otherwise.   
Heating element for cooking foods like soup.
Glass pitcher won't absorb foods.
User-friendly design, good-looking.
Very hard to clean, not dishwasher safe.
Extremely loud.
Average blending performance.
NutriBullet ZNBF30400Z Blender
The NutriBullet ZNBF30400Z is a good-looking appliance with a shiny black finish. It has 5 satisfying-to-press buttons at the top. 
This blender comes with a large-capacity jar with a vented lid. The 1200W offers good power and is standard for this price range.
Being a "NutriBullet" product, this blender offers a feature common for this brand: nutrient extraction. 
It claims to optimize the nutritional potential of your food by squeezing nutrients out of it through an optimized blending process. But when you pit it against other brands, the final result is about average.
For some foods, you will have to use a tamper often. Otherwise, the blend won't be even. Further, this appliance is somewhat hard to clean, even if it's dishwasher safe.
Powerful motor for high-capacity blending.
Can make hot foods with the vented pitcher.
Robust build quality.
Moderately hard to clean.
Requires "tampering" on occasion.
The NutriBullet Pro Plus has a beautiful silver, bullet-shaped design. It's compact and very easy to handle. 
There's a single pulse button at the side, which allows you to blend for 60 seconds at a time with a single press. The 1200W motor offers good blending power.
This appliance does a very good job of blending food, including crushed ice and smoothies. The final result is lump-free and consistent. It can cut through tough ingredients with little trouble. 
The only drawback is you can't control the blender's speed. It goes automatically from low to high, over 60 seconds.
You won't have trouble cleaning this device or storing it. It's affordably priced too. Keep in mind it's not a conventional blender with speed settings, though.
Powerful 1200 W motor with "nutrient extraction" blends well.
Hands-free 60 seconds auto-off pulse button.
To-Go lid turns the jar into a carry cup.
Only 1 pulse button, no speed control.
Jar lid pops off easily.
Ninja Professional Countertop Blender
The Ninja Professional Countertop Blender is a tried-and-tested product from the reliable Ninja brand. It's one of their most popular offerings. 
The appliance comes with the main glass pitcher and two 16oz cups. It has a reasonably powerful 1100W motor.
While operating the Ninja Professional Countertop Blender is easy, as is getting food in and out, the blender has an average performance. 
Don't expect super-fine foods and lump-free mixes. There will be some lumps. However, the single-serve cups allow you to conveniently prepare drinks and serve them.
Cleaning the appliance won't be a challenge, but storing it will be. It's taller than average and has suction feet that make it hard to maneuver.  
Does an okay job of blending.
Good build quality, handy single-serve cups.
Easy to clean & detachable blade assembly.
Leaves small bits of food sometimes.
Has suction cup feet, you can't slide the blender around.
Cumbersome and tall, hard to store.
Buyers Guide - What do you need to be aware of when buying a blender under $100?
It's a good idea to get an easy-to-clean blender. Look for dishwasher-safe jars, detachable blades, or "self-cleaning" options. It can be hard to clean blenders with a fixed blade assembly. The Ninja BN701 is a breeze to clean.
The higher the wattage, the more powerful the motor and higher the ice-crushing potential. 
High-power motors offer high rotation per minute (RPM), which mixes and blends food better. The Ninja BN701 has an extra powerful 1400W motor.
Power isn't everything. The blade assembly determines how finely and evenly the appliance chops food and blends smoothies. The Oster Pro has unique dual-direction blades that spin backward and forward at intervals for better mixing.
If you often make food for an entire family, you need a high-capacity glass jar. The Ninja Countertop Professional blender has a huge jar that can hold 9 cups of food at once.
Glass or plastic? The choice is yours. Glass pitchers are non-toxic, as they don't absorb food, but they are prone to breaking. BPA-free plastic pitchers are a safe option. The Oster Pro has a quality, reinforced glass jar.   
You don't usually get a big warranty on blenders under $100. Further, not all of them are durable. It's why many people choose to save up and then buy a premium blender instead. 
However, the Oster Pro offers a standout 3-year guarantee and a 10-year limited warranty, which makes it a risk-free investment.  
Premium Blenders vs. Budget Options: What are the differences?
Below are three generic differences between premium and budget blenders. Please keep in mind that these differences won't always apply to all blenders:
Blending consistency: Premium blenders generally make more even, lump-free, consistent foods, drinks, and smoothies. For example, a blender like the Ninja BN701 won't be able to crush tiny strawberry seeds, but a premium one probably will. Premium blenders have better blades and features like "vortex spinning" which gives them better at pulverizing ingredients.
Durability: Premium blenders are generally made of more durable They aren't likely to break down quickly, and they come with long warranty periods. You usually have to replace budget blenders in a few years.
&nbsp
Capacity: Finally, premium blenders are usually "professional-grade" – meaning they can make large quantities of food. You can also use them continuously over a prolonged period, without the motor dying out.
Budget blenders
like the Oster Pro are not quite as good as the
high-end Vitamix series
of blenders, but they do offer
comparable performance
. It's the difference between good and very good. The key takeaway is if you buy a solid budget blender, you end up saving a few hundred dollars and still get a reliable blender.
The Oster Pro is our blender of choice – because it's affordable, simple to clean, and great at most blending tasks. The 3-year guarantee and 10-year limited warranty seal the deal for us. The Ninja BN701 is also worth trying it. It's a quality blender from a well-known brand.  
Add Your Heading Text Here​
Add Your Heading Text Here​
Add Your Heading Text Here​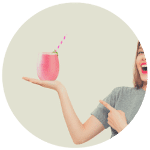 Hi, I am Charms, a self-confessed smoothie fanatic!  Here I will share some of my favorite smoothie recipes, tips and guides and gear reviews.   Learn more .