I will be the first to admit it; I am a smoothie addict. I usually fix smoothies once or twice a day. If you are wondering what gift to get the smoothie addict in your life? Please have a look at our list of gifts for smoothie lovers below.
14 Best Gifts For Smoothie Lovers
The first item on our list is a high-powered blender. Any self-respecting smoothie fanatic will tell you that a great blender is a must.
This blending machine can handle anything you throw at it; ice cubes, leafy greens, or frozen fruit; no matter what, the result will be a smooth, creamy smoothie.
Smoothie lovers need a sturdy blender that can withstand their daily or twice-daily supply of smoothies.
If you ask me what my dream blender would be, it would be a Vitamix blender. This is hands down the best blender for smoothies, and it has the durability of a commercial blender.
2. Cordless Travel Blender
This cordless travel blender is a perfect way to get your smoothie fix on the road. It's also ideal if you want to have a nutritious fruit smoothie or green smoothie to give yourself a pick-me-up after a gym workout or if you are working late at work.
Our favorite cordless travel blender is the Ayyie Portable Blender.  This single-serve smoothie blender has a beautiful, polished gold exterior.  The Tritan, BPA-free food jar is a nice addition.  This cordless blender can quickly churn out smoothies, slushes, and other beverages in minutes. 
3. Blender Food Processor Combo
If your friend is a smoothie fanatic and amateur cook, they would love to get a blender food processor combo. This appliance is exactly what it sounds like, yes, a blender and food processor in one. 
Our favorite blender food processor combos are the Oster Pro 1200 blender and the Ninja Pro Mega Kitchen System.
One thing a smoothie lover will always appreciate is more recipes to experiment with when they need a smoothie fix.
These books are a great source of green smoothie recipes, healthy smoothie recipes, and breakfast smoothie recipes.
After all, our smoothie lovers have to find new and novel ways to combine their strawberries, kale, blueberries, raspberries, chia seeds, grapes, soy milk, and other ingredients into a glass of smoothie goodness. Below you will find a few of our favorite books:
The Smoothie Recipe Book 

Simple Super Food Smoothies 

Quick and Easy Smoothies

The Smoothie Bible 
5. Stainless Steel Travel Mug
A stainless steel travel mug is part of a smoothie lover's arsenal, which self-respecting smoothie lover wouldn't want to have his smoothie fix when he is on the road.
Our top three travel mugs are listed below are available in multiple colors and designs:
Contigo Autoseal West Loop Vacuum-Insulated Travel Mug 

Contigo Snapseal Byron Vacuum-Insulated Stainless Steel Travel Mug 

YETI Rambler 20 oz Tumbler – 
Mason jars are another must-have item in a smoothie lovers collection. These jars can be used as mini blender bottles or storage for your overnight smoothie.
Our favorite mason jars are the Ball Regular Mouth Mason Jars. We love the spiral, twisted shape.
A genuine smoothie lover only uses homemade nut milk.  An integral part of making your own nut milk is a nut milk bag. 
Our favorite nut milk bag is the Pro Quality Nut Milk Bag.  This bag is commercial grade, food grade and BPA free. A genuine smoothie lover only uses homemade nut milk. A nut milk bag is an integral part of making your own nut milk. 
Our favorite nut milk bag is the Pro Quality Nut Milk Bag. This bag is commercial grade, food-grade, and BPA-free. 
There is one thing you will quickly realize, most smoothie lovers like fresh, organic ingredients. So, they would welcome growing their wheatgrass for their smoothies.
Our favorite wheatgrass kit is the Living Whole Foods Certified Organic Wheatgrass Growing Kit.
Blender bottles are a great tool if you want a quick smoothie fix. These bottles are not meant to replace a full-fledged blender but are great for making powdered drinks such as protein shakes.
Our favorite blender bottle is the BlenderBottle Classic Shaker Bottle.
An insulated travel bag is great for a smoothie lover on the go!  We have listed our two favorite models below.  One in a neutral color and one that's a bit more colorful.
Lunch bag for women and men (neutral color) 

Lunch bag for women (colorful option)
When you make a lot of smoothies, you have to be constantly preparing various ingredients. Large ice cube trays come in handy when you want to freeze chunks of fruit or vegetable blocks for your smoothies. 
Our favorite ice cube tray is the Tovolo Inch Large King Craft Ice Mold Freezer Tray.
Making smoothies involves a lot of prep work. You are constantly cleaning, cutting, and slicing vegetables. Anything that makes the prep work easier will be sincerely welcomed by a smoothie lover.
13. Organic Fruit and Vegetable Basket
Smoothie lovers are constantly shopping for fruits and vegetables, and they usually prefer that they are organic products. 
Why not take some of the grunt work out of a smoothies lover's shopping schedule and have organic produce delivered to them. Farmboxdirect has a great green and red juicing box.
The beauty of making smoothies is you can add not only fruits and vegetables but booster powders such as spirulina, chlorella, or wheatgrass powder. 
There is nothing a smoothie lover would appreciate more than a smoothie booster kit.
As a smoothie lover, I have put some of my favorite products on this list. I hope you managed to find a gift for the smoothie lover in your life!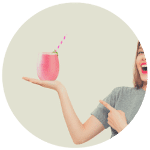 Hi, I am Charms, a self-confessed smoothie fanatic!  Here I will share some of my favorite smoothie recipes, tips and guides and gear reviews.   Learn more .