One of the best ways to start your day after a morning jog is to get your metabolism fired up with a healthy protein shake. And a good blender can make your morning routine faster, less complicated, and more delicious!
But with so many products available online and in store these days, how the heck are you supposed to find the one that works for you without trying them all out?
That's where we and our smoothie savants come in. Let our hours and hours of testing, keen minds, and extensive knowledge of kitchen appliances and reliable brands take the guesswork out of your next blender purchase.
Whether you need something that will last for the next decade, or just a cheap and effective machine we've got you covered. Read on to find the best blender for protein shakes for your kitchen!
Best Blender for Protein Shakes Product Reviews
Vitamix E310 - Budget Vitamix Option
This is one of our all-time favorite blenders, and it can do just about anything you ask. Vitamix can mix the perfect, silky smooth protein shake from any ingredients. It can even heat and cook soups right in the jar! The sky's the limit with this obsessively engineered machine.
The major downside here is the big price tag. However, Vitamix provides an extensive warranty and superlative customer support – ensuring that your blender will last for many years to come.
What's special:
Variable speed dial allows precision control of blending
Can handle any ingredients you throw at it: nuts, frozen fruit, ice, hot liquids, and more
Includes high tech design elements like hardened stainless steel blades, self-cleaning function, and thermal protection
Professional quality
Aircraft-grade steel blades and great horsepower
Exceptionally versatile
Expensive compared to other blender brands.
Ninja BL480D Nutri 1000 Watt Auto-IQ Base for Juices, Shakes & Smoothies Personal Blender
Though less versatile, the Ninja BL480D is our top choice for a great protein shake blender on a budget.
We love the portability of the Ninja blender cups. If you're in a rush to the gym or work, you can just toss the ingredients in, blend with the surprisingly powerful motor for a minute or more, screw the lid on and go!
The warranty leaves something to be desired, but you can purchase inexpensive 3 and 4-year protection plans to pad it out.
What's special:
Small, easily portable blender cups
Powerful enough to crush ice and frozen fruit
Fast and efficient for morning grab and go
Reasonably priced
Powerful motor
Less versatile
Short warranty
NutriBullet ZNBF30500Z Blender Combo 1200 Watt, 1200W
For somewhere in the middle of the Vitamix and Ninja, take a look at the NutriBullet. It has more versatility than many blenders of a similar price bracket, and boasts a powerful motor and highly capable blade design.
Exercise caution when blending for longer periods though, because we noticed a propensity for the NitriBullet motor to heat up considerably. We recommend pausing once every minute or so.
What's special:
Large blender jar for big jobs, small grab and go cups for speed and portability
8-pronged blade and strong motor for versatility
Reasonably priced, good quality
Sturdy, BPA free plastic jar and cups
Easy to clean
Wimpy warranty
Prone to overheating
Oster BLSTTSCB2000 Texture Select Settings Pro Blender with 2 Blend-N-Go Cups and Tritan Jar
For a great middle of the road blender that won't strain your budget, look no further than Oster. Dual rotation blades and other thoughtful design elements make morning protein shakes super fast and incredibly easy. The 3-year warranty and solid construction combine for a sturdy appliance.
It may lack a little of the versatility of the Vitamix or NutriBullet, but Oster makes a sturdy machine at a reasonable cost. It's sure to please home chefs and protein shake nuts alike.
What's special:
6-pronged blades and dual direction blade technology are powerful, fast, efficient, and super consistent
Jar and cups are interchangeable on base for versatility and quick use
Decently versatile without breaking the bank
Strong, sturdy motor
Great Budget Option
Blade vortex speeds up shake making
Blend cups prone to leaking
Manufacturer is often sold out of simple replacement parts
Ninja BN701 Professional Plus Blender with Auto-iQ, and 64 oz. max liquid capacity Total Crushing Pitcher
Please note that this model is not supposed to be poured without the lid securely in place. The blade insert can slide out and the super sharp stainless steel may pose a slashing risk.
The added risk of kitchen accidents combined with the somewhat challenging task of cleaning said blades is why this model is at the bottom of our list.
What's special:
Auto-iQ functions can perfectly crush ice, make smoothies, and even ice cream
Incredibly powerful motor delivers superior crushing ability
Locking lid helps promote safety and cleanliness
Reasonably versatile
Budget Option
Unimpressive warranty
Blade insert is time consuming to clean
Sharp blades can easily slide out of pitcher
Jar capacity and Material
How big do you want the jar capacity to be? The smaller the jar, the more portable the blender. The larger, the more people servings per blend.
Folks who take a morning shake to work or to the gym with them will love the extreme portability of the Ninja BL480D.
We recommend seeking out a blender with at least a 1-year warranty, but 5 or more is even better. Some companies, like Oster, may not have the longest warranty but instead sell small parts you may want to replace yourself for a reasonable cost.
Vitamix consistently impresses us with the comprehensive scope of their warranties. And most cover 10 years of use!
Getting in between those blades with a sponge can be challenging and time consuming. Consider purchasing a blender that has mostly dishwasher safe components.
A few blenders even come with pre-set cleaning programs to make clean up a breeze. We love the fact that the Vitamix series always includes a self-cleaning function.
If you want an appliance that can tackle even more than your morning shake, you'll likely need to raise your budget.
Brands like Vitamix and Ninja have the versatility to make smoothies, nutritious juices, or even hot soups.
The frequency with which you plan to use your blender should also inform your decision.
Once or twice a week? Perhaps a more cost-effective model will fit the bill.
Every day or multiple times per? Spring for a machine with a lengthy and comprehensive warranty. Seek all metal construction, which is more durable and lasts longer.
What types of ingredients do you need your blender to be able to handle?
If you want to be able to add anything that strikes your fancy to your shake – frozen fruit, ginger root, ice cubes – then you need a powerful and versatile blender. Seek blender motors with 1000 watts or higher.
Folks who prefer a simple protein drink may not need a strong motor. For blending liquids and powders together a 300 to 600-watt blender will do just fine.
As per the usual, Vitamix comes in at the top of our list. With their superior combination of power, cool running motor, precision speed control, and extensive warranty Vitamix intends that you'll never need to purchase another blender again!
But what if you don't need all the power and versatility? For those on a tighter budget the personal sized Ninja BL480D is one of the best, simplest protein shake blenders around. It is fast, easy to clean, and lets you get out the door with your nutritious beverage and a minimum of fuss.
Hopefully these thoughtful reviews and our handy-dandy buyers guide has helped you find your perfect protein shake blender.
Add Your Heading Text Here​
Add Your Heading Text Here​
Add Your Heading Text Here​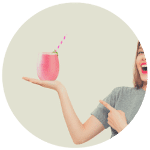 Hi, I am Charms, a self-confessed smoothie fanatic!  Here I will share some of my favorite smoothie recipes, tips and guides and gear reviews.   Learn more .