Milkshakes are a delicious and satisfying treat all year round. They're also easy to make, assuming you have a decent blender at your disposal. 
If your blender isn't up to the task and you need a better one, take a look at the top blenders for milkshake preparation below. We also offer some important information about milkshake-specific blenders in the buyer's guide.
The best blender for milkshakes – if you are willing to invest – is the Vitamix E310 Explorian Blender.  
Best Blender for Milkshakes Product Reviews
Oster BLSTTS-CB2-000 Texture Select Settings Pro Blender
The Oster Pro Blender is a gorgeous appliance, with a silver finish and a modern aesthetic. It has a standard speed dial and several one-touch buttons on the side. The 64oz included food jar lets you make food – and milkshakes – for a whole family, and the two 24oz "Blend-N-Go" cups let you carry your drinks with you on the road.
This machine exceeds expectations when it comes to milkshake making. You press the pre-programmed milkshake button and the blender does most of the work for you. The consistency control option lets you choose if you want a light, medium, or thick blend. The final result is fabulous, frothy, and delicious. Make sure not to overfill the jar or it will leak.
A drawback is that it's not self-cleaning. It's a compact appliance and easy to store. Overall, this blender is a steal at the asking price.
Makes diner-like milkshakes.
Comes with milkshake-specific control settings and programs.
Dual-direction blades eliminate the need for a tamper.
A challenge to clean.
May leak.
Mueller Austria Ultra-Stick 500 Watt 9-Speed Immersion Multi-Purpose Hand Blender
The Mueller Austria Multi-Purpose Hand Blender is a stunning appliance. It's not a traditional countertop blender, but it will do all the work of one. 
The stick-shaped, hand-held blender is available in a metallic finish. It comes with an ergonomic grip, so holding it won't be any trouble. You must press down the power button when using it.   
This hand blender has no trouble making milkshakes, or anything else, thanks to its powerful 500W copper motor.  It has three attachments for three operation modes: blending, whisking, and milk frothing. 
All three work exceptionally well. Because it's a hand-held option that you operate manually, you get fine control over the final consistency of the mixture.
You can store this tiny appliance in any drawer, and it's very simple to clean. The Mueller Hand Blender gets top marks for usability, convenience, and affordability.  
As affordable as it gets.
Excellent at making milkshakes.
Super convenient to use, clean, and store.
Must hold down the power button when blending.
Blends for 50 seconds at a time before the motor heats up.
The Vitamix E310 is the cheapst blender is the Vitamix blender collection.  It is a great option if you want a Vitamix but is a bit wary about the high price.  The two main drawbacks of this model are the short warranty compared to the other Vitamix blenders and the smaller Jar size.
This is a great option if your blender is going to be your go to tool in the kitchen.  If you only plan to use your blender sporadically we suggest you select a cheaper option.
High-performance blender.  Can handle anything thrown at it.
Versatile
Cleanblend Commercial Blender - 64 Oz
You usually find that as you require more blending power you will find a corresponding increase in price as well.  
This blender gives you the best of both worlds.  It has a 1800 watt motor that can easily crush ice and is sure to provide you with a creamy thick milkshake.
Basically this blender offers you the blending performance of a high end blender but without the price sticker shock.
Strong Blending Power. 
Reasonably Priced.
Good warranty
No pre-programmed cycles.
Ninja BL480D Personal Blender for Juices, Shakes & Smoothies
If you think a full-size blender is overkill when it comes to blenders for milkshakes have a look at the Ninja Bl480D model.
You get two convenient cup sizes with this blender.  An 18 oz and 24 oz size with sprout lids.
This 1000 watts machine will power through your milkshake ingredients for a smooth, thick shake.
Reasonably priced.
Easy to clean parts
Variety of jar sizes.
Buyer's Guide – What You Should Consider Before Buying a Milkshake-Making Blender
The more powerful the motor, the better the blades will be able to plow through and grind tough ingredients like ice, frozen foods, and ice cream. The Cleanblend Commercial Blender has a commercial-grade 1800W motor.
The bigger the jar size, the more the milkshakes you can make. But bigger isn't always better in this case if you're just one person. The Ninja BL480D is perfect for making a single serving of milkshake with its 24oz and 18oz "to go"  cups.
Plastic jars are lighter and less prone to cracking than glass jars. Glass jars are heavy, but they don't retain food smells and are non-toxic. The Oster Texture Select Pro blender comes with a non-toxic Tritan main jar and two smaller to-go cups.
The Number of Controls/ Speed Settings
The speed settings and quick programs not only help you make a smoothie quickly, but they also allow you to make a milkshake of the desired consistency. The Oster Texture Select Pro Blender lets you make milkshakes with one touch, and also comes with consistency control settings.
You don't need to splurge on a $300+ blender to make milkshakes. The Oster Texture Select Settings Pro Blender is a sub $100 blender that makes amazing milkshakes. It's also a solid blender for making smoothies and other everyday tasks.
Making a milkshake is messy. You will have to clean the blender thoroughly. Dishwasher-safe or self-cleaning blenders can save you much time and energy. The Mueller Austria Multi-Purpose Hand Blender is extremely easy to clean and dishwasher-safe.  
Most entry-to-mid-range blenders will last you a good few years before you have to replace them. The Vitamix Explorian is a high-end blender, made for professional use in settings like juice bars. It will last far longer than most other options.
Blenders operate under a lot of stress, especially if you use them to crush ice. They will break down eventually, which is why should look for ones with a large warranty. The Vitamix E310 has an exceptional 5-year warranty.
Personal blender or family option
How often do you make milkshakes and for how many people? If you're a family of one or two, you're better off with a blender with a low-capacity jar or to-go cups, like the Ninja BL480D blender.
Planning to add frozen fruits and ice to the mix? Not all blenders can grind tough ingredients to a fine powder. They also can't operate for extended periods of time. For best results, consider investing in a high-end option like the Vitamix E310 Explorian.
Are you planning to make milkshakes only or do you want to chop food, make a smoothie, or even cook a hot soup? The Cleanblend Commercial blender and the Vitamix E310 are some of the most versatile options on our list.  You can make nut butters, green smoothies, acai bowls and much more.
Milkshake-Making Blender vs. Regular Blender: What is the Difference?
Though all blenders can make a milkshake, some of them have special milkshake-making options and are better suited to the task:
Thickness: A milkshake-making blender allows you to control the final consistency of your milkshake. You can make thick ones or light ones, based on your preferences.
Mixing: Milkshake-making blenders will generally mix ingredients more thoroughly, without getting stuck or requiring you to tamp the ingredients to the bottom of the jar.
Aeration: Milkshakes, arguably, taste best when they are frothy. Some milkshake makers will be able to whip up and froth the milk you're using to make the final mix airy.
Benefits of Milkshake Makers
Professional-grade milkshake: You can enjoy the milkshake you drink at the diner, something that comes out of a machine, at home.
Hassle-free preparation: You can make milkshakes without any special effort on your part.
Automated blending option: Some blenders have one-touch program controls for making milkshakes. Just put in the ingredients and let the machine do the rest.
Convenient: Blenders make cooking simple, letting you effortlessly prep foods. With a blender, you don't have to do the work manually. It shaves off minutes and hours off the cooking time.
Versatile: You can use blenders for a variety of everyday tasks, from making a milkshake to preparing whole juices and even cooking up hot soups.
Healthy: You can control what you eat and get more nutrients within by making healthy foods and drinks with a blender's assistance.
3 Tips for making milkshakes
Use the milk sparingly: Even if it's called a milkshake, it should have a limited amount of milk in it. Too much milk makes ice cream, not a shake.
Choose the right ice cream: High-quality ice cream, with less sugar and other additives, tastes and mixes better. Also, not all ice creams work well for milkshakes.
Don't be afraid to experiment: Put more than milk and ice cream into your shake. If you use spices, fruits, cookies, and chocolate chunks, you will get a better shake.
5 Delicious Milkshake Recipes (and Resources)
If milkshakes are all you're going to make, the Oster Texture Select Pro Settings Blender is the best option. It comes with useful milkshake-making settings, a powerful motor, and a 3-year guarantee. You can whip up a diner-level milkshake in minutes.   
If you are looking for a highend option have a look at the Vitamix E310 model.  
The Mueller Austria Ultra-Stick Multi-Purpose Hand Blender is a worthy budget alternative, though it's not a traditional countertop option.
Add Your Heading Text Here​
Add Your Heading Text Here​
Add Your Heading Text Here​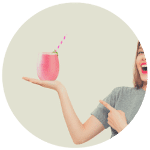 Hi, I am Charms, a self-confessed smoothie fanatic!  Here I will share some of my favorite smoothie recipes, tips and guides and gear reviews.   Learn more .