Moved by margaritas? Feeling downright dramatic for a daiquiri? Well lucky you, with all the premium blenders on the market it has never been easier to serve up perfectly blended frozen beverages in your own home.
And we've collected our top 4 best blenders for margaritas & daiquiris so that you won't have to waste any time finding the right appliance – and get to sipping and relaxing!
Best Blenders for Margaritas Product Reviews
While any of the Blendtec blenders can whip up a truly tropical refreshment with ease, we're taking a closer look at the Blendtec Total Classic today.
It's one of the most affordable options from the highly lauded company. But don't let yourself be fooled by the lower price tag into thinking it is lower quality.
The Total Classic has all the features we know and love: strong blades to pulverize ice, extensive warranty coverage, and tons of pre-sets so you can get back to the party.
And the best part? This model can handle nearly any recipe you throw at it, not simply perfect daiquiris. From ice cream, to cooking hot soups, and even nut butter. Cheers to that!
Blendtec also has a line of commercial grade blenders, sound baffling cases for most models, and many more home use appliances with accessories galore.
What's special about it:
Super strong, blunt edged, stainless steel blades that are 80% thicker than competitors
Pre-programmed cycles let you blend hands free and protect motor
Quickly and fully blends tough ingredients like ice
Versatile appliance can handle many other projects: ice cream, smoothies, nut butters, etc.
Exceptionally powerful
Incredibly versatile
Superior safety features
Quality construction
Hands free operation
Extensive warranty
Though any of the Vitamix models are up to the task, we're taking a closer look at the Explorian E310. It has the power and durability to turn ice into snow for the most delightful of daiquiris.
We love that even though this is their cheaper model, it has all the important features that make up a Vitamix: powerful motor with overheating protection, aircraft-grade steel blades, and that comprehensive warranty to put your mind at ease.
Want a Vitamix that can perfectly attune to changes in jar and portion sizes? Check out the Ascent series – the A2500's line of smart jars will blow your mind.
No matter what the job, there's a Vitamix that can do it. They even sell commercial, high volume models and tons of accessories on their website.
What's special about it:
Speed dial lets you start slow and ramp up to full crushing power with ease
Overheating protection and improved longevity from the cool running motor
Hardened, stainless steel blades can cut and crush ice down with ease
Extremely powerful
Quality construction
Least expensive Vitamix
Long warranty
Margaritaville Key West Frozen Concoction Maker with Easy Pour Jar and XL Ice Reservoir
For the party host that emulates Hemmingway's favorite bartender, check out the amazing ice shaving and drink mixing contraption from Margaritaville.
Though the blender portion of the Margaritaville is not up to ice crushing snuff, it doesn't need to be. Because this gourmet drink maker doesn't blend the ice, it shaves it before mixing it into the beverage.
That's right, now you don't need a super powered blender to get the perfect margaritas. No chunks, no crunch, just exceptionally fluffy and smooth party drinks.
However, it has extremely limited, specific functionality for the cost. And with the unimpressive warranty to boot, it is more of a luxury item than a kitchen appliance.
What's special about it:
Shaves ice before mixing, ensuring smooth and fluffy texture
Extra-large ice reservoir makes 2.5 pitchers full of margaritas
Pre-programmed cycles for hands free drink mixing
Shaved ice, no chunks
Easy to use
Easy to clean
Overly specific functionality
Expensive
Wimpy warranty
Ninja BN701 Professional Plus Blender with Auto-iQ, and 64 oz.
Folks seeking a cheaper alternative that specializes in crushed ice should consider Ninja. It's powerful, equipped with special ice crushing blades, and totally dishwasher safe.
And you can make tons of margaritas in the huge pitcher without being stuck in the kitchen all night. Ninja's consistently delicious Auto-iQ programs allow you to walk away from the blender to entertain guests.
Please be aware that these blades, as good as they are at crushing ice, are quite easy to slice your fingers on when assembling & disassembling the blender.
And though the price is very reasonable, you are trading quality and durability for cost. As an entry level, or vacation home margarita maker the Ninja will perform well. But under the stress of regular use, it will likely need to be replaced within a few years.
What's special about it:
Auto-iQ programs consistently produce the perfect texture
Useful for a variety of beverages including margaritas, smoothies, shakes, and more
Stacked, multi-pronged Total Crushing blades excel at ice crushing
Powerful
Easy to clean
Hands free operation
Inexpensive
Easily mishandled blades
Wimpy warranty
Buyers Guide - How to Choose the Best Blenders for Margaritas and Daiquiris
When it comes to crushing ice for fluffy, refreshing frozen drinks like margaritas and daiquiris the power of your blender's motor should be one of the first considerations.
The more powerful the motor, the more able the blender will be to pulverize the ice effectively. Icey chunks are a huge faux pas in frozen Margaritaville.
Most experts recommend going with a blender of at least 1000 watts of power or more. Blendtec and Vitamix are renowned for their robust motors, and all their models blend at over 1300 watts.
The next most important piece of the smooth daiquiri puzzle is blade strength and design.
Ice is one of the toughest ingredients you're likely to put into your blender. Choose stainless steel blades, preferably hardened or especially thick ones to be sure that the strength of the blades far exceeds that which you're trying to blend.
Also, the more angles and prongs on the blades the better. Blenders with 4 or more prongs are significantly more efficient at crushing ice for your margarita night.
Ninja's Total Crushing blades are a great example of "the more blades the better."
Do you have a fully stocked kitchen? Maybe extra accessories would just be in the way.
Or perhaps you are a blending newbie that needs help outfitting your kitchen. For more handy tools included with a blender purchase, check out Ninja and Vitamix. 
Both manufacturers have many different bundles of tampers, different sized jars, spatulas and more to make frozen cocktail night easier.
Ease of operation & cleaning Up
Who doesn't love a party? But boy is clean up a pain. Luckily, all of our blenders on this list are dishwasher safe.
For the true neat freak, Blendtec has a built-in self-cleaning function and the control panel is sleek and easy to wipe down after every use.
Making margaritas for one? Perhaps a powerful little personal blender will suffice.
But if you plan on entertaining, go for a bigger pitcher like Ninja or Blendtec. Their jars are also made of shock, shatter, and scratch resistant copolyester that will look good longer.
Blenders that excel at ice crushing are a more powerful and hardworking breed than the usual countertop blender.
You should be prepared to spend at least $150 on a good quality blender for margaritas. And those seeking a truly exceptional and versatile machine should budget for closer to $400.
If you just need a frozen beverage maker for your summer home, perhaps the lower price tag and short warranty of the Ninja or Margaritaville will appeal to you.
But, if you want to blend up daiquiris regularly or at high volume, or you simply don't want to buy another blender for years and years – check out Blendtec and Vitamix's extensive warranties and replacement programs.
Blenders without pre-programmed cycles should have at least 3 speeds so that you can warm the motor up before peak blasting speed.
This will protect your motor from overheating and prolong the lifespan of your appliance.
Folks interested in entertaining guests with daiquiris galore should seek blenders with pre-programmed cycles. Blendtec and Ninja are excellent examples. A host needs all the hands they can get, so unchain yourself from the blender and let the automatic programs take over.
Frequently Asked Questions
What is the difference between a blender and a margarita maker?
The main difference is the ice. Margarita makers will usually shave the ice prior to mixing it into the liquid. This ensures that there are no chunks and allows the mixing motor to be much less powerful.
Blenders, on the other hand, crush the ice and mix the drink all in the same reservoir. If you choose a blender for your frozen drink making you will need to make sure that it is highly capable of crushing ice to a fine texture. No one wants a crunchy margarita!
As is so often the case, Blendtec comes in at the top of our list. You'll be able to crush ice for any delicious frozen beverage, chop salsas, puree soups, and even grind nut butters in this highly durable appliance for years to come!
We hope these carefully researched reviews and tidbits will help you get your margarita night off to a smooth and delicious start.
Add Your Heading Text Here​
Add Your Heading Text Here​
Add Your Heading Text Here​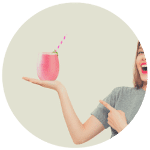 Hi, I am Charms, a self-confessed smoothie fanatic!  Here I will share some of my favorite smoothie recipes, tips and guides and gear reviews.   Learn more .