Bulletproof coffee, or "keto coffee," is the newest caffeinated fad in dieting. But did you know Dave Asprey got the idea from the Tibetan tradition of mixing yak butter into rich, dark Pu-erh tea?
That's right, humans have been drinking "bulletproof" beverages since the 7th century!
So, what's the link between yak butter tea and Bulletproof coffee? You can make either in your blender right at home! No need for fancy, exotic cafes. Get your rich, frothy fix in your own kitchen.
But which blenders are best for mixing this magic, mind fueling beverage? In this article we'll go over how to choose the right blender, as well as get into our picks for best blender for bulletproof coffee.
Best Blender for Bulletproof Coffee Product Reviews
First off, we love Blendtec. The company makes great quality blenders that will last a lifetime. And the Blendtec Total Classic bring that awesome commercial grade quality to you at a home kitchen price.
And when it comes to the best bulletproof coffee blender, you get all that and more with Blendtec. In fact, the creator of Bulletproof coffee recommends Blendtec brand!
It is specially designed to handle hot ingredients and the pre-programmed cycles allow you to push a button and let the blender do all the frothy work.
And you can do just about anything with a Blendtec. Nut butters, salsas, smoothies, soups – ooh la la! Perfect for those who want more than just a coffee maker, but a fully capable blender as well.
What's special about it:
Thermal shock resistant Tritan plastic jar
Stainless steel blades that are 10x stronger than competition
blends, grinds, crushes, purees, chops, cooks – and more
6 pre-programmed cycles and 10 manual speeds
Highly versatile
Extensive warranty
Designed for hot or cold blending
Programed blends protect motor
Mueller Austria Ultra-Stick 500 Watt 9-Speed Immersion Multi-Purpose Hand Blender
For the family household, a noisy blender can be morning no-no! Which is why we love the Mueller immersion blender for our Bulletproof.
Mueller delivers surprising power for a stick blender. And you'll be able to blend coffee right in the cup, soup on the stovetop, whipped cream and more.
You won't be able to grind your own nut butter with an immersion blender. But it has a surprising amount of applications and is perfect for a quiet cup of Bulletproof coffee!
What's special about it:
Durable copper motor with surprising power
Easy to clean, detachable blades
Ergonomic, non-slip grip
Inexpensive
Quiet operation
Appropriate for hot or cold
Vitamix is another excellent example of superior blending efficiency and versatility.
The 10-speed variable knob lets you dial in just the right froth for your Bulletproof beverage, and much more. The power and durability of Vitamix means you can tackle almost any kitchen project imaginable.
This hot or cold blender can cook soups, grind nut butter, puree smoothies, and froth your buttery coffee. Unfortunately, all this doesn't come cheap at more than $500.
But the full, 7-year warranty means that money is well spent. You may never buy another blender again!
What's special about it:
Aircraft grade, hardened stainless steel blades
Professional quality, all-metal motor
Cooks, blends, purees, chops, grinds, crushes
Powerful, durable
Extensive warranty
Versatile
For hot or cold recipes
Noisy operation
Very expensive
Instant Ace Nova Cooking Blender, Hot and Cold, 9 One Touch Programs
The 6-pronged blades and one touch programs will emulsify Bulletproof coffee to perfection, and the heating element automatically keeps your beverage warm while you get dressed for work!
We're a fan of the many pre-programmed cycles and love the versatility of this appliance. Instant Pot has three nut milk settings (vegans rejoice!) in addition to smoothies, soups, and crushed ice.
Being a less expensive option also means some of the parts are lower quality. Be gentle with the plastic pieces, and don't leave your blender heating for too long to avoid any issues with melting.
What's special about it:
Thermal shock resistant, borosilicate glass
10-speed customizable blending, 8 pre-programmed cycles
Crush, blend, grind, cook, chop, and more
Heating element and "keep warm" function
Designed for hot or cold use
Can blend or heat separately
Easy to clean, self-cleaning
Wimpy warranty
Cheaper parts
Ninja Foodi Hot and Cold Blender
Ninja gives us another moderately priced option for blending hot liquids. You can froth your Bulletproof coffee without worry and keep it warm with the built-in heating element.
However, we weren't impressed by the warranty or overall quality. Plastic seals get leaky, and some bits even melt when exposed to high heat for extended periods.
And some design elements are lacking as well. For example, the base of the pitcher cannot be separated submerged in water. That makes cleaning this heavy pitcher quite awkward.
What's special about it:
Blends, cooks, chops, toasts, purees, and more
12 Auto-iQ programs, 7 manual, 3 speeds
Heating element to cook or "keep warm"
Versatile
Powerful
Smart programs protect motor
Heavy, hard to clean pitcher
Glass subject to thermal shock
Not all blenders are created equal. In fact, many just aren't suited to blending hot liquids like coffee.
So, let's take the guesswork out. In this section we're going to delve into what you should keep in mind while shopping for a blender that you can make Bulletproof coffee in.
Check out the Bulletproof website for recipes, health claims, coffees and oils for purchase, and more information on the keto diet. (Our particular favorite is the Bulletproof Matcha Latte – yum!)
Types of Blenders That Can Be Used for Bulletproof coffee: Immersion vs Countertop Blender
For simple homogenization of liquids, like Bulletproof coffee, you don't need an overly powerful blender. Thankfully, that often means you can go for a less pricey model.
And it also means that immersion blenders are a perfectly efficient tool, not just countertop blenders.
An immersion blender (or hand blender, mini blender, stick blender, or wand blender) is a blade on the end of a stick that is used to blend or puree ingredients in the container they are being prepared in.
The motor is powered by either an electrical cord or batteries, and non-commercial models are usually less powerful.
Pros:
Lightweight, easy to use
Work for hot or cold
Inexpensive
Quiet
Cons:
Less versatile
Less powerful
Countertop blenders are the standard style, with a jar that sits on top of a motorized base. They have high versatility and can be extremely powerful.
Countertop blenders with decent power and capability to handle hot liquids usually fall in the $100 to $500 range. You can find cheap models, but they are often cheaply made and weak.
Pros:
More versatile
More powerful
Easy to clean
Cons:
Can be expensive
Some are not for hot foods
Noisy
Other Things to Look Out for When Selecting a Blender for Bulletproof Coffee
Make Sure Your Blender Can Handle Hot Liquids
When making Bulletproof coffee at home, choosing the right blender for the job is essential.
Hot liquids usually have a thinner texture than cold, so something like hot coffee will form a higher vortex in the blender jar than a smoothie.
This means it can climb the sides of the jar and force the lid off and spray all over your kitchen! And even if the liquid itself does not pop the top, the steam that builds up inside can do it as well.
America's Test Kitchen's video gives a great overview of why you need to be careful blending hot liquids, and what you can do to stay safe and mess free.
What is the blender's jar made of? When it comes to hot liquids, the safest materials are Tritan copolyester and borosilicate glass.
Both materials are thermal shock proof, as well as shatter resistant. That means you don't have to worry about cracking or melting!
Does the blender top have a steam vent? Steam can pop a lid off easily too, so choose a brand like Vitamix of Blendtec with vented lids.
Blending a Bulletproof coffee every morning won't put too much stress on a blender. If that's all you plan on doing, you likely do not need to spring for a long warranty.
But if you want to use your appliance for a variety of projects, go for better quality materials and a longer warranty.
The more expensive brands like Vitamix and Blendtec have extensive, comprehensive warranties included in purchase.
Mixing butter into hot coffee requires little horsepower. Which is why an immersion blender may be perfect for the casual blender user.
The longer you blend it, the frothier and yummier it will be. But that does not require 1000+ watts to achieve.
However, take motor wattage into account if you also want to be able to make things like smoothies and nut butters.
Do you have roommates, or small children that you don't want to wake with a loud blender just for your morning coffee? Then you'll love immersion blenders like the Mueller.
You can blend as long as you need to get that frothy, buttery beverage just right without waking everyone in the house up.
Do you want to be able to make more than just Bulletproof coffee? Like smoothies, soups, salsas, nut butters, and more? A countertop blender will allow you to tackle a wider range of recipes.
Frequently Asked Questions
Can you put hot liquids in blenders?
Yes, but only if the blender is designed for hot liquids.
Refer to our buyers guide above for more in-depth coverage of all the factors that make a good blender for hot liquids.
Can you blend hot coffee in a Nutribullet?
No. In fact, you should not blend hot liquids in an inversion or "bullet" style blender. Doing so it messy and dangerous
Inversion blenders create a completely sealed environment when they blend. So, all the steam and pressure created by hot liquids has nowhere to go. Trying to remove the top after blending hot coffee will be harder due to the pressure and can pop or even explode once released.
Hot liquids can also seep through the seal, causing messy leaks.
Haven't had your coffee yet, and just want to cut to the chase?
The Blendtec Total Classic is the ultimate Bulletproof coffee maker. It is designed for hot or cold with its vented lid and thermal shock resistant jar. Not only that, but you can grind nut butters, cook soups, and even more!
We hope these reviews have helped you find the best blender for bulletproof coffee for your kitchen.
Add Your Heading Text Here​
Add Your Heading Text Here​
Add Your Heading Text Here​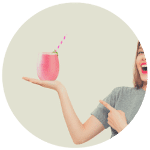 Hi, I am Charms, a self-confessed smoothie fanatic!  Here I will share some of my favorite smoothie recipes, tips and guides and gear reviews.   Learn more .