If baby isn't happy, no one is! And one of the best ways to keep your baby healthy and feeling good is to feed them fresh, nutritious, and delicious meals.
Meal prep can be time consuming and hard. But it doesn't have to be with the proper kitchen appliances!
Let our extensive kitchen knowledge make finding the best blender for baby food and baby food makers a snap. In this article we include our top 5 choices, honest and thorough reviews, as well as tips on what to expect when shopping.
Best Blender for Baby Food Product Reviews
Evlas Baby Food Maker | Baby Food Processor Blender Grinder Steamer
Evla's baby food maker is a winning combination of great quality materials, thoughtful design, and reasonable price.
The LED touchscreen makes it simple to operate, and all the attachments are dishwasher safe.
Our favorite thing about this baby food maker is the obvious care paid to safety features. It is free of toxic plastics, but also common allergens like latex. And unlike some competitors the water tank is situated so that it is easy to hand wash, allowing you to eliminate nasty mold and mildew.
And don't forget, it comes with a full-length cookbook of recipes written by a medical professional! This is a great product for first time parents that need a little inspiration.
What's special about it:
Free of BPA, phthalates, lead, and latex
Suitable for fruits, vegetables, meat, and fish
Self-cleaning features and wide mouth, easy to clean water tank
Includes reusable food pouches and big recipe book
Modes: steam, sterilize, self-clean, pulse, autoblend, and 3 blending speeds
Superior materials, superior safety
Low-mid range price
Comes with cookbook
Consumer Product Safety Commission approved
Heating plate prone to rust
Duo Meal Station Food Maker 6 in 1 Food Processor with Steam Cooker
The Duo Meal Station is a great option for those with children of varying ages. It has a huge steamer capacity, and easily accommodates for toddlers eating more complete foods as well purees for early eaters.
We love that it catches the juices from the foods to be used in the blender and doesn't waste any nutrients. And though food stuffs can make its way into the water reservoir easily, it's also easy to clean.
What's special about it:
Modes: steam, defrost, sterilize, warm, blend, and 3 speeds
Designed to catch steam water and juices of ingredients
Phthalate, BPA, and lead free
Lifetime warranty, responsive customer service
Extra-large capacity
Easy to clean water reservoir
Mid-range price
Surprisingly weak blender
Baby Food Maker Chopper Grinder - Mills and Steamer 8 in 1 Processor for Toddlers
For those looking for a larger capacity baby food maker that won't take up more space, check out the Homia Dansa. The innovating, stacking steamer basket design allows you to steam one, two, or three separate foods at once. That amounts to a week of meal prep for a 6-month-old!
It also has some of the features we love about the Evla, like tons of handy pre-sets, easy touch screen operation, and non-toxic materials.
However, the lack of a tight seal on the top of the steam baskets means that you will need to give the unit plenty of space out from under wooden cabinetry.
What's special about it:
Modes: Cook, warm, sterilize, defrost, and 4 blending speeds
3-tiered basket system separates food and extends capacity
Shatter proof, thermal shock resistant Tritan copolyester jar
BPA, lead, and phthalate free
Attentive customer service
Safe, sturdy jar material
Larger steamer capacity
Hard to clean water reservoir
Steam baskets do not lock together
BEABA Babycook 4 in 1 Steam Cooker & Blender and Dishwasher Safe, 4.5 Cups
Folks that don't want to bother with settings and functions should check out the Beaba Babycook.
It has a large jar capacity and boasts the ability to cook and puree anything in 15 minutes. That includes raw chicken and fish!
Unfortunately, the water tank can be very tricky to clean. You need to be extra careful to descale and run sanitizing cycles through this machine, or mold and mildew will quickly take hold.
What's special about it:
Modes: steam, blend
Auto shut off, chimes when done
Suitable for vegetables, fruit, raw chicken and fish
Lead, BPA, and phthalate free
Large capacity
Steam and blend any ingredients in 15 minutes
Hard to clean water reservoir
Mid-range price for low quality materials
Magic Bullet Baby Bullet Baby Care System
If you already have a steamer at home, consider the Baby Bullet. Though the blender motor is only 200 watts, it is by far the most effective blender for baby food on our list.
It powers through steamed food with ease and can be tossed in the dishwasher.
What really stands out is Magic Bullet's excellent accessory collection included in purchase. You get multiple blade sets, jars, and a recipe book. Plus, the storage system lets you stack, date the jars, freeze batches, and make meal prep that much easier.
What's special about it:
Handy, dated food storage system
BPA and phthalates free
Easy to clean
High performance blender
Super low profile
Whether you are having your first child, or are a seasoned parent, appliances that make life easier are a boon to your day. Pre-set programs are your friend when it comes to destressing dinner.
Evla, Babymoov, and Homia all have models with easy to use displays and multiple pre-set programs for supreme efficiency.
What is the product made of? Fully plastic appliances can crack and break over time. A comprehensive warranty can ensure that your product can last as long as you need it.
To ensure easy clean up, go for a brand with dishwasher safe pieces. Evla even has a handy, self-cleaning function built in.
Consider also how easy it will be to clean the water tank from which steam is collected. If it's hard to reach into, mold and mildew can build up and become dangerous.
Want to be able to take your baby's meal with you? Keep an eye out for baby food maker sets that include lids and to-go containers.
The last thing you want to do is make your baby's nutritious food in a toxic chemical leaking jar! Check that the materials are BPA, phthalate, and lead free.
Tritan copolyester is a super safe, and incredibly durable material that Magic Bullet uses in their baby food blender.
Evla's products are free from all toxins, as well as common allergens like latex.
Safety is our main concern for all our baby food maker articles. Container material and cleaning are the two factors you should consider.
Are you a new parent who needs recipe ideas, kitchen tools, and all the help you can get? Go for a brand like Evla that includes a full recipe book.
Or, if you've got a stocked kitchen and library already, check out Homia and Babymoov's products for simply the essentials.
The adage "you get what you pay for" can be a warning or a celebration. Which is why we recommend that when it comes to the safety and health of your children you should never cheap out.
In the case of baby food makers, that means being willing to spend at least $100-200 on an appliance. Barring sales, you won't find a good quality baby food maker for under $70.
Can You Use a Regular Blender for Baby Food?
Technically, yes. But you probably won't want to use a regular blender for your baby food because they simply are not designed to do everything necessary for healthy, easy baby food.
But baby's sensitive tummy needs ingredients steamed and then pureed for an easy to digest and highly nutritious meal.
There few – if any – standard blenders that can steam fruits and veggies. Some have heating elements or use blade friction to cook foods, but in the process loose precious nutrients.
For the most bang for your buck, choose an appliance that specializes in steaming, pureeing, and even sterilization and bottle warming!
Benefits of Using a Baby Food Maker
You know what your baby is eating
Perhaps one of the most underrated benefits of a baby food maker is the peace of mind you will have knowing exactly what your little one is eating.
You're in total control, and can avoid preservative, excess salts or sugars, as well as artificial dyes and flavors.
Because when you don't have to make a product to sit on a shelf for months at a time, you don't need to add all the extra nonsense!
You can use the freshest, healthiest ingredients and even meal plan so that the whole family can eat the same, nourishing foods (even if they are prepared differently).
More nutritious baby food
The longer foods sit on a shelf, the more their nutrients break down – even with preservatives. So, using fresh ingredients means you are getting the highest concentration of good stuff right to your baby.
And you can tailor your baby's food to their special nutritional needs. Do they need more iron, but hate spinach puree? Mix the perfect succulent pumpkin, hidden spinach meal!
Let's be honest for a second: it's tough getting the energy up to make a meal from scratch when you're sleep deprived and distracted by a new baby.
The right baby food maker turns a laborious task into three easy steps: chop, steam, puree. And all with the touch of a few buttons!
A baby food maker will not only make healthy food easy, but it will save you big time! Most parents see a savings of about $1000 a year making their own baby food.
The best overall choice for baby food makers and blenders is Evla's Baby Food Maker. It's easy to use and has all the safety features you could want: no mold in the water tank, no toxins or latex – just nutritious baby food.
For folks who need a larger capacity baby food maker should check out our second favorite, the Duo Meal Station. You can steam multiple meals at once and easily reach the water tank for cleaning.
We hope you found the perfect baby food maker for you – because a happy baby is a happy parent!
Add Your Heading Text Here​
Add Your Heading Text Here​
Add Your Heading Text Here​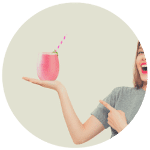 Hi, I am Charms, a self-confessed smoothie fanatic!  Here I will share some of my favorite smoothie recipes, tips and guides and gear reviews.   Learn more .