Nothing quite beats a fresh glass of juice or a cool breakfast smoothie during the dog days of summer. But why clutter up your countertop with both a blender and a juicer? Solve those kitchen organization woes with once of these five best blender juicer combos.
Our experts have dedicated hundreds of hours to researching the best kitchen appliances on the market. And in this article, we're going to share some of that knowledge as well as our in-depth reviews, so that you can find the best blender juicer combo for your kitchen.
Best Blender Juicer Combo Product Reviews
Breville® the 3X Bluicer™ - 2-in -1 Juicer and Blender
Those looking for an excellent price point and quality juicer with blender attachment should look no further than the Breville Bluicer. It is easily the best juicer blender combo for the money.
You get the speed and reasonable price tag of a centrifugal force juicer, but without the heat transfer and degradation. And that means your juices are healthier, tastier, and super easy to make.
Breville has preprogrammed multiple settings for your convenience, and even included a self-cleaning mode. The motor is nearly double the power of most home kitchen blenders, and it can handle foods and ice crushing with ease.
What's special about it:
Juicer connects directly to large capacity blender jug for easy use and less spills
Cold spin technology protects nutrients in juice
Compatible with the Breville Vac Q vacuum pump, for smoother and silkier results
Easy to clean
Mid-range price for a high-quality product
Suitable for juice, smoothies, and crushing ice
Not suitable for juicing leafy greens
Ninja Duo w/Micro-Juice Technology - Best Blender for Juicing and Smoothies
Folks interested in a blender juicer combination appliance will appreciate Ninja's Duo Blender with Micro-Juice Technology. It's a mid-range price for a powerful blender that can make a decent juice. And won't clutter up your countertop to boot!
However, the convenience of having blender and juicer in one appliance is tempered by a key downside.
Juice fanatics take note: the Ninja Duo does not technically "juice" ingredients. It blends food with super powerful blades, then filters out much of the pulp with a micro mesh filter. 
Some heat is created in the process, and some of the fiber and solids od the ingredients are left in the product.
What's special about it:
Powerful blender and juicer combo, all in one unit with no cumbersome attachments
Vacuum integration removes air and makes for a richer texture
Tons of smart settings make any kitchen task quick and easy
Mid-range price, exceptional blender quality
Significantly more powerful than most home blenders
Maximizes counter space
Does not fully remove pulp from juice
Heat used in blending/juicing may degrade nutrients
Cuisinart CFP-800 Kitchen Central - 3- in -1 blender, food processor and juicer
Cuisinart delivers a quality juicer blender multi-attachment appliance that shines in terms of versatility and cost. The blender attachment is no frills and solid. 
But what we were mostly pleasantly surprised by is the juicer. A true centrifugal force juicer, it delivers delicious and totally pulp-free juice in seconds. 
While the blender and food processor don't have the sheer horsepower of some competitors, those seeking a juicer foremost will find the Cuisinart a highly capable addition to their kitchen.
What's special about it:
3 appliances in 1: juicer, blender, food processor.
Quality centrifugal force juicer performs admirably
3-in-1 design saves cabinet space
Incredibly reasonable price for the utility
Lacking in power for blender and food processor
Small amount of heat transfer, shorter juice shelf life
Blendtec Designer 725 Blender - WildSide+ Jar (90 oz)
When it comes to blenders, Blendtec is king. Professional grade, more than 100 speed settings, extensive warranty, and triple the power of common home blenders – holy cow! 
Those willing to shell out for the last blender they'll ever need should search no further.
However, those seeking a true juicer should be aware that the Blendtec has a juice setting but does not remove pulp. But the results of hitting that juice button are extraordinary! 
You'll be hard pressed to tell the difference. All the Blendtec Designer series blenders have this ultra-powered setting.
What's special about it:
Powerful motor, superior blender performance
Boasts astounding array of speeds and cycles
Professional quality
Incredibly easy to clean
Super high-performance blender
Not a juicer, blender only
Big price tag
Vitamix E310 Explorian Blender
Looking for a professional quality blender, but daunted by the big price tag on Blendtec's products? Check out the Vitamix Explorian series. 
Vitamix is a respected brand that provides impeccable quality and one of the highest performing blenders made for home use on the market.
Turn whole fruits and veggies into utterly silky and drinkable beverages – no need to worry about the pulp getting in your teeth. 
The Vitamix E310 is not a true juicer, but you can achieve juice quality results by running this high-performance motor for about a minute and a half.
What's special about it:
Professional-grade, long lasting
Versatile, can even heat contents
Best small-medium batch blender for the price
Quick and easy clean
Professional power, but not overpriced
No juicer attachment, blender only
Still very pricey
What's the difference between a juicer and a blender?
Blender
Product is thicker, heavier
Pulp and juice are pureed together into one mix
Product takes longer to digest than just juice and has more calories
The purpose of a blender is to turn all the ingredients you add into a single homogenous liquid with the use of powerful, rapidly spinning blades.
Blenders can be useful for a variety of cooking projects, including soups and smoothies. A smoothie can easily take the place of an entire meal, depending on what you put in it.
Juicer
Product is more watery, thinner
Pulp is removed and collected or extruded
Product is easier to digest than a smoothie and has less calories
Instead of pureeing every bit of an ingredient, juicers mash things up and strain out the juice from the fiber. 
Juice is packed with nutrients, quicker to digest, and has less calories than a smoothie. You can use the excess pulp in other recipes, or as great compost materials.
There are three main types of juicer:
Centrifugal force juicers
The most common kind of juicer available for home kitchens. These juicers pulp ingredients in a mesh chamber that has sharp teeth. Simultaneously, it spins the chamber at high speeds, thus separating the juice from the pulp.
Centrifugal force juicers have quick setup and clean, super reasonable prices, and are most suitable for firm fruits and veggies. However, the machinery causes some heat which may reduce quality of the juice.
Masticating juicers
One of the more expensive options, masticating juicers pass ingredients through a chute and crush them with a powerful auger. 
The pulp and juice are then separated by slowly squeezing the product and letting the juice run through a fine mesh.
These juicers can handle vegetables, fruits, and leafy greens with ease. The whole process is done without heat – also called "cold pressing" – and leaves all the nutrients in the juice intact.
Triturating juicers
These are versatile machines, and most models have multiple functions in addition to juicing such as noddle making, nut and seed grinding, and vegetable chopping.
Two gears crush ingredients and separate the juice via a fine mesh. Triturating juicers are faster and stronger than the masticating kind. And the lack of heat means juice is stable and nutritionally dense.
These juicers are great for every ingredient except soft or watery fruits. They are big, heavy machines and often cost well over $400.
What kind of blenders can be used for juicing?
1.  Juicer blender combo
Perhaps the best option for those who want both a blender and a competent juicer is the juicer blender combination. 
Look for options with multiple settings and pre-sets, as well as a powerful motor that can handle both crushing and spinning functions. The Ninja Duo is an excellent example.
These are usually much pricier than either a blender or a juicer separately, and this is due to the complicated nature of the design. But for those willing to invest in a combo appliance, you'll save on counter space and time.
2.  High performance blenders
For folks seeking superior smoothness, texture, and versatility a powerful blender may be the right choice. For truly outstanding blending power, look for high wattage or professional/commercial quality. 
Top tier blenders are quite expensive, but often back it up with warranties and performance.
Blendec's Designer series is a shining example of blenders that can produce juice-quality results from whole ingredients.
Do note, however, that though the resulting liquid will be incredibly smooth from a high-performance blender it does not separate out the fibers of the ingredients from the juice. 
If juice is your objective, even a fancy commercial blender won't be suitable if it does not have any juicer attachments.
3.  Blenders with juicer attachments
Some blenders have the option of purchasing a separate juicer attachment. They are made up of a single base, and two different jar toppers for the separate functions. 
The attachments may take up a little more cabinet space, but they are often less expensive than the combo appliances.
Breville comes in at our number one choice. We loved the fact that it is both a true juicer and blender, as well as the reasonable price point. Fast centrifugal juicer design with cold spin technology means you get nutrient-rich juice in a fraction of the time.
Those looking to maximize counterspace may enjoy the Ninja Duo, which blends and makes juices even though it is not technically a juicer.
And for those simply seeking one of the best blenders on the market, check out the Blendtec Designer 725.  
Blendtec's powerful motor and superior manufacturing quality ensures such a fine blend that you can get juice-like texture without the juicer at all.
We hope these in-depth reviews have helped you navigate the retail jungle and find the best blender juicer combo for your kitchen.
Happy juicing!
Add Your Heading Text Here​
Add Your Heading Text Here​
Add Your Heading Text Here​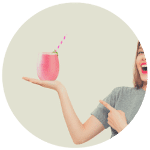 Hi, I am Charms, a self-confessed smoothie fanatic!  Here I will share some of my favorite smoothie recipes, tips and guides and gear reviews.   Learn more .