Vitamix is like the Rolls Royce of blenders, while Ninja is akin to the more mainstream Honda. Consequently, Vitamix blenders command a premium price. Ninja ones, on the other hand, are much more affordable. So does that make Vitamix better than Ninja? It's not as black and white as that.
In this Vitamix vs Ninja comparison guide, we pit these two top-tier, popular brands against each other.  Our goal is to help you make an informed purchase decision.   
Vitamix vs Ninja Our Top Picks
Vitamix first came to the scene in the late 1930s. Being one of the pioneering blender brands, Vitamix quickly found a foothold in the market and became a mainstream sensation. 
Today, Vitamix is the brand of choice for many celebrity chefs worldwide. And you're very likely to find a Vitamix in professional settings – like restaurant kitchens and smoothie bars.
Ninja is a comparatively new brand, first introduced by Euro Pro Operating LLC in 1993. Besides blenders, you will also find multi cookers, coffee makers, and air fryers with the Ninja tag. 
Ninja blenders are famous for being cutting-edge, high-quality, and affordable. They occupy the mid-range segment – not as pricey as Vitamix but not exactly entry-level either.  
Vitamix mainly makes mid-to-high-volume blenders for home and commercial use, starting from $300 and up:
Classic Series: Classic Vitamix blenders are no-frills. They have tall bases and containers, narrow bottoms. They have a classic control scheme, 2HP motors, and variable speed control.
G-Series: The G-Series is an upgrade over the Classic series. The blenders in this range come with a higher capacity 2.2HP motor, a large-bottomed base, and a low-profile design.
S-Series:  The S-Series range contains personal blenders with low-power motors (1HP) and low-capacity containers. This range of blenders is being phased out.
Explorian Series: The Explorian Series is "entry-level" blenders from Vitamix, available at the most affordable price. You get the full Vitamix experience with these blenders, but they don't have as super-long warranties or premium features.
Ascent Series: The Ascent Series is the newest range of blenders from Vitamix. It comes with cutting-edge features like smart controls, programmable timers, and touchscreens.
Commercial Series: Commercial blenders from Vitamix are extremely pricey but extremely good at the same time. You can expect top-tier features and incredible performance. Some examples are "The Quiet One", " Touch and Go Advance", "Vita-Prep 3" and "Mix'n'Machine".
The Ninja selection is similarly diverse. There's a Ninja blender for every situation:
Personal Blenders: These blenders are low-capacity and generally suitable only for small quantities of food. They cost less than $100. These blenders have "to-go" cups that you can fill and take with you outside.
Countertop Blenders: Countertop Ninja blenders are regular-sized and medium capacity, perfect for families. You can expect to pay anywhere from $70-300 for one and use them for all your typical food-making tasks.
Kitchen System: Ninja Kitchen Systems are $200 and up. They come with extra accessories and attachments like food processor bowls and chopping blades. You use them for an assortment of complex tasks.
Blenders with FreshVac Technology: FreshVac blenders come with a special pump that sucks out all the oxygen from the container. This causes the food left behind to spoil slower and remain fresh longer.
Blenders with Auto-iQ: The Auto-iQ feature causes the blender to run itself. These programmed settings allow you to  make various items with the touch of a button.
Features: Face-off Ninja vs Vitamix
Every brand has attributes that make it unique. For Vitamix, it's outstanding quality and blender performance. For Ninja, it's cutting-edge technology and affordability.
When you're buying a blender, you consider several features before making a purchase. Is Vitamix better than Ninja in the features department and the better brand overall? Let's find out!
Motor Power – Winner – Vitamix
There is no beating a Vitamix when it comes to power. Most Vitamix blenders have at least 2HP (approx 1500W) motors. The higher-end variants, like The Quiet One, have massive 3HP motors (approx 2200W). 
In comparison, the most powerful Ninja blender (the CT810 Ninja Chef) has a 2HP (approx 1500W) motor. Vitamix motors can run for a long time without stuttering or heating up.  
You will find the superior horsepower of a Vitamix especially helpful if you plan to blend nut butter, hummus, hot soup, frozen fruit, frozen drinks, or crushing ice cubes.
Blender Controls – Winner – Ninja
Most Vitamix blenders have manual old-school controls, with speed dials and flip switches on the side. Ninja blenders, on the other hand, have convenient "one touch" buttons. 
Which is better? Personal preference always matters, but we find that Ninja blenders are generally more convenient to use. Most of them have Auto-iQ programs that automate food-making.
Further, many mid-range Ninja blenders have smart screen controls. Only higher-end Vitamix blenders come with automatic cycle programs, programmable timers, and touchscreen controls. 
If you can splurge, then a high-end Vitamix is the better choice. Otherwise it's Ninja all the way.   
Jar Quality and Features – Winner – Vitamix
Both Vitamix and Ninja blenders come with several container options. Out-of-the-box, you can expect BPA-free, Tritan plastic containers with Vitamix blenders. 
Ninja blenders also ship with BPA-free plastic pitcher, although some Ninja blenders come with glass jar instead. Vitamix jars are generally not dishwasher safe, but Ninja jars are.
Vitamix offers wet and dry containers, suitable for different kinds of food prep. Ninja allows you to buy food processor bowls and attachments. Overall, Vitamix containers win out in terms of quality and durability. 
You can expect them to go the distance. Further, these jars support the "Vitamix vortex" effect, which allows for perfect mixing of food.  
To sum it up, Ninja containers are good and offer multiple functions, but Vitamix jars are better quality-wise.
Ease of Use – Winner – Ninja
Ninja blenders, even the entry-level personal ones, come with several Auto-iQ programs. This means you can press a button and the blender will do the rest. 
It calculates the speed and time it needs to run at by itself. Most of them come equipped with easy-press one touch buttons. All in all, handling a Ninja blender is a stress-free experience.  
In comparison, Vitamix blenders are harder to use. The entry-level ones don't have automatic programs. Further, they have manual switches and a speed dial. 
You have to control their speed manually and are stuck to their side for the duration. Also, Vitamix blenders come with a manual tamper that you have to use to prevent the food from sticking to the sides.  
Ease of Cleaning – Winner – Ninja
Ninja blenders are, on the whole, very easy to clean. Most of them come with a self-cleaning option. You put in some soap, warm water, and then run the blender. 
The blender will then clean itself, making cleanup really easy. Further, most Ninja containers are dishwasher-safe (top rack). You will, of course, have to clean the base and some accessories by hand.   
All Vitamix blenders are self-cleaning. Just putting in some soap and warm water and then running the blender will let you clean the jar thoroughly. But not all Vitamix blenders have dishwasher-safe jars. 
This makes it harder for you to clean and maintain them. Note that newer Vitamix blenders and higher-end Vitamix variants are all self-cleaning as well as dishwasher-safe.
Blades – Winner – Vitamix
The blades are a critical component in every blender. Vitamix makes some of the best blades amongst all blender brands. They are laser-cut from stainless steel and have a pronged design. 
They are machine-hardened and don't require sharpening. Further, they are replaceable. You can expect these blades to last a long time.
Ninja blades are not as fancy as Vitamix blades, but they get the job done. They are also made of stainless steel and are interchangeable. They can crush through whole fruits, vegetables, and ice. 
However, they aren't as durable as Vitamix blades and will probably give out in a few years' time.  
Some Ninja blenders come with a stacked blade assembly. These blades are excellent. 
They rise from the bottom of the container to the top, allowing you to mix food uniformly. We recommend a stacked-blade Ninja blender over an entry-level Vitamix.
Ninja is a clear winner in the price department. You can expect to pay from $70 to $300 for a Ninja. The entry level price point of a Ninja blender makes it quite affordable.
The personal blenders are, of course, the cheapest and the professional ones – with their food processor attachments ­– are the most expensive.
Most Ninja blenders last at least for a handful of years. They're not as durable as Vitamix machines.
Vitamix blenders are, of course, extremely expensive. You will have to pay $300 and up for a brand new entry-level variant. A commercial grade Vitamix blender can cost upward of $1000.
Of course, not everyone can afford to pay this much for a blender. But if you do, you can expect the blender to go the distance. Most Vitamix blenders will last as long as their warranty – which is 7 years and up.
Use Frequency – Winner – Vitamix
How often are you planning to use your blender? Vitamix blenders are workhorses. You can use the professional variants day in and day out, and they continue to work flawlessly. 
The blenders made for home use, however, won't process large volumes continuously. But they are respectable machines that will last for a very long time.
Ninja blenders are for home use, for the most part. You can use them a handful of times a day and they will last for a solid few years. If you use them too often, chances are the motor or the container blades will wear out.
Warranty – Winner –Vitamix
Vitamix is unbeatable when it comes to the warranty. Out-of-the-box, most Vitamix blenders come with a 7 to 10 year warranty period. 
Vitamix includes everything in the warranty, from the cost of shipping to labor and replacement parts. 
In comparison, Ninja only offers an extremely limited 1-year warranty, and you have to pay to purchase a longer warranty.
Performance – Winner – Vitamix
Vitamix blenders perform incredibly well. Even the thickest ingredients turn to powder in a matter of seconds. 
You will need to use the tamper from time to time, but you can make foodstuffs of your desired consistency. 
If you are making smoothies, they are guaranteed to be silky smooth and lump-free. In comparison, Ninja blenders offer average performance and consistency.
Quality and Durability – Winner – Vitamix
If a blender ever lasts a lifetime, chances are it's a Vitamix. Vitamix makes high-quality, ultra-durable appliances. They cost a bomb, but the premium price almost guarantees a lifetime of use. 
In comparison, Ninja blenders won't last as long. Most Ninja blenders last a handful of years before you must replace them.
Features Unique to Ninja Blenders
FreshVac: Some Ninja models like the Ninja CT672V Smart Screen Blender come with a FreshVac pump attachment, which sucks out all the oxygen from the container. This causes the food or beverage inside to degrade slower and remain fresh for longer.
smartTORQUE: Not all blenders can run continuously for a prolonged period. The motor heats up and eventually breaks down due to the stress. But Ninja blenders with smartTORQUE technology, like the Ninja SS101 Foodi Power, can power through hard ingredients without breaking a sweat.
Features Unique to Vitamix Blenders
SelfDetect: The "smart" Ascent Series blenders from Vitamix come with SelfDetect technology. It allows the blender to change the blending setting to match the type of container you're using. It means there's less work for you.
Vitamix Vortex: The Vitamix Vortex technology allows for better mixing of food. It creates a vortex-like movement within the container, drawing the ingredients into the blades. Unlike with other blenders, you don't have to use the tamper much.
Ninja targets the entry-level to mid-range market with its blenders, while Vitamix targets the premium segment. Depending on how much you wish to spend, you can choose either option and receive a satisfactory appliance.
Use Vitamix blenders if –
You want a premium appliance that lasts a lifetime.
You can afford to splurge a little.
You want old-school durability and design mixed with modern performance.
Use Ninja blenders if –
You want a high-tech appliance with many handy features.
You are on a tight budget.
You love accessories like food processor bowls and juicing attachments.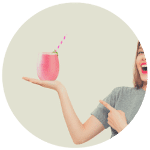 Hi, I am Charms, a self-confessed smoothie fanatic!  Here I will share some of my favorite smoothie recipes, tips and guides and gear reviews.   Learn more .