Blendtec is a top-tier blender brand, born and bred in the US. This brand is famous on account of the viral "Will It Blend?" campaign. In the viral marketing video, the founder showcased an incredibly powerful blender that crushed an iPhone as easily as it did ice. You can't go wrong buying a Blendtec blender – it'll be high-quality and go the distance.
In this buyer's guide, we bring you a handpicked selection of the best Blendtec blenders in town. You'll find the best blender for crushing ice and other tough ingredients.   
Product Reviews of the Best Blendtec Blenders
The Blendtec Total Classic Original Blender – The Budget Option
The Blendtec Total Classic Original Blender is a sub $400 blender that's consummate Blendtec. It has good looks, a high-quality jar, and a powerful motor. You can buy this premium-looking blender in White, Red, or Black color options. It has a beautiful touch interface for easy use, with 6 pre-programmed buttons for quick food-making.
The 75oz container is high-capacity. You can make food for your whole family in this jar, and then some. The 1560W motor is extremely powerful. It can withstand a lot of stress. The patented 10x sturdy steel blades go through dense ingredients like a knife through butter. You can even cook food with friction heating.
Cleaning-wise, you won't have any problems. We recommend using the self-cleaning option for best results. You should be able to store this blender anywhere. It's small, compact, and easy to move around. The blender is very durable, and the 8-year warranty is the icing on the cake.
Useful one-touch controls.
Incredible performance.
Durable and high-quality.
90 oz container is overkill.
It's expensive.
A small challenge to clean.
Blendtec Designer 650 – A Slight Upgrade Over the Original Classic
The Blendtec Designer 650 is a more expensive, slightly better version of the Classic Original Blendtec. It comes with a bigger 90 oz jar, an upgraded touch interface, and an additional smaller specialized container. It looks sleeker too, with a shiny black (or copper) body and a cutting-edge LCD. You'll have fun using this blender.
The 1560W motor is very powerful and can make quick work of most blending tasks. The 90 oz container can make food for 3-4 people. And if that's too big and cumbersome, you can use the smaller 3 oz jar to make single batches of food. You can heat food and cook soups in this blender.
You'll have little trouble cleaning or storing the blender. Overall, the 650 is better than the Original blender when it comes to convenience and design. But you have to pay about $100 extra for it. It might be a worthwhile tradeoff for some of our readers.
Beautiful, cutting-edge design and display.
Excellent performance.
Low-capacity jar included
Seriously expensive.
Slightly cumbersome.
A slight challenge to clean.
Blendtec Designer 725 – When You Can Splurge
The Blendtec Designer 725 is a high-end, designer variant. It's glitzy and performs incredibly well. It comes with a classy, cube-like metal body that's good-looking as well as durable. There's an LCD on top, with finger touch buttons. You can get the 725 in black, stainless steel, or gunmetal white. This $500+ blender is pricey, but it offers features and quality to match.
The 725 comes with a high-capacity 90 oz container. The "Wild Side" curved shape with 5 sides offers no hard edges for food to stick to. That means food gets blended finely and well. The 1800W motor coupled with the stainless steel blades is a killer combo. This machine can power through the toughest of ingredients and blend them to a fine paste.
The 100-speed settings give you an unprecedented level of control over the consistency of the blend. While the 1800W motor is noisy, special noise-damping material reduces the sound. This blender comes with "Smart Blending" tech, which detects problems like air pockets in advance. Overall, the 725 is arguably the best of what Blendtec can offer for home use.
Quality exterior, upgraded internals.
Monster 1800W motor blends very finely.
Error detection assists in cooking.
Sticker shock.
90 oz container is too much for small batches.
Not as quiet as the Blendtec 800 or 825.
Blendtec Connoisseur 825 Commercial Blender – For Large Volumes
The Connoisseur 825 is a heavy-duty blender made for professional settings like juice bars and restaurants. You can use it at home if you like, though it might be overkill.
This blender will run 200+ times a day without breaking a sweat. It has a square black body with silver accents. There's an LCD screen cum timer on the front.
You can control this blender with a touch panel. The 825 comes with 30 blending programs by default, but you have the option of adding more. This is convenient in places like bars.
The 1825W motor is powerful as well as steady. This blender will make silky smooth beverages every time. The 96oz jar can make huge volumes at once.
This blender is large and heavy (7+ kg), so it's not exactly portable. It has a sound enclosure that does a good job of baffling the noise of the powerful motor.
You won't have trouble cleaning this blender thanks to the self-cleaning. To sum it up, the 825 is like a tank – durable, serious, and long-lasting. Be prepared to shell out a significant amount for it, though.  
Heavy-duty blender with phenomenal performance.
Can make 150+ beverages a day.
A downloadable tool to make customizable recipes.
Not suitable for food making.
Not the best for home use.
A major investment.
Buyer's Guide – Everything Important about Blendtec
The classic series consists of entry-level blenders for home use. These blenders are under $400, have 1560W motors, up to 90oz jars, a compact size, and an electronic display with touch buttons.
Blendtec Fit: The lowest-end variant with a 1-speed setting, Go Cup, and 2-year warranty.
Blendtec GO Fit: This blender comes with 4 cycles, a single-serve Go Cup, and a 2-year warranty.
Classic 575: It has 5 speeds, pulse, a WildSide+ jar, and an 8-year warranty.
Total Blender Classic: It has 5 programmed cycles, a WildSide+ jar, and an 8-year warranty.
The Designer Series of blenders look fashionable and cost from $400 to $600. All Designer Blendtec variants look the same from the outside. They have an 8-year warranty, and 90oz jars.  
Designer 625: The 625 has a 1625W motor and 6 speed settings.
Designer 650: The 650 has a 1560W motor and 8 speed settings.
Designer 675: The 675 has a 1675W motor and 8 speed settings.
Designer 725: The 725 has a 1725W motor and 100 speed settings.
The Professional Series from Blendtec is for high-frequency use and comes with a sound shield. The sound enclosure makes Pro blenders from this brand the quietest in the market. You spend upward of $700 for one.
Professional 750: The 750 has a 1560W motor, soft push buttons, an 8-year warranty, and 10 speed settings.
Professional 800: The 800 has a 1800W motor, capacitive touch screen, 10-year warranty, and 11 speed settings.
When you want to feed many people – like if you're a restaurant owner – you need a commercial blender. The Commercial Blenders from Blendtec cost between $500-2500, depending on type and function.
The Stealth Series: These blenders have "stealth" enclosures that dampen the noise of their powerful motors. You can make up to 200 blends a day, using up to 42 cycles on 1800W motors.
Connoisseur: The Connoisseur 825 and 825 "Spacesaver" are both commercial options.
EZ 600 and Chef 600: These are mid-range commercial blenders with a 1-year warranty, 1560W motors, and a 60+ daily blend capacity.
Refurbished Blendtec blenders are almost as good as new. The company puts every blender through a strict quality control process. It backs up refurbished options with a 3-year warranty. You can save approximately $100 if you buy a refurbished Blendtec.
Not every new Blendtec is on sale refurbished. Here are the 4 you can buy right now:
Classic 575
Designer 625
Designer 725
Total Blender
Unlike with other blender brands, every Blendtec jar is compatible with every blender, regardless of series.
WildSide+ jar: This is a 90oz high-capacity jar with 4-inch blades. You can use it to blend for 4+ people.
Mini WildSide jar: This is the same as the WildSide+ jar, except it's 46oz. It holds enough for 1-2 people.
WildSide Flow jar: This is a new, updated variant of the WildSide+ jar. It has two vertical "flow" ridges for extra resistance to the blending pattern.
Blendtec GO: The Blendtec GO is a 30oz container for a single serving. You can carry it with you outside.
Twister Jar: This 46oz Twister Jar can process solid foods like nut butter and frozen desserts better than the default jars.  
FourSide Jar: The FourSide jar is a 75oz container. Blendtec used to ship it with the older variants of its blenders before it introduced the WildSide.
Rebel+ Jar: If you love Blendtec's unique 5-sided containers but own a Vitamix blender (not a Blendtec), then the Rebel+ is for you. It is compatible with Vitamix blender variants.
 You get the following accessories with the Blendtec:
Blendtec GO Travel Bottle: You can blend a single serving of beverage in this to-go, reusable bottle.
Spoonula: The Spoonula is a tamper-like accessory to scrape stuck bits off of WildSide and FourSide jars.
Spectacula: The Spectacula can scrape food off of Twister jars.
Nut Milk Celery Juice Bag BOGO: This bag will juice your blended celery stalks. It gives a 92% juice yield.
Latching Lid: If you think the original Blendtec lid doesn't fit tight enough, you need the extra-secure Latching Lid.
Vented Gripper Lid: The Vented Gripper lid is a secure fit. Further, it has a vent that will release steam if you're blending hot liquids.
Blendtec blenders come with varying warranty periods, from 2 years all the way up to 10. The warranty does not cover shipping, but it does cover everything else. This includes repairs and replacements. The warranty applies to the motor base as well as the jars you get with the blender. International (non-US) customers may have different warranties.
1-year warranty: Chef 600, EZ 600.
2 years warranty: Blendtec FIT models.
3 years warranty: Refurbished blenders, jars you buy separately, Blendtec 825.
8 years warranty: Blendtec Classic (Non Fit), Designer Series.
10 years warranty: Professional 800 and Tom Dickson Extreme blenders.
If it's a Blendtec, it has a very powerful motor, period. Remember, this is the brand that shot to fame because it crushed an iPhone to dust in seconds!  
The cheapest Blendtec, the Blendtec Fit, comes with a monster 1560W motor. The most expensive Blendtec – the Stealth Nitro X – has an incredibly powerful 1800W motor. You can expect the motor to tear through even the toughest ingredients quickly, without stuttering or failing.
Blendtec blades are special. They even have a patent. Compared to other blender brands, Blendtec blades are 10 times stronger and 80% thicker. They're made of high-quality stainless steel. Further, they're blunt, not sharp, which allows them to remain in top shape longer. At the moment, Blendtec arguably makes the best blender blades in the market.
Your Blendtec blender will be a breeze to use. It'll either have "soft touch" buttons or a capacitive touch screen, depending on the model and price point. Both control types are simple and stress-free. Further, you don't need to babysit your blender thanks to the smart programs. Finally, Blendtec puts the buttons into a flat surface, which makes them easy to clean. 
Frequently Asked Questions
1. Can a Blendtec be used as a juicer?
Blendtec blenders can be used as a juicer, yes. But they won't make traditional pulp-free juice. Instead, they liquefy the entire fruit or vegetable to make "whole" juice.
2. Can I use a Blendtec as a food processor?
Yes, you can use Blendtec as a food processor. The "pulse" speed setting doubles as the chopping option. You can blend up uniform chunks of food.
3. Does Blendtec have a glass jar?
No, Blendtec doesn't have a glass jar. The company claims their blenders are too powerful for glass jars. The jar may shatter at high speeds. Further, it wants to make light blenders. Plastic is lighter.
4. Can Blendtec go in a dishwasher?
Yes, Blendtec jars are dishwasher safe, as long as you put them in the top rack. We don't recommend dishwasher cleaning, though. It wears out the jar early.
5. Can I put hot soup in Blendtec blenders?
Yes, you can put – and make – hot soup in a Blendtec blender. The blades spin so fast that they produce friction heat.
6. Is Vitamix better than Blendtec?
This is a tough one. It depends on your budget, tastes, the models you're comparing, and your personal preferences.
A high-end Vitamix will do everything a high-end Blendtec can, and vice-versa. Blendtec has WildSide+ jars that almost fully eliminate the need for tamping, but a Vitamix is generally more robust and reliable.  
7. Is a Blendtec blender worth it?
If you love quality and convenience, then yes, a Blendtec blender is worth it. In our experience, a Blendtec will last for a good few years. And it's a joy to use, not to mention a breeze to clean and maintain.
If you purchase a Blendtec, you can expect a robust, high-quality appliance with an extra-powerful motor and a user-friendly design. We recommend the Blendtec Original Total Classic if you're on a tight budget. But for the best results – and an authentic Blendtec experience – we suggest the Blendtec Designer 725.
The Designer 725 looks gorgeous and has an incredible touch interface. It makes food for a whole family and is super easy to clean. Finally, its performance exceeds all expectations. You'll be able to make a variety of food and drink in quick time.   
Add Your Heading Text Here​
Add Your Heading Text Here​
Add Your Heading Text Here​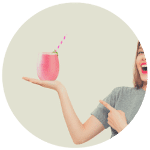 Hi, I am Charms, a self-confessed smoothie fanatic!  Here I will share some of my favorite smoothie recipes, tips and guides and gear reviews.   Learn more .