If you're looking for a world beyond Vitamix, you've come to the right page.  Vitamix, from all the hype surrounding it, might as well be god's gift to man. But the brand isn't perfect – far from it. There are Vitamix alternatives out there that can realistically go toe to toe with the brand. Some even come out ahead, and the best ones do so without burning a hole in your pocket!
We take a look at the top, most feature-rich alternative blenders to Vitamix in this buyer's guide. In our review we will be covering the best blenders comparable to Vitamix.  We'll be covering a wide range of preferences and attributes.  
Best Blenders Comparable to Vitamix
Vitamix Alternatives Product Reviews
Blendtec Classic 575 Blender – When You Want a Vitamix-Like Warranty
The Blendtec Classic 575 is a sleek, good-looking blender from a top-tier brand. It's available in eye-catching colors like blue, purple, black, and gray. 
This appliance comes with a large-capacity 90oz jar, so you can make food and drinks for a whole family. 
The machine is compact, lightweight, and easy-to-use. It provides one-touch programs to make your favorite foods quickly.
The 575 blender compares favorably to most Vitamix options. You get as much power as a Vitamix blender at about half the price. Further, this blender offers the convenience of pre-programmed cycles. 
Unlike a Vitamix, you don't have to control it manually. Its blades are thicker than the ones on a Vitamix, which makes them more durable and easier to clean.
Arguably the most standout feature of this blender is its warranty. You get a massive 8-year warranty for a budget price. All in all, this blender works well; is easy to use, clean, and store; and does several things better than a Vitamix in its price range.
Powerful, effective blender.
More affordable than an entry-level Vitamix.
Amazing 8-year warranty.
Vibrates at high speeds.
May leave some granules.
Cleanblend Commercial Blender – Heavy-Duty Professional Blender on a Budget
The Cleanblend Commercial Blender is a professional-grade machine that can pump out large volumes of food without breaking a sweat. It is also easy on the eyes, available in a shiny black or candy red. 
The 64oz jar is just perfect if you want to make small-to-medium portions. You control the machine with the help of a speed dial and flip switches.
When it comes to form and function, this machine is like a marriage of Blendtec and Vitamix. The container has a curve at the bottom, like Blendtec's Wild Side jar, which prevents food from sticking to the sides. 
The design of the machine is like a Vitamix, with similar old-school style and raw power. The final blend usually turns out smooth and satisfactory, although there can be some lumps on occasion.
This blender does not offer the fine control of a Vitamix, or the raw performance of a Blendtec. It's also on the bulky side and hard to store. But it's dirt cheap and high quality. 
It's easy to use and simple to maintain and is a worthwhile blender overall.
Prepares large volumes of food.
Multi-function blender.
Monster motor.
Blends are not as silky-smooth as a Vitamix.
Bulky
Ninja CT810 Chef High-Speed Premium in Home Blender – More Pre-programmed settings than a Vitamix
The Ninja CT810 is one of Ninja's finest offerings. This blender looks fabulous, with a modern aesthetic and a nifty user-interface. You control the blender with a speed dial and several one-touch buttons. 
The Ninja dubs these as "Auto-iQ" programs. The 72oz jar is larger than average, allowing you to make large batches of food at once. You also get a smaller "to-go" cup if you want to make food or drinks for one.
Many people see Ninja as a "gimmick" brand, with all style and no substance. But the CT810 is proof prime that Ninja makes solid blenders – it's excellent in terms of design and performance. 
While it can't quite blend on the level of a Vitamix, it's close. Moreover, it's half as expensive and offers several handy features like Auto-iQ. You press a button and the machine will automatically take care of the rest.
This machine has a self-cleaning mode and the containers are dishwasher-safe. You won't have trouble storing it, and the machine is fun to use. 
The build quality is solid. Ninja blenders usually last for a handful of years, making them good alternatives to Vitamix if you're on a budget.
Comes with 10 useful pre-programmed options.
More user-friendly than higher-priced entry-level Vitamix variants.
Solid performance.
Breville BBL620SIL the Fresh and Furious Countertop Blender
Breville isn't a well-known brand, but it exceeds expectations when it comes to quality and performance. The Breville BBL620SIL is a lightweight, attractive blender in a silver finish. 
It comes with a nice LCD display and a timer function. It doesn't have traditional speed settings – you either use the pulse mode or one of the included programs.
1000W doesn't exactly make for a powerful motor. However, the Breville manages to squeeze out every iota of power from what's there. 
It can run for long periods without overheating and will withstand more stress than some Vitamix blenders. The machine makes smooth blends every time.
This blender is dishwasher-safe and compact. A minor drawback is that the blender has non-detachable blades. You can't remove them for cleaning. Also, if the blade breaks, you will need to buy a separate container.
Works faster, blends smoother, and has less motor stress than some Vitamix options.
Cheaper than entry-level Vitamix variants.
5 convenient one-touch buttons.
Non-detachable blades.
Loud
Ninja BN801 Professional Plus Kitchen System with Auto-iQ – More Versatile than a Vitamix
The Ninja BN801 is what the brand dubs a "kitchen system". This means it's a multi-function appliance that you can use for a variety of tasks, from blending to food processing. 
This machine comes with several accessories: two "to-go" cups, a food processor bowl, a regular-sized jar, and two separate specialized blades.
Out-of-the-box, the Ninja BN801 can do more than any Vitamix. You can use it to chop, mush, and grind. Essentially, you can make a variety of liquid and non-liquid foods with this appliance. 
Performance-wise, the Ninja BN801 is a good machine. It works quickly and well. The Total Crushing technology is a stacked blade assembly. It blends the mixture uniformly while extracting all the nutrients within.
The Ninja BN801 gets top marks for convenience and versatility. You can use it to make any desired quantities of food quickly. While it can't match a Vitamix for final consistency, it comes close. More importantly, it's much, much cheaper.  
More versatile than a Vitamix out-of-the-box.
Satisfactory performance.
Sturdy build quality.
Limited 1-year warranty.
Bulky.
Jamba Appliances 2.4 HP Blender – As Good As a Vitamix
Jamba Juice bars are where you head to for a delicious smoothie – or you can just get a Jamba Appliance's blender instead to make one at home! 
The Jamba 2.4 HP Blender is a no-frills device that packs a punch and blends anything you throw at it. It's available in combination grey and black. It comes with a 64oz glass jar that's perfect for everyday food prep.
In terms of performance, the Jamba is at least as good as a Vitamix. The 2.4HP motor has more power than most Vitamix models and can grind the densest of ingredients to powder in no time. 
You can make any consistency of food thanks to its variable speed dial. Lastly, you can make food quickly with one of the 4 available quick programs.
This blender is slightly messier than average. It will pose a bit of a challenge to clean. The food tends to stick to the side. You will need to push it down toward the blade with the included tamper. 
These are minor gripes, though. Overall, this a terrific blender that gets the job done in record time.
Matches Vitamix for performance while costing less.
Blends incredibly well.
More compact and low-profile than most Vitamix options.
Noticeably messier than a Vitamix.
You must use the tamper (included) on occasion.
Blendtec Designer 725 Blender – WildSide Jar – A Smart Competitor
The Blendtec Designer 725 blender is a top-of-the-line blender with several "smart" features. It matches almost any Vitamix feature for feature and even surpasses the brand in some areas. 
The drawback is it's expensive – as expensive as a Vitamix. The 725 is available in black, gunmetal, or stainless steel. It has an OLED touchscreen panel, a speed slider, and some other smart options.
This blender blows most of the competition out of the water when it comes to performance. It has an exceptionally-powerful motor and super-sturdy blades, which can together crush hard ice and other dense ingredients in record time. 
The "Smart Tech" technology detects problems by itself and sends you solutions. You can use a programmed cycle to make your desired food in a hassle-free way.
Thanks to noise reduction technology, this blender is quieter than average. You won't have trouble cleaning this blender. It's both dishwasher-safe and self-cleaning. 
The only drawback to the Designer 725 is it will cost you as much as a Vitamix, although it is a worthwhile investment in our books.
Easy-to-use pre-programmed settings for speed control (absent on most Vitamix options).
More compact and low-profile than Vitamix variants, easier to store.
Better Wild Side jar and less accident-prone blades than a Vitamix.
 As expensive as a high-end Vitamix option.
Oster Blender Pro 1200 – The Budget Vitamix Alternative
The Oster Blender Pro 1200 is, hands down, the most value-for-money blender on the market today. For a sub-$100 price, you receive a high-quality, feature-rich, durable appliance. 
The Oster 1200 has a smooth silver finish. It comes with a food processor accessory and a carry-cup for the price.
How well does the Oster Blender Pro 1200 perform? It does a satisfactory job with most blending tasks. The "dual-direction" technology is useful – it means the blades will stop and reverse direction at set intervals. 
The blades suck the food downwards and prevent any from sticking to the sides of the container. While it's not quite a Vitamix in terms of smoothness, it's good enough.
If you don't own a dishwasher, the container will be a challenge to rinse. Food tends to get stuck under the blades. 
On the plus side, this is one of those rare blenders that come with a glass jar. Glass won't smell or stain and is healthier than plastic.
Costs a fraction of the Vitamix.
Offers incredible performance for the money.
Excellent features, handy food processor function.
Breville BBL920BSS Super Q Countertop Blender – An Upgrade over Vitamix
Can you upgrade to something better from a Vitamix? If you could, it would probably look and perform like the Breville BBL920BSS Super Q Countertop Blender. 
It's not a stretch to say the Super Q is a marvel of engineering. It has a stunning silver stainless steel body (a rarity) and a sleek, compact form.  It comes with a high-quality 68oz jar and a smaller 24oz carry cup to take with you outside.
The Breville Super Q is a fantastic blender. It performs exceptionally well. Unlike most Vitamix blenders, the food won't stick to the side of the jar, nor do you need to tamper it to the bottom. 
This is because the Super Q has a clever design, with the blades automatically sucking the food downward. Despite having a massive 1800w motor, the Super Q only produces a steady, muffled hum.
This blender supports the VacQ attachment, which draws out air from the jar to make your food or drink feel smoother and taste better. You'll have to purchase it separately. 
The only feature this blender lacks is friction heating. Unless you cook soups and other liquids often, you won't miss it. This is undoubtedly one of the best blenders we have come across.
Food doesn't clog at the bottom, requires no tamper.
One of the quietest blenders around.
Amazing build quality and a fantastic 10-year-long warranty.
Costs as much as a Vitamix.
No friction heating.
Buyer's Guide – What an Ideal Vitamix Alternative Should Look Like
Vitamix gets a lot right as a brand. Other brands have some big shoes to fill. Here are some factors you should consider when you're looking for an alternative to Vitamix:
Vitamix is famous for its all-expenses-covered warranty, from shipping to labor. Typically, other brands only offer a limited-coverage warranty. 
However, Blendtec can match Vitamix for what the warranty covers. It offers free shipping both ways for repair and replacements for manufacturing defects. Breville also offers an excellent warranty.  
How much blending power do you truly need? It depends on what you use it for. Vitamix machines have motors with 2HP (1500w approx) motors and can handle every task you throw at them, from dicing to making smoothies. 
The Jamba 2.4HP blender has a larger motor than most Vitamix machines and does a fine job of mincing ingredients to a fine powder.
Most common Vitamix machines don't have pre-programmed speed settings but offer variable speed control. 
The Oster Blender Pro 1200 has 7 pre-programmed buttons. It's a breeze to use and comes with a food processor function too. You can use it to dice, shred, chop, knead, and more.  
With Vitamix, you get to friction heat your food and cook while blending. The Blendtec Series offers a similar feature, like the Blendtec Designer 725. 
It doesn't have a heating element, but the blades spin so fast that they produce enough heat to cook the food in the jar.
Vitamix is one of the only brands in the market that offers Bluetooth and WiFi-connectivity with its blenders. 
The NutriBullet Balance is one of your only alternatives to Vitamix if you want this function.
You don't necessarily have to pay hundreds of dollars for a premium, Vitamix-grade blender. 
The Oster Pro 1200 costs around $100 and offers amazing performance for the price. 
The Breville Super Q costs about the same as a mid-range Vitamix and offers an arguably superior experience.
Wouldn't it be great if the blender would handle the blending for you? Most of the blenders on our list come with pre-programmed blending cycles. The machine does the work, you just choose a program. 
Further, some blenders, like the Blendtec 725, come with high-tech options like a slider control and a touchscreen interface.
What is the Cheapest Alternative to the Vitamix Blender?
The cheapest alternative to the Vitamix blender is the Oster Pro 1200. It costs around  $100 and gives the entry-level Vitamix variants, like the E310, a run for their money in the features department. This high-quality blender comes with a glass jar and a food processor function.
Here are some other cheaper alternatives, sorted by price:
Up to $200: Cleanblend Commerical Blender.
Up to $400: Jamba Appliances 2.4 HP Blender.
Up to $500: Breville BBL920BSS.
Up to $600: Blendtec Designer 725 Blender.
Vitamix is amazing, but it's not the be-all and end-all of blenders. There are several worthy Vitamix alternatives out there.
Budget Vitamix alternative: The Oster Pro 1200 costs less than $100, has a 10-year warranty, and comes with a food processor attachment.
Smart Vitamix alternative: The Blendtec 725 costs a bomb, but it looks great and performs well. Further, it offers high-tech features like a speed slider and auto problem detection.
When you want a Vitamix upgrade: It isn't often we can sincerely say that a blender is superior to Vitamix in every way. The Breville Super Q ticks all our boxes, from looks to function and quietness to warranty.
Add Your Heading Text Here​
Add Your Heading Text Here​
Add Your Heading Text Here​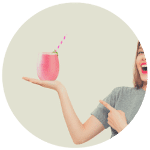 Hi, I am Charms, a self-confessed smoothie fanatic!  Here I will share some of my favorite smoothie recipes, tips and guides and gear reviews.   Learn more .