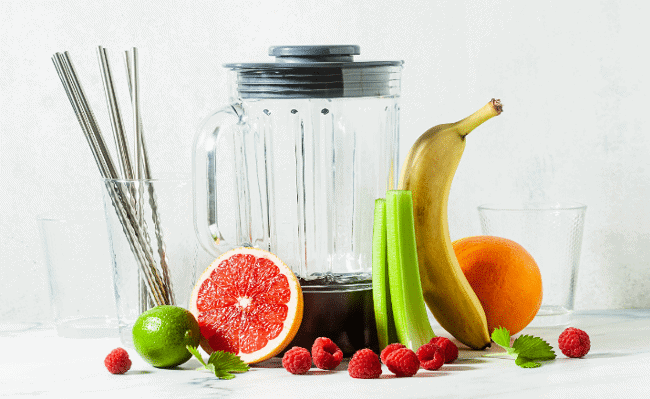 As Blendtec owner and YouTube sensation, Tom Dickson, asked: "Will it blend?" Because with the right blender you can blend anything from bananas to cellphones!
We have been using, testing, and reviewing blenders for years. And in this article, we're going to tell you about the 13 types of blenders.
Different Types of Blenders
Also known as stick, wand, or hand blenders, the immersion blender was patented in Switzerland in the 1950s. The original idea behind them is to have a handheld appliance which can mix and chop at the same time.
Their power ranges from around 120 watts to over 600 watts for more heavy-duty models. One of the most powerful immersion blenders on the market is a heavy-duty, AC powered model from Waring – a whopping 750 watts of blender power right in your hand!
What these blenders lack in raw strength they make up for in versatility. They can be used for preparations of any temperature, can blend in any container that the wand fits inside, and are highly portable.
Adding to the functionality, many immersion blenders come with a variety of attachments like whisks, milk frothers, and emulsion disks. Some home models of immersion blender are even cordless.
2. Battery Operated Hand Blenders
As the name implies, these are smaller and more portable immersion blenders that run on batteries as opposed to needing a wall socket to operate.
Removing the necessity to be near a wall socket increases the versatility but decreases the horsepower somewhat. The capacity of the batteries limits the available power, and it is uncommon to find battery operated hand blenders with motors over 400 watts or so.
Designed for quick & simple operation, single serve blenders are a favorite of protein shake and morning smoothie fanatics everywhere.
A top down, or "bullet," shape has become popular in the last 15 years. Bullet blenders have a bladed top that screws onto the blender jar, which is then turned upside down and pressed down on the base to activate the motor.
One or two 12-28oz plastic jars are common for single serve blenders, many of which also include a lid. The motor power of this type varies widely, but frequently you can find these blenders between 400-1200 watts.
4. Portable Blenders (cordless)
Similar to the cordless hand blenders, portable blenders look very much like the standard, countertop blender. But portable blenders are small, run on batteries, are usually plastic, and some are even rechargeable.
Due to the limited power, these blenders seldom have motors of over 700 watts or so. But for those in RVs or folks who just want to drink a daiquiri on a mountaintop they are a handy option.
These types of blender are most often some combination of mid-range blender, ice shaver, ice maker, and stand mixer. They are designed to make perfect tropical slushies: fluffy and light without being watery or full of ice chunks.
However, the blender itself in these combo appliances usually is not powerful enough itself to crush ice. Frozen drink makers are more a luxury item than a functional kitchen addition.
The Margaritaville Key West Frozen Concoction Maker is one of the most popular frozen drink makers on the market. And it's easy to see why – just measure, set, and go!
With a misleading name like that, you can be excused for not knowing that blender bottles are not actually blenders at all. Comprised of a large plastic cup with a sipping lid and a small wire whisk that fits inside, blending bottles rely on you to shake the contents inside and mix it to the desired consistency.
These cleverly designed cups are great for mixing powders or syrups into liquids but cannot chop or puree ingredients.
7. Blender Food Processor Combos
Folks with a lack of cabinet and counter space should consider some of the blender combination models. Blenders and food processors are remarkably similar appliances, and it seems only natural to combine them into one machine.
There will likely be settings for blending and chopping, as well as design differentiations. Some have separate jar and blade attachments, while others use the same blades but swap out the style of jar for extra space saving.
On the other hand, while blenders and juicers seem to do similar tasks, they are vastly different mechanically.
Blender juicer combos that have a true juicing function will have separate mechanisms to attach to the base motor. It ends up saving you a little counter space, but not much.
Many blenders, like the Ninja, have juice functions that use super powered blending and straining to simulate juicing. However, they are not true juicers as they include some or all the fruit and vegetable fiber.
Otherwise known as standard blenders, countertop models are the typical home kitchen variety. They are meant for small to moderate recipes and are usually have motors with power between 400 to 1000 watts.
Being the standard type for most kitchens, countertop blenders can be of nearly any jar material, size, or range of speeds and settings.
10. High-End Smart Blenders
High-end blenders are the perfect example of "you get what you pay for." And in the case of these appliances, you get a whole lot.
Smart blenders have extensive pre-sets, recipe programs, and auto-on and off functions to make any kitchen project a breeze. The Vitamix A3500 even has a wireless connectivity option to keep you completely in control of your blending experience.
Commercial blenders are what the professionals use. If you need a blender that can handle high volume, unique ingredients, or extended use then this is where you should start looking.  Commercial blenders usually have superior durability, warranty coverage, and power.
The jar material for commercial blenders is usually plastic, though some are made of stainless steel or borosilicate glass. The jars also come in larger sizes than any other type.
Blendtec and Vitamix are some of the most highly respected brands in this category. Here are some handy tips on how to choose the right commercial blender for you.
An excellent example of the power of commercial blenders is the viral marketing campaign from Blendtec. In these videos, owner Tom Dickson attempts to blend anything and everything imaginable. Entire Thanksgiving dinners, golf clubs, glow sticks, and even cell phones and laptops!
Speaking of fancy blenders, some types can even cook food in the jar while they blend! Thermal blenders are highly versatile and usually quite expensive.
The jars are most commonly made of plastic, though some borosilicate glass jars can be found as well. They use either a heating element or blade friction to heat and cook ingredients.
Ninja, Vitamix, Blendtec, and InstantPot all make exceptional blenders with heating capacity.
Vacuum blenders are another specialized type that uses technology to make exceptional products. 
Though they look remarkably similar to most countertop or commercial blenders, these appliances have a secondary mechanism (usually battery powered) that vacuums out the air from the jar.
Most vacuum blenders have plastic jars. And, as you may expect from such a premium feature, they are often higher powered and more expensive.
The lack of air in smoothies helps keep them from oxidizing and separating, and therefore healthier, longer. That also means you can throw them in your gym bag without worrying that they'll be an unappetizing mess by the time you're done with your work out.
Or if blended drinks are more your speed, you can enjoy a smoother and silkier margarita by removing those pesky air bubbles.
Further Considerations When Buying a Blender
Plastic
By far the most common material used in blender jars today is plastic. It is cheap, exceptionally durable, can handle a wide range of temperatures, and is lightweight.
However, over time plastic can become scratched by things like ice, or even absorb colors and odors.
Glass
Before plastic, glass was the top choice for blender jars. Though heavier and a little more expensive, glass retains a clear, un-marked appearance for much longer than plastic and does not absorb smells.
 Steel
Perhaps one of the least common blender jar materials, stainless steel is also the most durable.
Steel jars can be found mostly in commercial blenders or those designed for hard, sharp ingredients or heavy use.
Thermal
Also known as borosilicate glass, these blender jars are made from a specially treated, super strong glass.
Thermal jars are resistant to thermal shocks (like when you put boiling water into a cold vessel) as well as shatter proof.
Different types of blenders have a variable of jar sizes. For example, often commercial blenders are used for larger recipes and have much larger jars than countertop or single serve models.
When deciding on which blender type is best for your needs, ask yourself: what will I be using this blender for primarily? 
If you live alone or go camping a lot, perhaps a portable or battery powered blender will suffice. Folks with a big family will likely appreciate immersion and commercial blenders.
The motors that power different types of blenders are of vastly different powers as well. Commercial blenders are generally the most powerful, 1000-2000 watts is common. But the less heavy-duty types, like battery operated and frozen drink makers, can have a little power as 120 watts.
It all depends on what kind of jobs you need your blender to perform.
Blender Settings Available
The most common settings among blender types is a simple dial of speeds (between 1-3) and pulse.
Many of the expensive, more versatile blender types have a catalogue of programs and settings. The InstantPot blenders, for example, have all manner of smart programs: ice cream, milkshakes, crush ice, juicing, green smoothies, nut butter, nut milk, soups, and more!
Frequently Asked Questions
How many types of Ninja Blenders are there?
How many types of Vitamix Blenders are there?
Types of Blenders and their Prices
Did you even know there were 13 different types of blenders? Now you do! We hope you enjoyed reading and that maybe you even got some kitchen inspiration.
Feel free to share this list with your friends and family and tell us what you think in the comments.
Happy blending!
Add Your Heading Text Here​
Add Your Heading Text Here​
Add Your Heading Text Here​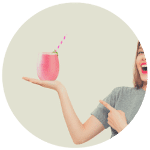 Hi, I am Charms, a self-confessed smoothie fanatic!  Here I will share some of my favorite smoothie recipes, tips and guides and gear reviews.   Learn more .