I am not a fan of dairy milk for smoothies.  I prefer using nut milks or some other substitutes for milk in smoothies.  Below you will find my list of the best non dairy milk for smoothies.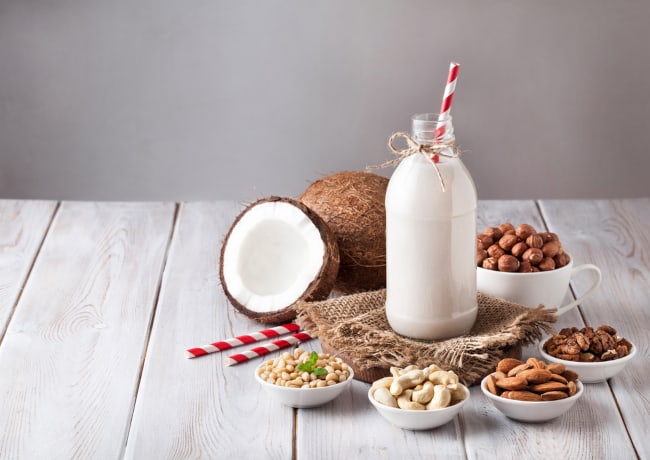 Best Non Dairy Milk for Smoothies
Soy milk is a plant based beverage made from soybeans and filtered water.  Soymilk is a common ingredient in smoothies, it has a very mild taste so it combines well with most ingredients and it gives your smoothie a creamy texture.
You will find that most manufacturers of soy milk fortify their smoothie with calcium and vitamin d.
Almond milk is considered one of the most popular plant based drinks in the US.  If you go to the supermarket you will see  a variety of almond milk brands.  These products are usually fortified with vitamins and minerals. 
However, it is very easy to make your own almond milk, you only need a raw almonds, water and a cheese cloth.  You can add dates as a sweetener and vanilla extract or cocoa powder for flavor.
For you coffee lovers, almond milk is also a great alternative to cows milk. 
Cashew milk gives your smoothie a sweet, creamy taste.  This nut milk is made from cashews and water and can be served sweetened or unsweetened. 
Cashew milk is a nut milk that is very similar in taste to cow's milk.  An added plus is cashew milk is loaded with vitamins and minerals.
Oat milk is simply oats and water blended together.  The concoction is then strained leaving creamy oat milk. 
Oat milk has recently gone mainstream so you.  The main advantage of this milk is it is nut and lactose free.
Coconut milk is one of my favourite milk substitutes for smoothies. Coconut milk combines well with cocoa powder and dates to make a nice chocolate milk. 
You will find that coconut milk is a common ingredient for many recipes; however, it has recently gained popularity as an alternative to cows milk in smoothies. 
Coconut milk is made by blending the meat of a coconut with water and straining the liquid.
It feels quite strange to mention peas and milk in the same sentence but there is actually such a product. 
Ripple manufactures this product .  This dairy free, plant based milk product has 8g of protein per a cup of milk and is vegan, nut and gluten free.
Hazelnut milk is not as popular as almond and cashew milk.   It is made with hazelnuts and water. 
This milk has a creamy taste with hints of hazelnut.  This milk will go well with smoothies that use cocoa powder or cacao nibs in their ingredients.
Commercial rice milk is usually made from brown rice and brown rice syrup and it usually has added flavourings, vitamins and nutrients. 
Rice milk is pretty easy to make at home, simply soak the rice, and blend with salt.  You can add dates, berries, cocoa powder or vanilla extract for extra flavour.
Macadamia nut milk is said to taste closer to cow's milk than any other nut milk.  This milk has a smooth, creamy, rich flavour and is a great substitute for cow's milk. 
The only drawback is Macadamia nuts are expensive so you will find that macadamia nut milk is more expensive than its other nut milk counterparts such as almond or cashew milk. 
Macadamia nut milk is easy to make simply soak the macadamia nuts and blend with water.  To make this milk, soak macadamia in water and then blend with water.  Strain the liquid with a cheesecloth.  You can then add salt or a sweetener.
Hemp milks are made from hemp seeds and water.  Hemp milk has one of the highest concentrations of protein per a serving and is the only plant based milk to contain all the essential amino acids. 
Hemp milk has an earthy, nutty flavor and a creamy consistency.  Commercial hemp milk tends to have thickeners and sweeteners, however, it is really easy to make your own hemp milk. 
To make your own hemp milk all you need is hulled hemp seeds and water.  You can add a pinch of salt, a sweetener such as dates and any other natural flavors.
Quinoa milk is another plant based nut milk on our list.  Quinoa is usually used as a rice substitute; however, it has recently been available in milk format. 
Quinoa milk is made by combining quinoa with water.  You can add extras such as dates, cinnamon and vanilla for flavoring.  
Peanut milk is another one of the nut milks on our list.  You can find various brands offering this product commercially, however, it is fairly easy to make so consider the homemade version. 
To make peanut milk soak the peanuts overnight and blend with water and strain with a cheesecloth.
Flax milk is made from, you guessed it, flaxseeds!  This Is one of the more recent additions to the numerous non-dairy options on the market.  It's a great option for people who are lactose intolerant and allergic to nuts. 
Flax milk has a flavor similar to almond milk.
Walnut milk is the lesser known cousin of the almond milk.  Walnuts are sometimes referred to as the cerebral nut for its shape and health promoting properties. 
It's very easy to make your own homemade version of walnut milk.  First you soak the walnuts and then blend with water.  You can add salt, a sweetener, or vanilla extract for flavoring.
Pistachio milk is one of the newest additions to the nut milk collection.  There are not that many brands that manufacture pistachio milk, however, if you are interested in buying the ready made option have a look at Tache original blend of pistachio milk.   
The homemade version is easy to make.  First you rinse the pistachios, add water and blend in a high speed blender.  You then strain the mixture through a cheesecloth or nut milk bag.
Pecan milk is the final nut milk option on our list.  They are frequently referred to as America's native nut. 
This rich and buttery nut makes a great nut milk.  Pecan milk is probably one of the easiest nut milks to make at home since pecans tend to be softer and don't require much soaking.
Banana milk is made from bananas and water.  If you want some flavour you can add vanilla extract or cinnamon.  It is a great nut free and dairy free milk option. 
Banana milk has many of the same health benefits of eating bananas.  Banana milk has a sweet, full flavour and easily combines with other fruits for a smoothie.
In Conclusion, Substitutes for Milk in Smoothies
I hope you enjoy our list of substitutes for milk in smoothies.  Our list has something for everyone.  We have included both plant based milk options and nut milk based options. If you think we have left something off our list let us know in the comments section.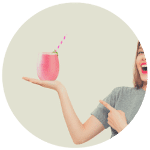 Hi, I am Charms, a self-confessed smoothie fanatic!  Here I will share some of my favorite smoothie recipes, tips and guides and gear reviews.   Learn more .