Bananas are a staple of most smoothie recipes. They are an excellent thickener for smoothies and a healthy option if you want to figure out how to sweeten your smoothie. 
However, what do you do if you don't like bananas or are allergic to them? Our team at LuvMeKitchen has provided a solution for you. We have selected some of our favorite smoothie recipes without bananas in our list below.  
How To Make a Smoothie Without Banana
Making a smoothie is relatively simple once you follow the guideline below:
Select a base liquid.

Select a fruit (not bananas, of course)

Select a vegetable.

Add a sweetener. (In some cases, this might not be necessary)

Add an enhancer. A few that come to mind are chia seeds, flaxseeds, or protein powders.

In a blender, combine all the ingredients and blend until smooth.
Substitutes for Bananas in Smoothies
Bananas usually act as a natural sweetener in your smoothies, so if you are looking for fruits to replace bananas, you want a fruit that will add some sweetness to your smoothie. A few of our favorite fruits are listed below.
Mangoes:

 I have spent a lot of time in the Caribbean, where Mangoes are readily available during the summer. If you are in the US, you might find it hard to locate mangoes. Frozen mangoes are a great alternative and addition to your smoothies.

Frozen Berries: 

Raspberries, strawberries, blueberries! The choices are endless. Berries are a great addition to your smoothie, whether you use fresh or frozen berries.

Pineapples:

 Pineapples are guaranteed to add a tropical feel to your smoothie and transport you back to your travels on white-sand beaches sipping Pina Coladas. However, let's not digress! Pineapples are a natural sweetener for smoothies and can be used fresh or frozen.
How To Thicken a Smoothie Without Bananas
Bananas are a great way to add a smooth, creamy taste to smoothies. However, if you don't plan to use bananas, here are a few alternatives.
Tofu: 

 This is a great way to add extra protein to your smoothie. An added benefit is tofu has a very mild flavor, so it won't significantly affect the taste of your smoothie.

Avocado:

 Avocado is another healthy addition to your smoothies. The main benefits of avocados are that they are healthy, are a great thickener, and have a mild taste.

Sweet Potatoes: 

 Sweet potatoes are a great thickener; they help to sweeten your smoothie and are a 

great source of beta-carotene.

Oatmeal: 

Oatmeal is an excellent addition to smoothies. They are a great source of fiber and perfect for thickening your smoothie.

Chia seeds: 

 Chia seeds are a healthy way to thicken smoothies. 

They contain magnesium, prosperous, calcium, zinc, and many other nutrients. 

Yogurt:

 Yogurt is another great way to thicken smoothies. An added benefit is it contains nutrients such as protein and calcium.

Kefir: 

Kefir has a similar taste to yogurt. I like to refer to Kefir as liquid yogurt.
Smoothie Recipes Without Bananas
It's hard to go wrong with combining strawberries and blueberries in your smoothies. The addition of chia seeds and oats adds some fiber to the mix.
I love strawberries and peaches individually; the combination of the two is irresistible in a smoothie. The addition of cottage cheese gives this smoothie a healthy dose of protein and enhances the smoothie's creaminess. If you need a sweetener, you can add a touch of honey or maple syrup.
Who would have thought the combination of avocados and chocolate would be so delicious? This smoothie is an adult version of a chocolate milkshake; you get the taste of a chocolate milkshake with the healthy stuff thrown in.
Avocados are a great addition for thickness in smoothies; a bonus is they are a great source of magnesium and potassium.
This orange goodness has only five ingredients and no refined sugar. This sunshine-inspired colorful drink is a great pick-me-up.
The addition of flaxseeds gives you an extra nutritional boost, and the nut milk gives you a nice creamy texture. Grab your blender and add these nutritious ingredients for the ultimate smoothie!
The mention of mangoes automatically transports me back to the Caribbean. This luscious smoothie only has five ingredients.
The combination of strawberries and mangoes provides natural sweetness and a healthy dose of vitamins. The carrots give you a good amount of vitamin A. The addition of almond milk provides extra smoothness.
This smoothie will titillate the senses if you are a lover of peaches. This smoothie recipe provides you with a triple dose of peaches with peach yogurt, peach nectar, and frozen peaches. This smoothie is so delicious you will want to drink it every day!
This apple, carrot, and orange smoothie is easy to prepare, vegan, and healthy. It is topped off by boosting spices such as turmeric, cayenne pepper, and ginger.
The thought of chocolate and peanut butter makes this smoothie hard to resist. The coconut milk and ice give this smoothie a thick, creamy texture.
An added benefit is it is also rich in protein. I don't think there is a better flavor combination than chocolate and peanut butter.
This smoothie is a great way to create a smoothie your kids will love. With the addition of the blueberries, your kids won't even notice the spinach. You get all the nutritional benefits of spinach with a luscious berry flavor. The addition of milk gives it a nice, creamy texture.
We could all use a tropical vacation; however, this smoothie is the next best thing. Take one sip, and you will be transported to a white sand beach in the Caribbean surrounded by palm trees. This smoothie is very simple to prepare with only five ingredients, mango, coconut, yogurt, oats, and honey.
I am a walkover for anything connected to cherries, so I was thrilled to see this smoothie recipe. This smoothie combines cherries and coconut milk. Cherries contain antioxidants; however, this smoothie provides an additional nutritional boost with the addition of protein powder and chia seeds.
This smoothie is not only good for you, but it tastes good. This smoothie contains two of my favorite ingredients: kale and spinach. You won't even know it has green vegetables. Fortunately, the mangoes, pineapples, and kiwi disguise the green taste. The addition of ginger gives it an extra zing.
This keto coffee smoothie is the perfect breakfast smoothie. If you are a fan of frappucinos or coffee milkshakes, you will love this smoothie. An added benefit is these keto coffee smoothies are sugar-free, banana-free, and dairy-free.
This smoothie is a rich, creamy combination of blueberries, oatmeal, spinach, and greek yogurt and makes a great breakfast smoothie. This smoothie is guaranteed to raise your mind and body and boost you in the morning.
This smoothie tastes as good as it looks! It's hard to go wrong with a combination of pineapples and mangoes. These are two of my favorite smoothie ingredients.
Adding kale provides a great source of vitamin a, vitamin k, and vitamin c. The addition of greek yogurt provides you with the requisite protein.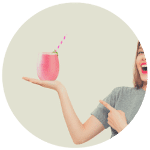 Hi, I am Charms, a self-confessed smoothie fanatic!  Here I will share some of my favorite smoothie recipes, tips and guides and gear reviews.   Learn more .