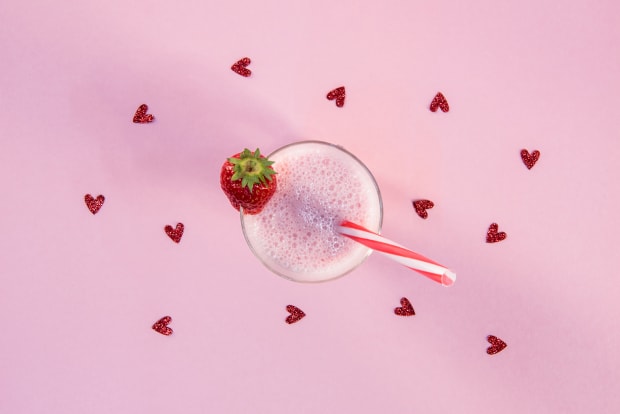 I love Smoothie King smoothies; however, buying a smoothie king smoothie that costs from $5 to $9 every day can punch quite a hole in your budget.
So what do you do if you want your favorite smoothie but cannot go to Smoothie King to get one? You try to replicate the recipe, of course. Below you will find some of our favorite Smoothie King recipes.
Common Smoothie King Ingredients
Smoothie King has over 40 different ingredients and over a dozen nutritional enhancers. We will only be able to list some of the ingredients; however, here are a few common ingredients.
Strawberries, Raspberries, Almond Butter, Bananas, Turbinado, Non-fat milk, Cherries, Blueberries, Pineapple, Carrots, Greek Yogurt, Coconut water, Mangoes, Orange Juice blend, Pineapple Juice Blend, Papaya Juice Blend, Pear Juice Blend, Organic Spinach, Pear Passionfruit Juice, Tart cherries, Organic Kale, Kiwi Apple Juice Blend, Nut Butter, Cocoa, Almonds, Apple Blueberry Juice Blend, Apple Pineapple Juice Blend, Nut Milk, Carrots, Matcha Green Tea, Cold Brew Coffee, Dates, and Ginger.
You can get a complete list of Smoothie King ingredients here.
Smoothie King has over a dozen nutritional enhancers. Popular enhancers include muscle builder, energy boost, pure recharge, and diet down. 
You can find a complete list of the Smoothie King enhancers on their website. You will not be able to purchase these, but you can use similar products.
Smoothie King Copycat Recipes
The Smoothie King Angel Food Smoothie is one of my favorite smoothies and a crowd favorite for Smoothie King fans. The ingredients are simple, strawberries, bananas, non-fat milk, and turbinado. This recipe adds its own twist with a dash of vanilla extract.
This recipe is an interpretation of the Smoothie King Pineapple Surf smoothie. The original recipe has strawberries, pineapples, kiwi apple juice blend, turbinado, and dairy whey blend. This recipe is a pretty close replica.
The only difference is that instead of using a dairy whey blend, they suggest you use milk or a milk substitute.
The original version of the Smoothie King Peanut Power Plus consists of bananas, peanut butter, dates, non-fat milk, and a protein blend.
This recipe interpretation adds cocoa powder and greek yogurt to the mix.
The Smoothie King Caribbean Way smoothie has a touch of the Caribbean with the addition of the papaya juice blend.
Adding banana, strawberries, and a little turbinado as a sweetener is a sure crowd-pleaser. This recipe closely mirrors the original Smoothie King recipe.
Bananas or strawberries, why choose one when you can have both? The Smoothie King Angel Food smoothie is easy to make.
Like the other Angel Food smoothie on our list, this recipe deviates from the original with the addition of vanilla.
Smoothie Kings Island impact is the perfect smoothie if you want to be whisked away to the Caribbean and lounge on a sun-kissed beach! I digress; back to smoothies.
This smoothie is a delicious blend of pineapples and mangoes, and the addition of a protein powder makes the perfect pick-me-up smoothie.
Mangoes are one of my favorite fruits for smoothies. They are delicious and packed with nutrients such as vitamin C, copper, and folate.
The original Smoothie King recipe has mangoes, apple pineapple juice blend, and papaya juice blend. This recipe provides a healthy boost with the addition of spinach.
If you are looking for a quick, easy, and fun breakfast smoothie, this smoothie should be on your list. This recipe is another interpretation of Smoothie Kings' famous Peanut Butter Plus Chocolate.
This take on the smoothie king recipe doesn't have strawberries; however, the addition of yogurt gives it a unique flavor.
Smoothie King is a household name amongst smoothie lovers. It was established in 1973 when founder Steve Kuhnau began experimenting with blending fruits, nutrients, and proteins at his home.
The company has evolved over the years and committed to blending a more nutritious smoothie with organic veggies, more whole fruits, and no artificial preservatives, colors, or flavors.
Mixing smoothies is one of our favorite past times. Here are a few tips to start you off on your smoothie journey.
A high-end blender is a must for smoothie fanatics.

Consider using frozen fruits to get a thick, creamy smoothie.

If you are busy, consider prepping the ingredients the night before.

Use natural sweeteners. Two of our favorites are ripe bananas and dates.

Bananas are an excellent way to disguise the taste of greens.

Add avocado to get a creamy texture. It has a very mild flavor so that you won't taste it.

Use mini ice cubes; they will put less strain on your blender.

Adding oats or nut butter will make your smoothie more filling.
How to make a smoothie thicker – If you want to thicken your smoothie, you can add chia seeds, ice, frozen fruit, flax seed powder, oats, yogurt, or a banana.
How to make a smoothie thinner – If your smoothie is too thick, add a splash of water and blend. Continue doing this until you have the consistency you prefer. Keep in mind that adding too much water can dilute the taste, so consider adding fruit juice instead.
How to sweeten a smoothie – Many Smoothie King recipes use turbinado to sweeten their smoothies. However, there are numerous alternatives. A few that come to mind are dates, ripe bananas, and honey.  
Turbinado sugar is minimally processed and refined sugar. The brown crystals come from the natural molasses in the sugar cane. Smoothie King uses turbinado sugar to make their smoothie. 
How Does Smoothie King Make Their Smoothies?
Smoothie King has the ingredients for all their smoothies on their website. They tend to use a combination of the same ingredients. Common ingredients are strawberries, bananas, turbinado, yogurt, and non-fat milk. When combining the ingredients, you can add them in the following order: liquids first, then soft fruits or vegetables, greens, and ice or frozen fruits on top.
Frequently Asked Questions
Is Smoothie King really that healthy?
Smoothie King has several smoothies. If you are interested in a healthy blend, look at their "Get Fit Blends," which focuses on protein-rich ingredients, or the "Be Well Blend," which is blended with vitamins essential to maintaining a healthy body.
What does Smoothie King put in their smoothies?
A few common Smoothie King ingredients are Strawberries, Bananas, Turbinado, Non-fat milk, Cherries, Blueberries, Pineapple, Greek Yogurt, Coconut water, Mangoes, Orange Juice blend, Pineapple Juice Blend, Papaya Juice Blend, and Pear Juice Blend. You can get a complete list of Smoothie King ingredients here: 
What kind of milk does Smoothie King use?
Smoothie King uses both dairy and non-dairy milk. Some kinds of milk listed in their ingredients are almond, non-fat, and oat.
Smoothie king recipes for weight loss
Smoothie King has a line of smoothies geared toward weight loss. This line of smoothies is called the "stay slim blends." These smoothies are purposely blended to keep you on target with your weight loss journey, with every blender under 350 calories for a 20 oz size.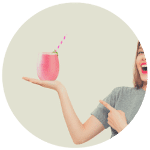 Hi, I am Charms, a self-confessed smoothie fanatic!  Here I will share some of my favorite smoothie recipes, tips and guides and gear reviews.   Learn more .