Every time I think of Pineapples I imagine myself on a tropical beach sipping a cool drink. 
While we might not be able to provide the beach and sunshine, we can however recreate a cool tropical drink with our Pineapple smoothie recipes. 
We have curated an eclectic mix of Pineapple smoothie recipes.  Some recipes recreate the taste of a Pina Colada with the use of coconut cream (sorry no rum, this is a smoothie site). 
Other recipes utilize greek yogurt, mangos, banana, and even green goodies such as kale and spinach.
Common Ingredients in Pineapple Smoothie Recipes
Bananas, Orange Juice, Passion Fruit, Yogurt, Coconut Milk, Green Vegetables, Mangoes. Nut Milk, Soy Milk, Kale, Blueberries, Strawberries, Kiwis and Spinach.
Some of my favorite protein sources are Greek yogurt and Hemp Seeds.
Pineapples are naturally sweet; however, if you find you need a sweetener honey and bananas are great choices.
Other Pineapple Smoothie Add-ins
Our smoothie ingredients list has a comprehensive listing of the various ingredients you can use in a smoothie. 
For Pineapple smoothies, a few common add-ins are chia seeds, flaxseeds, mint, vanilla protein powder, turmeric, hemp seeds, cardamom, ginger,  avocado (you won't taste it),  and matcha powder.
How to Make a Pineapple Smoothie
When making a smoothie add the frozen or hard ingredients first, then add softer items like bananas, and then add liquids.  Depending on the type of blender start blending slowly or use the smoothie setting on your blender.
To thicken your smoothie:  Use frozen pineapple or other fruits or yogurt
To thin your smoothie:  Add liquid such as orange juice or pineapple juice
To sweeten your smoothie:   If the pineapple is not sweet enough add an extra ripe banana or add honey.  
For a richer taste:  Use frozen fruit instead of ice
Sometimes simpler is better. This recipe only has three ingredients:  coconut milk, frozen yogurt and pineapple.  This recipe is perfect for those busy mornings when you are rushing to prepare your morning smoothie.
I am already dreaming of a beach just by looking at the ingredients of this smoothie.  Mangoes (one of my favorite fruits) and of course pineapple have me thinking of a tropical paradise. 
This pineapple smoothie combination of pineapple, mangoes, banana, vanilla greek yogurt, coconut milk, orange juice, and pineapple juice makes this an ideal breakfast smoothie.
his smoothie is a great way to get your daily dose of green veggies.  The frozen banana and coconut milk give this smoothie a creamy, delicious tropical flavor. 
The chia seeds give you an extra dose of omega-3s and the fresh ginger adds an extra zing!
I love the combination of pineapple and mint so I was piqued when I saw this recipe. 
I really like the fact that it deviates away from the norm with the addition of Kiwi fruit.  The addition of coconut milk gives it a smooth, creamy texture.
The addition of turmeric definitely makes this a feel-good smoothie.  Tumeric is one of my favorite ingredients for smoothies.  However, I tend to prefer fresh turmeric. 
The addition of ginger gives this recipe an extra zing!  The chia seeds sprinkled on top are the topping on the cake.
This smoothie looks so beautiful it's hard to resist!  We love the idea of a pineapple and blueberry layer. 
The pineapple layer is made up of pineapple, bananas, hemp seed, and vegan milk. 
The blueberry layer is made up of blueberries, bananas, hemp seed, vegan milk, and cardamon.  These two layers are then combined together in smoothie goodness!
Pineapples, bananas, orange juice, can you think of a better way to start off your day.  It tastes like sunshine in a glass!! 
The addition of greek yogurt gives you a good dose of protein.  The coconut cream gives you that smooth creamy texture.
The thing I love about smoothies is it is a great way to sneak in your daily requirement of greens without getting that green taste. 
Pineapples are the perfect disguise when adding green veggies.  This also makes smoothies very kid-friendly. 
This smoothie combines pineapple, spinach, coconut milk, and mint leaves.
Matcha offers you many good properties; antioxidants, and extra energy without the crash or jitters. 
So I love the fact that it's been included in this smoothie along with a dose of greens such as kale or spinach and my favorite smoothie fruit bananas.
In my household, it is always smoothie time.  It's a great way to make a nutrients dense drink in a short period of time. 
This recipe utilizes my three favorite fruits for smoothies: pineapples, bananas, and mangoes. 
The addition of greek yogurt and turmeric gives this smoothie an extra nutritional kick.
I love adding protein powder to my smoothies so I was really happy when I saw this pineapple smoothie recipe with vanilla protein powder.  I especially like the add-in of chia seeds for fiber and omega-3 nutrients.
This recipe has a double dose of pineapple with the inclusion of pineapple juice and pineapple chunks. The banana gives it a sweet, creamy taste and the addition of greek yogurt will give you your protein fix.
Pineapple and lemon greek yogurt is an irresistible combination.  This recipe really does remind me of summer in a glass.
The simplicity of the recipe is enticing, just 4 ingredients, and this sunshine smoothie is ready to go.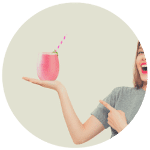 Hi, I am Charms, a self-confessed smoothie fanatic!  Here I will share some of my favorite smoothie recipes, tips and guides and gear reviews.   Learn more .