Did you know kiwis have twice as much vitamin C as oranges? This fruit is nothing much to look at on the outside; it has a brown furry exterior.

However, the interior of this fruit reveals a delicious and nutritious fruit. This fruit is also a beautiful addition to smoothie bowls, with its circular-shaped design when cut horizontally.

Kiwis are not a common addition to smoothies; however, we have gathered various kiwi smoothie recipes for your perusal.
Common Ingredients in Kiwi Smoothie Recipes
Carrot, Mangoes, Pineapples, Strawberries, Oat milk, Almond milk, Soy milk, Avocado, Blueberries, Bananas, Spinach, Kale, Coconut milk, Apples
Greek yogurt, Hemp seeds, Protein powder
Honey, Stevia, Dates, Ripe bananas, Ripe mangoes
Other Kiwi Smoothie Add-ins
Flaxseeds, Chia seeds, Collagen, Almond butter, Cashew butter
How To Make a Kiwi Smoothie
Kiwis have a mild fruity flavor, so they combine well with other fruits such as mangoes, strawberries, pineapples, or blueberries that have a more distinct flavor.  
For green vegetables, we recommend spinach or kale since these two vegetables won't overwhelm the flavor of your smoothie.  
You can use nut milk, plant-based milk, fruit juice, or water for liquids.  
Add items from each category, such as greek yogurt, chia seeds, hemp seeds, protein powder, or collagen. Combine all the ingredients and blend.
I was intrigued by this combination of carrot, mango, and kiwi. For some reason, you rarely see carrots used in smoothie recipes, and they are such a healthy addition to smoothies. 
Adding mangoes takes this smoothie to the next level. This tropical goodness is sure to please even the most discerning palate.  
It's hard to go wrong with the combination of strawberries and kiwis. These two fruits are a match made in heaven.
The addition of yogurt and nut milk makes this smoothie an excellent option for breakfast, especially if you are in a hurry. You can up the nutritional value of this smoothie by adding protein powders, avocado, or flaxseed oil.
This smoothie is breakfast in a bowl. Adding kiwis, pineapples, and bananas helps disguise the green taste of spinach. Yes, this smoothie bowl tastes as good as it looks.

The combination of pineapples, bananas, avocados, spinach, and nut milk makes this smoothie bowl the ideal way to start your day.
I love the versatility of this smoothie recipe. The original recipe combines kiwi with frozen pineapples. However, this kiwi smoothie recipe can use bananas, strawberries, blueberries, or mangoes.

The original recipe uses yogurt; however, the creators of this recipe state you can use coconut milk instead of yogurt. I prefer yogurt; however, if you use coconut milk, it is recommended that you add nut butter for additional protein.
The thought of mango and kiwi brings a smile to my face, and I start thinking of white sand beaches.

The combination of mangoes and kiwi also provides many vitamins and minerals. Adding sugar is optional; however, you don't need it if your mangoes are very ripe.
The beauty of this smoothie recipe is it only has three ingredients, kiwi, kale, and apples. This recipe recommends you juice the items; you can do this or add your own liquid. I love the idea of making smoothie pops if you want to have your smoothie later.
This recipe uses frozen bananas and ice to make a fabulous smoothie dessert. The addition of protein adds extra protein and creaminess. This is the smoothie for you if you want a super thick, frosty, cool smoothie.
This smoothie is a decadent combination of kiwis and blueberries. This taste combination will please any palate. This smoothie tastes as good as it looks. You can use frozen or fresh blueberries. 
Keep in mind that if you use fresh blueberries, the smoothie will be thinner than if you use frozen blueberries. The addition of hemp seeds provides extra protein.
I love adding avocados to my smoothies. Avocados have a mild taste, and they are nutritionally dense. This smoothie is a great breakfast option or a mid-day pick-me-up for those mid-day energy slumps. 
This smoothie is not too sweet; however, if you want to sweeten your smoothie a bit, you can add some honey.
Cherries are one of my favorite fruits, so I was intrigued when I saw this recipe. You can use frozen cherries if you don't have fresh cherries available. 
This recipe is packed full of healthy goodness. It contains hemp protein, wheat grass powder, beetroot powder, and avocado. The addition of oats provides you with fiber.
This smoothie tastes as good as it looks. I love the kiwis strategically placed in the mason jar. This luscious combination of kiwis, blueberries, bananas, and greek yogurt is sure to please any palate. The addition of breakfast favorite, quinoa puffs, is a nice addition to this smoothie recipe.
This refreshing smoothie is really easy to prepare and ideal for a quick breakfast or mid-afternoon snack.
There are a few items needed for this smoothie. You only need some kiwis, watermelon, yogurt, and ice. Yes, it's that simple!
I love the simplicity of this smoothie. It only contains three ingredients, mangoes, kiwis, and yogurt. Mangoes are a natural sweetener for smoothies, so you don't need an additional sweetener.
Matcha is finely ground, high-quality green tea leaves. Matcha is traditionally consumed in East Asia and has gained popularity in the West. I love drinking a cup of matcha tea in the morning, so I was happy to see it included in a kiwi smoothie recipe. 
The main ingredients in this recipe are kiwi, bananas, matcha, and vanilla extract for an additional flavor boost.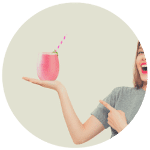 Hi, I am Charms, a self-confessed smoothie fanatic!  Here I will share some of my favorite smoothie recipes, tips and guides and gear reviews.   Learn more .