Vitamix is arguably the king of all blenders. It's a bit of a phenomenon in the US (and worldwide) and has a bazillion unaffiliated news stories, blogs, and customer testimonials singing its praises. 
If you buy into all the hype, the brand is the best thing since sliced bread. The problem is it's shockingly, sometimes scarily expensive.
Is a Vitamix worth it really? Is it worth investing so much money in just a blender?  In this post, we examine the brand in detail to help you decide if it's worth your time and, more importantly, your hard-earned money.
History of Vitamix Blenders
Vitamix is more a way of life at this point, not just a blender brand. People build diets, lifestyles, and even entire kitchens around these appliances! To understand why people think Vitamix is special, you need an overview of the brand's history:
Vitamix is an all-American company that began during the infamous economic turmoil of the 1920s. Times were hard. An enterprising entrepreneur started touring the country selling modern kitchen appliances to make money. Back then, people didn't know about the link between healthy food and good health. The businessman stumbled upon the knowledge when helping a friend through an illness.
He (William Grover Barnard) then founded the Natural Food Institute to educate people on the importance of a healthy diet. Being in the kitchen appliances business, he was one of the first people to encounter the blender when it first appeared in the market in the late 1930s. He saw how the appliance could make healthy food without too much effort.
That's how the first Vita-Mix blender came to be – Vita meaning life in Latin. The appliance took the country by storm.    
How Vitamix Became a Household Name
In 1949, Mr. Barnard and Vitamix together starred in the first infomercial in television history.
In 1964, Mr. Barnard's son changed the company name to Vita-Mix Corporation, named after their super-hit blender.
In 1969, the family-run business introduced the Vitamix 3600. It was the first blender ever that could blend ice cream, grind grain, make hot soup, and knead dough.
In 1985, the business created the Mix'n'Machine, the first commercial blender. It was an enormous success.
Vitamix not only consistently created top-quality, cutting-edge blenders, but it also introduced people to the concept of healthy living. The brand is a pioneer when it comes to nutritious lifestyles. It's why it enjoys a bit of a cult following today.  
Vitamix has always been at the forefront of innovation. Modern Vitamix blenders have upgraded internals and high-tech externals. The brand has released "smart" blenders fairly recently, such as the Venturist and Ascent series. The Ascent series is as modern as it gets, with a futuristic design complete with a touchscreen interface and wireless connectivity.
The brand has historically dominated the "best blenders" lists and continues to do so even today. They are constantly near the top, if not occupying the first place. Many experts, including engineers and celebrity chefs, consider Vitamix to be the best blender brand in the market right now.  
Why Get a Vitamix? When is a Vitamix worth it?
Vitamix is like the Ferrari of blenders. Here are some reasons why you should get a Vitamix:
Healthy eating is a part of your lifestyle
If your diet consists of nutritious foods and drinks like whole green smoothies and hearty soups, then a Vitamix is an excellent investment. You can make dozens and dozens of varied, delicious, and nutritious recipes with one.
You frequently blend thick mixtures such as nut butter
Where other blenders struggle, a Vitamix excels. A Vitamix blender can effortlessly blend thick mixtures like nut butter in record times, thanks to their powerful motors and clever design. You can even blend dough or thick ingredients up if you have the right accessories.
You like to cook and experiment
Every Vitamix blender is versatile and can blend beverages, make smoothies, mix dough, grind grains, cook soups, and much more. If you're creative and like cooking and experimenting, then a Vitamix can be a great cooking aid.  The beauty of a Vitamix is it can be used as a food processor.
You want to save time
Vitamix blenders, being high-end machines, are quick. Where other blenders might take minutes, Vitamix usually accomplishes in seconds. The machine won't compromise on the final consistency of the blend either. Further, the machine cooks as well as blends at the same time.
Taste is important to you
Any food you put into the Vitamix will come out looking, smelling, and – most importantly – tasting great. They use BPA-free plastic on their containers. Further, the machine won't burn the food even when you're using friction heating.
You prefer a lengthy warranty for peace of mind
Vitamix blenders come with huge warranties, starting from 3 years going up all the way to 10. What's special about the warranty is that the brand pays for everything, from transportation costs to labor. You don't have to pay a dime.
You want a quality appliance
A Vitamix machine is as high-quality as it gets. These are the blenders you see in a celebrity chef's kitchen or a professional establishment like a juice bar. The blender will withstand a great deal of stress. Buyers say they last at least as long as the warranty, which is high to begin with.
You want powerful and effective
Vitamix will blend anything you throw at it with little trouble. Even low-end Vitamix blenders have 2HP motors and sturdy stainless steel blades, capable of friction heating and creating the signature "Vortex" effect in the jar. Anything you throw in will come out fine and silky smooth. 
Simplicity and ease-of-use matters
Lastly, a Vitamix machine is easy to figure out. The classic models all have a simple knob for speed controls and switches for the pulse function and on/off. The newer variants come with handy touchscreen interfaces.
A Vitamix blender is expensive. You will find yourself second and third-guessing your decision.
You may even, at least initially, wonder if you've taken leave of your senses. But almost all Vitamix buyers eventually come to believe paying the steep price was well worth it in the end.
Here are some tips and facts that may make the blow easier to bear:
You can often pick up a Vitamix at a discount
You don't always have to pay full price for a Vitamix. You will find them on discount during Black Friday, Cyber Monday, and Amazon Prime Sales.
Then there's refurbished Vitamix
A refurbished Vitamix is almost as good as new and often cost less than half the original price. Sometimes no one has used them before, despite the "refurbished" tag. All of them come with multi-year warranties. 
Finally, your Vitamix is almost guaranteed to not give you any trouble, according to statistics:
Vitamix blenders only have a 6-percent problem rate in their 4th year Other brands have 14-15-percent failure rates.
Vitamix only fails 2-percent of the time in the first year.
96 percent of Vitamix users are highly satisfied with their purchase.
When is a Vitamix Not Worth It?
When you just don't blend all that much
Don't buy a Vitamix if you aren't going to use it. If you're only going to use it, say, once every two weeks, any average blender will do the trick.
When you want a dishwasher-safe container
Vitamix has self-cleaning, but the majority of its containers aren't dishwasher-safe. Cleaning will sometimes require physical effort on your part. If you want dishwasher-safe, you will need to invest in a higher-priced variant.   
Aside from these two points, a Vitamix is almost always worth the buy.
How Does Vitamix Compare to Its Competitors?
On the whole, except for the price, Vitamix destroys the competition:
Price: Vitamix machines are pricier than their competitors. The Oster Pro has a 1200W (about 1.6 HP) motor, perform well, and costs less than $100. The entry-level Vitamix costs three times as much.
Warranty: Most come with an ultra-long, all-inclusive warranty. Any Ninja blender only comes with a limited 1-year warranty. They make you pay for the shipping.
Durability: Vitamix blenders stand the test of time. A budget blender from a brand like Ninja, Blendtec, or Oster will wear out in a handful of years. If your Vitamix suffers a defect, they will repair it.
Performance and quality: Vitamix is still the undisputed king. Vitamix blenders are superior to the competition every which way.   
Thinking of Buying a Vitamix? A Few Things You Should Consider
Legacy series vs. modern: You can choose between old-school "Legacy" Vitamix or a modern "Smart" blender. Either way, you will get a reliable, powerful machine. The difference is in the design, not the effectiveness.
New vs. refurbished: You can choose to buy a brand-new appliance or pick up a refurbished variant. New is, of course, unused, but it will be expensive. The refurbished version can often be more value for money.
Personal vs. family: Will you be using the blender for yourself or your whole family? The professional-grade blenders are overkill for personal use. They have too-big containers and aren't handy for making small quantities of food. A personal, small-sized blender is a better buy.
Wet vs. dry containers: By default, your Vitamix will come with a wet container. But you will need a separate dry container if you want to make powder or flour. Wet containers draw ingredients inward while dry ones push them outward.
Noisy vs. quiet: Finally, all powerful blenders – including Vitamix – are noisy by default. You will have to put up with noise. If noise is a dealbreaker, you will need the Vitamix 750 or the Ascent 3500. Both models are quieter than average.
A Vitamix is a premium machine, with a premium price to match. It will be a significant investment, but you will get your money's worth in time.
A run-of-the-mill blender costs a fraction of a Vitamix, but it offers an average experience and usually gives out in a few years.
A Vitamix may cost more, but it will give you an incredible experience and stand the test of time.
Instead of buying several average blenders successively, you could invest the same money in a Vitamix and get more out of your investment in the long run.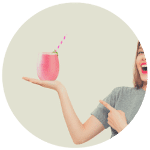 Hi, I am Charms, a self-confessed smoothie fanatic!  Here I will share some of my favorite smoothie recipes, tips and guides and gear reviews.   Learn more .