I don't know about you but I am pretty fussy about my smoothies.  So for those of you who don't like bits and pieces in your smoothie have a look at our list of how to make smoothies smoother.
Tips on How to Make Smoothies Smoother
Get a Good Blender
A good blender can make a world of difference to the smoothness of your smoothie. If your blender does not have a lot of blending power don't be surprised to see bits and chunks in your smoothie. You will find blenders such as the Vitamix and Blendtec blenders give you the smoothest smoothies.
Blend Ingredients in Stages
Blender manufacturers usually have suggestions about how to best blend ingredients in their blenders. For example, nutribullet suggests adding ingredients in this order: greens, fruits, powders, seeds, nut butter, and then liquids. Vitamix on the other hand suggests the following order: liquids, soft fruits, and vegetables, leafy greens, frozen ingredients, nuts, and seeds.
Use Frozen Fruit
Frozen fruit gives you a smooth creamy texture and tends to work better than fresh fruits. It is quite easy to buy frozen banana, pineapple, strawberries, grapes, cherries, raspberries, or frozen blueberries. These fruits tend to work best.
Add Nut Butters
Nut butter not only gives you a good dollop of protein to your morning smoothie but also gives you a smooth, creamy texture. Nut butter is also a great way to add healthy fats to your diet. Some of our favorite nut kinds of butter are peanut butter, almond butter, and cashew butter.
Limit the Amount of Greens
If you are going to use a lot of greens and veggies such as spinach, kale, celery, or cucumber in your smoothie make sure you have a powerful blender. If you have a weak blender and you add a lot of greens don't be surprised to find bits and pieces of vegetables in your smoothie.
Add Yogurt
Yogurt is another healthy addition to your smoothie. It has a lot of protein and calcium and it adds a nice smooth texture to your smoothie. You can use low fat yogurt, vanilla yogurt, plain yogurt or a fruit flavored yogurt such as a strawberry yogurt when making a smoothie.
Add Bananas
Bananas are a great addition to any smoothie recipe. A ripe banana is also a natural sweetener for your smoothie and help to make your smoothies smoother. Frozen bananas work best for smoothness.
Use Nut Milk, Soy Milk or Coconut Milk Instead of Water
Nut milk, soymilk, and coconut milk are thicker than using plain old water. The thicker texture of the nut milk, soy milk, and coconut milk make your smoothie smoother.
Add Avocado
Avocados are a nutritional powerhouse. They are a good source of Vitamin C, E, and K. Additionally, they are a good source of Folate, Magnesium, and Potassium. An avocado smoothie is not only healthy but also delicious and a great ingredient if you are trying to make a healthy smoothie recipe. An added benefit of adding avocados to your smoothie is it has a a mild taste, so this makes it a great option to get a smooth flavor.
Add Kefir
I like to refer to Kefir as liquid yogurt since it has such a similar taste to yogurt. This liquid is a great source of probiotics and other nutrients.
Add Tofu
Silken tofu is a great way to add protein to your smoothie. An added benefit is Tofu is a great source of protein. The texture of Tofu makes it a great ingredient to make your smoothies smoother.
Add Sweet Potatoe or Pureed Pumpkin
Sweet potatoes and pureed pumpkin are great sources of Vitamin A as well as other vitamins and minerals. This makes them a healthy addition to your smoothies.
Use a Cheese Cloth
If you don't have a powerful blender or if you are adding a lot of hard bits or nuts it's best to use a cheesecloth to strain your smoothie.
Use Fruits That Contain a Lot of Water
If you have fruits that have a lot of water you don't need to use plain water and you will get a smoothie with a smoother texture. An example of this type of fruit is watermelon which has a lot of liquid.
I hope you like our list of tips to make your smoothie smoother.  So for all you smoothie fanatics happy blending!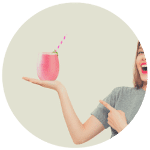 Hi, I am Charms, a self-confessed smoothie fanatic!  Here I will share some of my favorite smoothie recipes, tips and guides and gear reviews.   Learn more .