If you have a ninja blender I am sure you have wondered, how do I make a slushie with a ninja blender?
I don't know about you but as a child slushies were one of my favorite treats in the summer.  It was a great way to cool down on a hot summer day.  So as a parent I take great pleasure in making slushies for my children. 
So you are wondering where do I start?  The first thing is you will need a high-quality blender.  We really like Ninja blenders because they are the perfect balance between price and functionality.  If you feel like splurging you can try other high-end blenders such as a Vitamix or Blendtec blender.
What You Will Need To Make a Slushie
These are the items you will need to make slushie:
A high-end blender

Ice cubes

Chilled water, soda, or fruit juice

Frozen Fruit flavor or kool-aid flavor.  A few of my favorite flavors are lime, mango, watermelon, raspberry, berry, pineapple, blueberry, and grape.

Sweetener – Ex – sugar, sugar syrup, powdered drink mix, honey, stevia, etc.
Making Slushies With a Blender
Making a slushie in a blender is really simple.  Once you have gathered together all the ingredients just follow our instructions below:
In your blender add the ice cubes for the shaved ice.
Add some type of liquid and a sweetener.
 You can also freeze the liquid and add it to the blender.
Blend the ingredients until the ice crushes down and it has a smooth, slushy texture.
If the slushie is not thick enough add more ice cubes and blend.
Once the blending is done pour them into your serving glass and garnish if necessary.
Extra tip:  When using a Ninja blender select boost YES Auto-IQ Total Crush.  This is the setting for crushed ice. 
Extra tip:  Use eight parts liquid to two parts sweetener.
Extra tip: Add ice for a frothier texture
Extra tip: Serve in a tall glass and add a colorful straw for some pizzazz.
Can You Add Alcohol to a Slushie
Yes, you can add alcohol to a slushie. If you have adults in the group why not make a special treat for them. A good combination for adults is lemonade with a bit of Tequila, Martini, Orange Liqueur, Coconut Rum, Gin, Triple-sec, Bourbon, Vodka, Cointreau, Schnapps, Brandy or Bacardi White Rum.
Fun Things To Do When You Make Slushies
If you are preparing slushies for your children, why not have a slushie party?  You could vary the flavors you make so you will have a colorful set of slushies to display.  You can add some colorful straws and cups to the mix and you are ready to go with a slushie party.
A slushie is a water-based, light, refreshing frozen drink.  It is usually made with any type of sweetener such as syrupy sugar, powdered drink mix, fruit juice or soda and then combined with ice to make a refreshing frozen slushie beverage. 
A smoothie on the other hand combines water, milk, fruit juice, or nut milk with fruits and vegetables to make a blended drink.
A Few Ninja Smoothie Slushie Recipes
This recipe takes a different route from the normal slushie recipe.  In this case, you make strawberry ice cubes which consist of strawberries, limes, honey, and ice.  You then combine the strawberry ice cubes to make a refreshing slushie drink.
This ninja recipe combines milk, orange juice, agave, and vanilla to make a creamy and refreshing slushie.  This recipe deviates from the normal slushie recipes, but that's the beauty of this recipe.
This slushie is made especially for adults!  This recipe combines black tea, low-fat milk, agave, lemon juice, cardamom, and a few shots of Irish whiskey.  Walnuts or chocolate as a garnish adds extra panache.
In Conclusion, How to Make a Slushie With a Ninja Blender
Well, there you have it!  I think we have covered everything you need to know to make a slushie with a ninja blender.  We have provided a blueprint for your slushie making; however, don't be afraid to experiment and come up with your signature slushie recipes.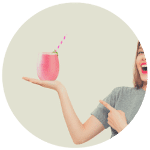 Hi, I am Charms, a self-confessed smoothie fanatic!  Here I will share some of my favorite smoothie recipes, tips and guides and gear reviews.   Learn more .