I don't know about you but the most annoying thing that happens to me in the kitchen is I am trying to make a dish or beverage and find I don't have the proper appliances.  So for all you novice cooks out there I am sure you have asked this question:" How to blend without a blender".
Read our suggestions below to see our top options.
Can you Blend Things Without a Blender
A short answer to this question is yes you can blend things without a blender.  Think about it most recipes were invented before blenders were invented, so yes it is possible.  However, it will take a bit more work and you will have to use different methods based on what you want to achieve. 
What do you use if you Don't Have a Blender?
So I am pretty sure you are wondering, what do I use if I don't have a blender?  Have a look at our suggestions below.
1) Box Grater
This was a very popular kitchen appliance when I was small.  Actually, it was pretty common until the advent of blenders, blender food processor combos, and food processors.   
A box grater has four sides that act like a grater depending on what side you use.  Each side of the grater is a certain size.  
One size can thinly slice items. This side is ideal for slicing raw vegetables.  The second side can be used to finely grate items. This is ideal for zesting lemons, limes, etc., or grating spices, etc. The third size has a normal size grater which can be used to grate cheese etc.  The fourth side has a larger grater.
2) Madonline Slicer 
Is another handy kitchen device that allows you to slice fruits and vegetables.  You can slice fruit and vegetables at different angles to dice and chop items.
3) Vegetable peeler 
A vegetable peeler is exactly what it sounds like.  You use this utensil to peel vegetables.
4) Zester
If you need a tool to remove fine shreds of zest from citrus fruits, use this tool
5) Use a Tool to Crush Ingredients Then use a Sieve or Mesh Strainer  
You can use a mortar and pestle to crush items and then use a sieve or grater to get a fine texture.  
6) Mortar or Pestle to Crush Items  
 A mortar and pestle are tools that have been used from the stone age.  You can prepare ingredients by crushing and grinding them.
7) Meat grinder 
A meat grinder is exactly what it sounds like.  You put in meat and you get grind up meat.
8) Electric Mixer 
If you need something with some blending power use an electric mixer.  You won't have access to the sharp blades of a blender so you cannot blend hard ingredients.  However, if you are mixing soft ingredients you can use an electric mixer.
9) Coffee Grinder 
A coffee grinder can be used for quite a few things other than grinding coffee. For example, you can grind fresh spice, make your own spice blends, grind flax seeds, you can make your own flour, or grind oatmeal.
10) Mash Ingredients 
You can mash soft fruits such as an overripe banana and then combine with liquids to make a fruit smoothie.  
11) Use a Whisk 
A whisk is a kitchen appliance that is made of curved wire.  It is used to stir or beat ingredients such as eggs, whipping cream, mayonnaise, ice cream, or sorbets, 
12) Use a Food Processor 
A food processor is a great way to make smoothies if you don't have a blender.  As a matter of fact, a food processor can be used for more tasks than a blender.  You can make smoothies, mix dough, slice vegetables, etc. in a food processor.
13) Change the Type of Ingredients Used 
If possible see if you can by blended items or use liquid or powdered ingredients in your recipe.  
14) Rolling Pin 
You can use a rolling pin and a plastic bag to crush items.   
You won't find one item that does everything a blender does but there are some close substitutes.  In our list, you will find items you can use to make smoothies, chopped vegetables, your own flour, ice cream, or sorbets if you don't have a blender. 
Add Your Heading Text Here​
Add Your Heading Text Here​
Add Your Heading Text Here​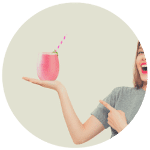 Hi, I am Charms, a self-confessed smoothie fanatic!  Here I will share some of my favorite smoothie recipes, tips and guides and gear reviews.   Learn more .