If you're living the vegan lifestyle, a good blender is indispensable. You're often going to get cravings for "normal" food.
The only practical to avoid falling off the wagon, so to speak, is to have a steady supply of delicious, wholesome vegan food on hand. And the right blender lets you whip up a huge variety of vegan foods and drinks effortlessly!
We're recommending some blenders for you below. The best blender for vegans, if you're wondering, is the Blendtec Total Classic Original blender.
Product Reviews of the Best Blender for Vegans
The Blendtec Total Classic Original Blender – The Only (High-End) Blender You'll Ever Need
The Blendtec Total Classic is arguably every vegan's dream blender. This delightful cutting-edge appliance has a premium feel to it and comes in three attractive color options: White, Red, and Black. 
There's an LCD screen on the side, with 6 one-touch, quick-use buttons. You press a button and this high-tech machine does the heavy lifting.
The 1560W motor spins the 10x strengthened stainless steel blades at blistering speeds. Even the densest ingredients get ground to powder. 
This machine makes silky smooth, fine blends. You can blend – and even cook – almost any vegan dish under the sun with this beauty. The 90z jar allows you to cook large batches of food, though it may be a little excessive for everyday food-making.
You can use the self-cleaning function to clean the blender in minutes. The blender is compact and easy to store.  
Upgrade option: If you want to go all out and get the best money can buy, the Blendtec Designer 725 is a step up over the standard Blendtec Total Classic.  
Top-of-the-line quality and durability.
Magnificent performance.
Hassle-free cleaning.
Expensive.
You may end up buying a smaller container.
The Ninja BN801 Professional Plus Kitchen System – Our Budget Recommendation
When you don't want to splurge but still want an excellent blender, the Ninja BN801 Professional Plus Kitchen System is your best bet. 
This is a quality machine from the famed Ninja range. It's a combination blender and food processor. The attractive black appliance comes with a food processor bowl and specialized cutting blades out-of-the-box.
You can make a variety of vegan foods as well as liquids with the blender. The "Total Crushing" blade assembly does a good job of blending food evenly. 
The 1400W motor provides ample power for difficult tasks. You can make smoothies to-go with the single-serve cups. The chopping blades allow you to dice ingredients quickly.
Being dishwasher-safe, this blender is easy to clean. Because the blender is large and has so many accessories, it's a bit of a challenge to stow away.
Blender cum food processor.
Quality make and design.
Satisfactory performance.
Oster Blender Pro 1200 with Food Processor Attachment
The Oster Blender Pro 1200 blender is a budget appliance that works surprisingly well. It has a nice, appealing silver finish with several buttons on the side. 
The blender comes with a high-quality "boro class" jar. It doesn't stain or retain food smells. This Oster Pro is a combination machine and ships with a food processor bowl and a special chopping blade.
When it comes to performance, the Oster Blender Pro can't match the Blendtec. But that doesn't mean it's a bad blender. It does a praiseworthy job with most simple blending and food-making. 
It will struggle with difficult tasks, though, like crushing ice or liquefying kale. Don't expect to make a professional-grade smoothie with this one. It'll be tasty, but it won't be super smooth.
You can safely put the glass jar in the dishwasher. You won't have trouble stowing the machine away in small cabinets.  
Maximum bang for your buck.
Suitable for everyday blending tasks.
Peace of mind 10-year warranty.
Middle-of-the-road performance.
Vitamix A2500 Ascent Series Smart Blender
Many vegans swear by the Vitamix series of blenders. They say Vitamix machines make the most delicious, even, froth blends, day in and out. We can't say we disagree. 
The Vitamix A2500 Ascent is one of Vitamix's most popular models and showcases some of the brand's best engineering. The black (or grey) machine looks beautiful and is incredibly compact.
The Vitamix A2500 performs extremely well. Solid foods get blended thoroughly. The machine automatically adjusts blends thanks to the self-detect program. It excels at making vegan recipes, from nut butters to smoothies. 
A minor gripe is that the jar sometimes won't blend small quantities well. You may also need to scrape the food off the sides manually with a tamper every once in a while.
You won't have trouble cleaning the blender. It's both self-cleaning and dishwasher-safe. This blender is perhaps the easiest to store out of all the ones on this list. It's small, lightweight, and portable.  
Budget Vitamix Option: If you want a Vitamix but you don't want to pay the hight price have a look at the Vitamix E310 model or a refurbished Vitamix Blender.
Excellent quality from a top brand.
Great performance.
Easy-to-use, easy-to-clean, easy-to-store.
Expensive.
Most suitable for large batches of food.
Jusseion Smoothie Blender
The Jusseion is a very pretty, elegant appliance. It has a black metal finish, with a fitted blue touchscreen panel to the side.
Like the NutriBullet range of blenders, the Jusseion is mainly for smoothies and shakes. It comes with two small, easy-carry cups that you can fill up and take away with you outside.
If smoothies are all you make, this is amongst the most pocket-friendly, value-for-money options for you. You won't be able to prep veggies, but you will be able to mix delicious smoothies in minutes.
The 1200W motor and the six-tooth blades mash up ingredients quickly and evenly. The 35oz container holds 2-3 smoothies at once.
You can clean the blender with a dishwasher, or rinse it clean by hand. It's compact and slides into small spaces with no trouble. As a bonus, this blender is quieter than many other models around.    
Amazing at making vegan-friendly shakes and smoothies.
Nifty touch-screen controls.
Quieter than average.
Not the best at food processing.
Buyer's Guide – What to Look For
Some blenders double as food processors. You can use them for chopping and dicing solids in addition to mixing liquids. 
It saves you from having to buy a separate device. The Ninja Kitchen System is a blender and food processor combo.
Blenders can put out a certain maximum power, measured in horsepower or,  alternatively, wattage. We recommend blenders with 1.4HP (1000W approx.) motors. 
They offer power enough to crush ice and other dense solids. The Blendtec Total Classic is a heavy-duty blender with a staggering 2.1 HP (1560W) motor.
Speed capabilities and functions
When you can control the blender's speed, you can control the final consistency of the blend. 
Some blenders have one-touch programs that automate some preparations – like smoothies or shakes. The Blendtec Total has 6 convenient one-touch programs.  
What do you plan to blend? Not all blenders make vegan foods like nut butter, hummus, soups, sauces, vegan cheese, cashew cheese, nut milk, smoothies, and flour. 
The Jusseion is great at making smoothies, but below average at other tasks. The Blendtec Total Classic makes everything – even hot soups.
High-capacity jars allow you to make beverages and food for your whole family. However, a high-capacity jar might be overkill if you make small quantities of food or if you live alone. 
The Blendtec Total Classic has a huge 90oz jar, but you may prefer the smaller 35oz jar on the Jusseion Smoothie Blender instead.
You don't want to spend time cleaning your blender when you have to dash off to work. Look for blenders that are dishwasher safe or offer self-cleaning options. The Oster Blender Pro is dishwasher-safe.
How much money will net you a vegan-friendly blender? You don't necessarily have to splurge. The Oster-Pro is a budget blender that costs less than $100 and works very well.
Low-to-mid-end blenders (like the Ninja Professional Plus) cost less and will last for a few years if you're lucky before you have to toss them out. 
High-end blenders (like the Blendtec Total Classic) usually last for at least a decade and are a joy to use, but come with serious sticker shock. Which is better? You decide!   
Warranty gives you peace of mind and can save you from "out-of-pocket" expenses. The high-end blenders like the Blendtec Total Classic or the Vitamix Ascent 2500 have all-inclusive 8+ year warranties.  
You can't go wrong with the Blendtec Total Classic. It's ultra-modern. The built quality is incredible, so it won't give you trouble down the road.   
Another option is any vitamix blender.  Have a look at the Vitamix 310 model or the Vitamix a2500 models. 
It does an incredible job of making vegan foods – from hot soups to cold smoothies and nut butter to hummus. It's pricey, but the makers put your money to good use and deliver an incredibly satisfying experience.
The Ninja BN801 Professional Plus blender is a more pocket-friendly option. It works almost as well as the Blendtec Total Classic and will be a reliable aid for your vegan diet.  
Add Your Heading Text Here​
Add Your Heading Text Here​
Add Your Heading Text Here​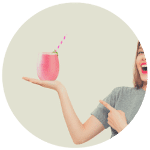 Hi, I am Charms, a self-confessed smoothie fanatic!  Here I will share some of my favorite smoothie recipes, tips and guides and gear reviews.   Learn more .