Americans have loved the convenience and silky sweetness of smoothies since the 1920s. And with all the blenders on the market, it has never been easier to make an amazing smoothie in your own home.
So, which is the best blender for smoothies? Blendtec and Vitamix, as per the usual, soars to the top of our list.  However, we do have some great budget options on our list so keep on reading.
But read on for an in-depth review of our 8 top picks and a helpful buyers guide to get better acquainted with the various features of each blender.
Blendtec Blenders– Any of the Blendtec blenders would be ideal for smoothies. If you are on a budget have a look at the Blendtec Total Classic.
Vitamix Blenders– Any of the Vitamix blenders would be ideal for smoothies. Our favourite models are the e310, 5200 and the a2500 models.
Ninja BN701 (Budget Option)– If you are on a budget and looking for a versatile blender this is the best option.
Best Blender for Smoothies Product Reviews
Blendtec Blenders – Blendtec Total Classic Original Blender
Every model from Blendtec makes amazing smoothies. And each of their series have their own unique characteristics. But the Total Classic is a great entry level Blendtec appliance that will last.
It's the least expensive and has many of the hallmark Blendtec design elements that make the company great – including their famously comprehensive warranty!
The patented dull blades are super strong and safe, the jar is designed for easy pouring, and it has a powerful, commercial grade motor. And we love the hands-free operation provided by the pre-sets.
What's special about it:
Stainless steel blades are 80% thicker than competitors and won't slice fingers
Blend programs give consistent results and protect motor
Makes quick work of frozen fruit, ice, and tough veggies
Appropriate for a huge variety of recipes: nut butter, ice cream, hot soups, etc.
Exceptionally powerful
Incredibly versatile
Quality construction
Easy to use
Superior safety features
Extensive warranty
Vitamix Blenders – Vitamix Explorian 310
Vitamix's commitment to quality and power mean that any Vitamix will make great smoothies. But the E310 we're featuring here is one of the cheaper models.
And even though it's easier on the wallet, it still has the extensive warranty, all-metal motor, and hardened stainless steel blades that make Vitamix famous.
There are plenty of other models to explore though. The Vitamix A2500 Ascent Series has smart blender technology. The Vitamix 5200 Legacy Series is professional grade and can use blade friction to bring ingredients to a boil in about 6 minutes.
What's special about it:
Handy mini tamper for stirring smoothies included
Thermal protection system and "cool running motor" ensure high performance
Durable, quality materials improve blender life span
Seriously powerful
Super versatile
Quality materials
Easy to clean
Great warranty
Rather pricey
Some models don't have pre-sets
Jamba Appliances 2.4 hp Blender with 64 oz Jar
Jamba's blender is as powerful as the more expensive Blendtec and Vitamix models, but a bit more reasonably priced.
The pre-sets and power make it exceptionally easy to make smoothies, as well as a wide range of other recipes.
The warranty is lengthy but limited. And potential buyers should be aware that replacement parts are challenging to acquire.
 What's special about it:
All-metal drive for superior motor durability and longevity
One of the most powerful home use blenders available
Compact enough to fit under most kitchen cabinets and counters
Extremely powerful
Versatile
Easy to use
Durable materials
Limited warranty, hard to find parts
Pricey
Breville BBL620SIL the Fresh and Furious Countertop Blender
For a more reasonable, mid-range power blender that will also look amazing on your counter, check out Breville. It's less powerful than Blendtec but made of quality materials and also nearly half the price.
We love the easy to remove but tight-fitting lid that keeps your smoothie right where it belongs. And the pre-sets give you plenty of hands-free operation options for a variety of kitchen projects.
What's special about it:
Sleek profile that looks great in any kitchen
Surgical grade stainless steel blades designed to mimic food processor capabilities
Lid seals tightly to reduce mess and pulls off easily for quick pouring
Decent power
Versatile
Exceptional customer service
Limited warranty
Tends to "walk"
Ninja BN701 Professional Plus Blender with Auto-iQ,
Folks seeking a decent entry level smoothie blender with more versatility than a bullet model will love the Ninja Professional Plus.
It has a generously sized jar and powerful motor for crushing ice and frozen fruit. And the Auto-iQ programs perform consistently and protect the motor from overheating and damage over time.
The warranty is severely lacking, but for the astoundingly reasonable price you can intuit that it is not likely to last more than 3 years with regular use.
What's special about it:
Auto-iQ programs give the perfect smoothie texture every time
Great for a multitude of iced and cold drink blending
Ninja Total Crushing Blades stacked for exceptional ice crushing performance
Powerful
Hands free operation
Easy to clean
Great budget option
Wimpy warranty
Easily mishandled blades
Cleanblend Commercial Blender - 64 Oz Countertop Blender
If you're looking for a significantly cheaper option than Vitamix or Blendtec but don't want to sacrifice any of the power, take a look at CleanBlend.
However, we were unimpressed by the blade and pitcher design. The shape tends to allow ingredient chunks to get stuck below the blades. You either have a tougher clean up, or a chunky smoothie.
What's special about it:
Vented lid appropriate for hot or cold blending
Handy tamper for voluminous green smoothies
8-pronged blades for quick and powerful ice crushing
Most powerful on our list
Exceptional customer service
Good warranty
Mid priced option
No pre-sets
Poor blade design
Jar doesn't fit snugly
Jusseion Smoothie Blender - 1200W Bullet Blender for Shakes and Smoothies
One of our favorite personal blenders around is the Jusseion. It has the strength and blade design to power through ice and frozen fruits to deliver silky smoothies.
And it lasts longer than most single speed blenders due to its Auto Blend feature and even comes with lifetime support.
It's not a great choice for big families and entertaining guests. But for single batch smoothies and kitchens low on counter space it far outclasses all similarly sized blenders.
What's special about it:
Strong, 6-pronged blades for ice and frozen fruit crushing
Auto Blend feature allows for hands free blending
Suction cup feet prevent "walking" and accidents
Powerful
Easy to clean
Hands free operation
Lifetime technical support
Reasonably Priced
Short warranty
Small jar capacity
Oster Blender | Pro 1200 with Glass Jar
Oster's Pro 1200 is a great budget smoothie blender choice. It's powerful enough to handle ice and frozen ingredients and the borosilicate glass jar is exceptionally strong & stylish.
Unfortunately, the rest of the materials that make up this blender are rather lacking. It's clear why the great warranty is only for the motor, as many of the plastic and rubber pieces are prone to breakage after relatively short periods of use.
What's special about it:
Duralast all-metal motor for longevity
Dual direction blade spinning technology pulls ingredients in for faster blends
Borosilicate glass jar appropriate for hot or cold blending
Powerful
Great budget option
Quality motor and jar materials
Warranty only for motor
Parts are seldom in stock
Poor customer service
Buyers Guide - How To Choose The Best Blender for Smoothies
What Type of Blender Should You Get?
That's entirely up to your situation. How often will you be making smoothies? What kind of ingredients do you want it to be able to handle? How long would you like your appliance to last?
Countertop Blenders
Standard or countertop blenders are where it's at for consistently perfect smoothie purees. They can handle ice, frozen fruit, raw vegetables, nuts – anything you can thing of and more!
They're usually significantly more expensive than personal blenders. But for some consumers the versatility and longevity of the countertop blender will more than make up for the bigger upfront cost.
Personal or Bullet Blenders
Personal blenders are great for the smoothie lover on the go. They're quick and easy to use, most are portable to toss in a gym bag or take to work, and they're fairly easy to clean. This type is perfect for protein shakes and frozen or fresh fruit.
They are also cheaper than their countertop cousins. But bullet blenders often lack power and pre-programmed cycles to prevent engine overheating. The tradeoff for the price tag is usually a shorter life span.
Do You Need a Special Blender to Make Smoothies?
Yes and no. While you don't need the most expensive, fancy model available you want to be sure a smoothie blender is designed to do things like:
Cut through frozen fruit and fibrous vegetables or greens
Crush ice and nuts to smooth textures
Handle thicker mixtures, not just liquids
Promise durability for the daily grind
Perform consistently over a longer life span
Accommodate big batches for any family size
For frozen fruit and ice experts recommend at least 1000 watts of power. But if you're more of a protein shake drinker perhaps a lower powered blender will suffice.
Just remember, the higher the horsepower, the more recipes you can tackle without fear of unblended chunks or overstressing the motor.
Pre- programmed Settings/ Smart Blenders
For an easy breezy smoothie experience, pre-programmed cycles are where it's at. Even better, these cycles are tailored to work the motor exactly right and not overheat it.
Blenders like Ninja and Blendtec make hands free operation possible, so you can keep getting ready for work while your breakfast smoothie is blended to the perfect consistency.
Are you stocking a new kitchen and need some help with the basics? Go for a blender with plenty of accessories. Handy items like tampers, spatulas, and to-go cups will up your smoothie game and may be helpful for other tasks too.
Ease of Operation & Cleaning Up
No one likes a messy kitchen. And blenders can be time consuming to clean if you use them frequently.
For regular smoothie drinkers we recommend seeking a dishwasher safe blender. Nearly every single blender on our list is dishwasher safe for convenience.
Prefer the sleek, modern look that will fit in with nearly any kitchen's aesthetic? Check out Blendtec, Breville, or Jusseion. They're sleek and easy on the eyes.
Do you have a larger family? A personal sized blender may not be the right choice. Countertop blenders can make enough smoothie for multiple people, which makes your morning that much easier.
Plastic is a cheaper, lighter option. However, some can become scratched and foggy over time. Choose a durable, scratch resistant copolyester when possible.
Glass blenders are heavier but doesn't scratch or retain odor. However, if you want to be able to blend ice cold and piping hot items without worrying about cracking the glass you should go for borosilicate glass. This specially treated glass is thermal shock and shatter resistant.
Generally, a lengthy or comprehensive warranty speaks to durability and longevity of the blender.
If you want an appliance that will keep making great smoothies every day for years and years to come, check out Blendtec and Vitamix. Their all-metal motors and extensive warranties can't be beat.
How much speed control do you need? For smoothies, little. One speed blenders will suffice if that's all you plan to use it for.
But do you want to be able to fine tune the consistency of dips, salsas, and soups with a more all-purpose blender? Go for a countertop model with a speed dial.
The price of a good smoothie blender is highly dependent on whether it is designed specifically for smoothies, or if it is a more versatile and all-purpose appliance.
Personal and bullet blenders are often on the cheaper end. They are made for smaller batches and prioritize speed and convenience. Bullet blenders range anywhere from about $30 for a low power model, or up to about $120 for ones with pre-programmed cycles and more durable construction.
A decent quality countertop blender, on the other hand, is likely to cost at least $200. The better made and more versatile the appliance, the higher the cost.
Blendtec and Vitamix are some of the most expensive home use blenders available, but they endeavor to offer more affordable models like the Vitamix E310 and Blendtec Total Classic without sacrificing quality.
What else do you plan to blend?
Do you plan to blend nut butter, hummus, baby food, protein shakes, green smoothies, soups, frozen cocktails, crushed ice, or even hot liquids?
If so you need a more versatile smoothie blender, we recommend total package appliances like Blendtec or Vitamix. They can handle nearly any kitchen project imaginable.
Frequently Asked Questions
What's a good, cheap blender under $100 to make smoothies?
Jusseion is an excellent personal blender for smoothies and is often on sale for around $100. It has pre-programmed cycles to allow for hands free blending that also safeguard the motor from overheating.
Other options are the Ninja BN701 model or the Oster Pro 1200 model.
What is the most powerful blender available?
The Jamba blender is the most powerful on our list today, clocking in at nearly 1800 watts or 2.4 peak horsepower.
And Blendtec makes some of the most powerful blenders on the market for both home and commercial use.
If you want a blender with more power have a look at some of the commercial blender options.
What is the best blender for smoothies and soups?
Both Vitamix and Blendtec are great hot or cold blenders that can turn anything into a silky puree.
What is the best blender for crushing ice and making smoothies?
Ninja's stacked blade design on the Professional Plus model is excellent for crushing ice. The blades run almost the entire length of the jar and crush the ice from many different angles.
As is often the case, Blendtec comes in at the top of our list. The Total Classic is the perfect combination of powerful and easy to use to make perfect, fast smoothies. 
And it has the durability and versatility to tackle nearly any kitchen project imaginable. You may never buy another blender once you go Blendtec.
A more budget friendly option for bullet blender fans is the Jusseion. It's as powerful as a countertop, but compact and way easier to clean.
Happy blending!
Add Your Heading Text Here​
Add Your Heading Text Here​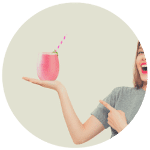 Hi, I am Charms, a self-confessed smoothie fanatic!  Here I will share some of my favorite smoothie recipes, tips and guides and gear reviews.   Learn more .