Nut milks are both delicious and healthy. Almost all of them have lower calorie counts than cow's milk. And did we mention most of them have as much (if not more) calcium and vitamin D? 
Your challenge is actually making the nut milk. Your blender needs to crush rock-hard, stringy nuts into an almost lump-free, smooth liquid pastes. Not all blenders are up to the task.
In this guide, we bring you the best blender for nut milk in the market that you can count on to do a good job.    
Best Blender for Nut Milk Product Reviews
Vitamix A3500 Ascent Series Blender
Power: 2.2 HP (1600W).     
Jar Capacity: 64oz. 
Speeds:  Variable infinite speeds. 
Pulse Control: Yes.  
Type of switches: Touchscreen. 
Dishwasher safe: Yes. 
Warranty: 10 years. 
Extra Features: Wireless connectivity, programmable timer, program settings, self-detect technology, self-cleaning, friction heating, and Vitamix vortex.  
The A3500 is the latest, greatest blender from premium blender brand Vitamix. It offers everything you could ever need in a blender and then some. It looks fabulous and is a breeze to use. 
Few blenders can match it in the performance department. The A3500 comes with a polished black finish and a touchscreen panel for convenient use.
Making nut milk in the A3500 is no trouble at all. You don't need to buy any special attachments or blades. The container you get in the box is more than good enough. 
For best results, you should follow one of Vitamix's many official nut milk recipes. That way, you'll be able to make the perfect nut milk with minimum hassle. The brand offers custom recipes based on your container's size.
The A3500 has a powerful motor and incredibly durable blades. It's easy to clean thanks to self-cleaning technology. It's compact, fairly portable, and not hard to store. 
The 10-year warranty is the icing on the cake. It covers all expenses if you need it, from shipping to labor. The only con of buying the A3500 is the price. It's a little steep for a blender, but the investment will be worth it in the long run.  
This Vitamix model is the Ferrari of Vitamix blenders and can handle anything you throw at it.  So if you want to heat soup, blend nut butter, make smoothies, try out new vegan recipes, this blender is for you.
One of the best blenders that money can buy.
World-class design and performance.
Excels at nut milk – without you having to buy a separate attachment.  
A significant investment.
Only slightly better than the lower-priced Ascent models.
Ninja BN701 Professional Plus Blender
The Ninja BN701 is one of the most affordable, powerful, and reliable blenders in town. If you can't quite fork up for a Vitamix but would still like to own a quality blender, the BN701 is the appliance you need. 
It has a good-looking black and grey body. It comes with a high-volume 72oz pitcher, good for large quantities of food. The 7 one-touch programs allow you to automate food-making.
Unlike most other brands, the Ninja BN701 comes with a "stacked" blade assembly. It rises from the bottom of the container to the top in a spiral-like shape. 
This allows the blender to mix up food ingredients without you having to tamper them to the bottom. The BN701 isn't quite as good as the Vitamix when making nut milk, but it's respectable nonetheless.   
Like with Vitamix, you should follow Ninja's nut milk recipe for the best results. This blender has a powerful 1400W motor. The blades are tough and reliable. It's simple to clean and easy to store. 
Overall, it's a good bargain for the asking price – whether you need it to make nut milk or anything else.
Feature-rich blender at an affordable price.
Good for making nut milks.
Easy to use and maintain.
Not very compact. 
Struggles to mix dry foods. 
Blendtec Professional 800
Blendtec is arguably your best alternative to Vitamix. The Professional 800 is amongst the best the brand has to offer in terms of quality and performance. 
It costs a bomb but looks great and will stand the test of time. The Professional 800 is a cube-shaped blender with a beautiful black finish. It comes with an LCD interface and touch-slider controls.
The 1800W motor and the WildSide+ jar are more than capable of crushing nuts into a smooth pulp. Blendtec blades are extremely sturdy and do a fine job of mashing up the densest of ingredients. 
The 90oz jar is a little unwieldy for small quantities of nut milk, though. You could buy the optional Twister Jar attachment if you make nut milk all the time. Blendtec designed it specifically for nut grinding.
A highlight of the Professional 800 is its sound (stealth) enclosure. It's the best of its kind in the market, which makes the 800 the quietest blender ever. It operates at a hum even at high speeds. 
You can maintain this blender easily thanks to the self-cleaning function. While the 800 is super-expensive, it's a worthy investment.   
Makes fabulous nut butters – with or without the optional Twister Jar attachment.
The quietest blender out there.
High-end appliance with top-tier functions.
Seriously expensive.
Twister Jar adds even more to the final tally.
The customer support isn't the best.
JAWZ High Performance Blender
JAWZ is a commercial-grade blender available at a pocket-friendly rate. JAWZ is not a well-known brand, but it makes good blenders that last for a handful of years. 
If you don't cook all that often, then the JAWZ is a good purchase. This high-performance blender has an average-looking silver-black body. The touch control panel makes it easy to use.
When it comes to solid ice and super thick mixes, the JAWZ will struggle. The motor is powerful but doesn't have enough torque to continuously push through dense ingredients. 
However, when it comes to nut milk and nut butters, the JAWZ blender is excellent. The 64oz container and solid stainless steel blades make creamy nut milk.
The JAWZ high-performance blender is surprisingly easy to clean. It's also compact and easy to store. In terms of quality, the JAWZ is nothing to write home about. But it won't give out quickly either. At the asking price, the JAWZ is a good investment.
Versatile, affordable countertop blender.
Good for nut milk making.
Smart touch controls.
Not on par with high-end blenders.
Not the best quality.
Buyers Guide - How to Buy the Best Blender for Nut Milk
If you need a blender for nut milk, you'll need something especially sturdy and powerful. There are other factors to consider too.
Hard nuts, even if you soak them overnight, can be hard on your blender's motor and blades. Look for something long-lasting. The Vitamix A3500 has an especially reliable motor. The Blendtec Professional 800 has 10x stronger blades.
Your blender's motor power determines how fast it can spin the container's blades. The torque is also important. It allows the blender to power through the mixture while maintaining its speed. The Blendtec Professional 800 excels with its powerful 1800W motor.
If you're making nut milk, smaller jars are more convenient than larger ones. The Blendtec 800 comes with a Twister Jar accessory that's perfect for nut milk making.
Making nut milk is messy. It's always a good idea to get a dishwasher-safe blender (container) if you can. That way, you won't have to spend your precious time hand-washing it. Almost all blenders these days have self-cleaning.
The longer the warranty, the more likely the blender will remain functional long-term. Vitamix and Blendtec offer the highest warranties out-of-the-box. You can expect any blender you buy from them to go the distance.
Do you really need an expensive blender to make nut milk? The answer is no. The Ninja BN701 does a fabulous job without burning a hole in your pocket. Higher-end blenders from Vitamix and Blendtec are a significant investment but you don't have to replace them as often.
Are you going to be using a blender exclusively for nut milk? Or do you need it for soups, smoothies, and food processing tasks? 
The Ninja BN701 is an especially versatile appliance that can do almost anything without you having to buy additional accessories.
The best blender for nut milks is the Blendtec Professional 800. It's expensive but powerful, high-quality, and versatile. Pair it with the Twister Jar accessory and the Professional 800 will produce the creamiest, smoothest milk imaginable. 
The Vitamix A3500 is a close runner up. It's cheaper than the 800 but noisier and doesn't come with a special nut milk accessory.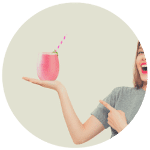 Hi, I am Charms, a self-confessed smoothie fanatic!  Here I will share some of my favorite smoothie recipes, tips and guides and gear reviews.   Learn more .