Love fancy nut butters, but hate the exorbitant cost per jar? Don't fret, make your own with one of the amazing appliances from our list of best blenders for nut butter!
Save money, trips to the grocery, and unlock your nutty creativity with our help. We highly recommend the Vitamix A2500 as the best blender for nut butter, but read on for even more thorough blender reviews, recipe ideas, and handy tips.
Product Reviews of the Best Blenders for Nut Butter
When it comes to performance, Vitamix always makes it to the top of our blender lists. They are powerful, effective, and incredibly versatile.
We're huge fans of the variable speeds feature on the A2500, which lets you dial in exactly how creamy or crunchy your nut butter will be!
And if you're the busy type who needs to be able to walk away from the kitchen there are also plenty of pre-sets and a digital timer.
However, we do recommend having a dishwasher or scheduling in a little extra cleaning time for the grooved sides of this jar.
What makes it special:
High performance, cool running, all-metal motor
Hardened stainless steel blades resistant to bending and dulling
Can fine tune nut butter texture with variable speed knob, or use pre-set programs
Smart base detects size of container and adjusts accordingly
Strong, durable appliance
Extensive warranty
Versatile and effective
Incredible horsepower
Expensive
Jar shape more challenging to clean
Blendtec Designer 650 with Wildside+ Jar and Twister Jar Bundle
Blendtec is the other company which always makes it to the top 3 of our blender reviews. The jar is perfectly shaped to get every last scrap of yum, the warranty leaves nothing to be desired, and the construction is super solid.
Perhaps our favorite addition to this set is the Twister Jar. It's a little smaller and has a lid with built in side scrapers that you can turn for maximum efficiency and consistency – perfect for nut butters!
It's still pretty loud, even with internal muffling, but Blendtec is indisputably one of the more reliable blender brands that can rival food processors in nut butter grinding prowess!
What makes it special:
Small batch Twister Jar and lid designed for thick recipes like nut butters
Nut butter specific preprogrammed cycle
Self-cleaning function for easy washing up
Blades 10x stronger than competitors, and dull to prevent cuts
Reliable, sturdy, versatile
Impressive horsepower
Comprehensive warranty
Handy attachments included
Folks ogling the Vitamix A2500 but unwilling to break the bank will likely jump for joy to see this smaller, budget Vitamix on our list as well.
The Vitamix E310 is the perfect size for small families, and the squat little jar is just right for nut butters. It's still super powerful too and has the variable speed dial that we love for precise consistency control.
The jar is a little harder to clean by hand due to the grooves, but at this price you can't beat the nut butter blending power of the E310.
What makes it special:
Hardened, aircraft-grade stainless steel blades
Cool running, all-metal motor
Speed dial allows exact control of consistency
Budget price, professional quality
Handy nut butter tamper included
Decent length, comprehensive warranty
Versatile and dependable
No pre-sets
Jar slightly harder to clean
Shorter warranty than other Vitamix blender models.
Jamba Appliances 2.4 hp Blender with 64 oz Jar
If you need a bigger jar and more horsepower than the Vitamix E310, check out the Jamba blender!
The dial lets you get exactly the right speed and consistency to your nut butter. However, it does not have any settings specific to this type of power intensive project, so you will need to pay close attention to keep the motor from straining or overheating.
We were pleased to see the long warranty, but wish it were more than just "limited," as that generally means anything beyond factory defects are the customer's responsibility. 
What makes it special:
Incredibly powerful, all-metal motor
Speed dial for precise control
Astounding horsepower
Lengthy warranty
Includes handy tools
No nut butter pre-set
Limited warranty
Ninja CT810 Chef High-Speed Premium In Home Blender, 72 Oz
We really like a few things about the Ninja: It has a nut butter setting, and with the auto iQ programs to safeguard to motor from overheating you won't need to hover like a watchful momma bird. And it has a speed dial for all you nitpicky chefs.
We were left, overall, unimpressed by the quality of the appliance. Though it is as much as half the price of some competitors, we were displeased to see that the quality took a sharp nosedive as well.
If you plan to make power intensive, straining recipes like nut butter infrequently, however, it may be a good budget option.
What makes it special:
Auto iQ programs get the consistency just right every time
Variable speed control for precise fine tuning
Large, flat sided jar for easy cleaning
Least expensive on our list
Handy tools included
Self-cleaning function
Abysmal warranty coverage
Cheap construction
Though a high speed is desirable for nut butter, look for a blender with variable speeds.
Low speeds and pulsing are good for adjusting consistency and warming up or cooling down the motor. And higher blending speeds do the brunt of the work, pulverizing the nuts into your favorite spread.
Single speed, high-speed blenders are not recommended for nut butters as the motors of these machines are notorious for overheating under continuous use.
Power is the most important consideration for your blender, as nut butters require an immense amount of power to crush and cream.
Horsepower is directly related to the wattage of the motor. The higher the watts, the more horsepower can be brought to bear.
Many brands of high-performance blender have special settings just for nut butters. These settings will safeguard the motor, as well as work more efficiently than just low, medium, high.
Ninja and Blendtec are two that we cover in our reviews.
Nut butter is a terror to clean. So, for your blender, keep an eye out for smooth, flat sided jars – anything with ridges will just get gunk stuck all over!
A wide bottom is also desirable, as it will allow you to scoop most of the butter as opposed to scraping it down the sides.
If you make nut butter regularly, a comprehensive warranty is a must. The time and power intensive nut butters will strain motors, so make sure you're prepared if anything goes amiss.
Brands like Vitamix and Blendtec are famous for their lengthy warranties that come with purchase.
We all know what a mess it can be trying to clean up peanut butter. So, choosing an easy to clean blender should also be a consideration.
Those seeking a time saving and convenient option should choose Vitamix or Blendtec for their dishwasher safe designs and self-cleaning functions.
Tamper : These are used to guide nuts into the blades, making the blending faster and the final result smoother.
Tampers are made of materials that won't damage the blades and are usually designed so that they are too short to come into contact with them.
Blendtec Twister Jar: Another innovation from Blendtec is the Twister Jar. This lid is specially designed to scrape the sides of the blender as it blends, doing the job of a tamper and a spatula.
What is the cheapest blender I can get to make nut butter?
For those on a tight budget, the Nutribullet Pro and its 900-watt motor is one of the few blenders under $100 that can make a decent nut butter.
It isn't as strong or durable as the professional models we recommend here. But if you make nut butter only occasionally, this could be a great option.
Advantages of high quality blender for nut butter
High-quality blenders are better for making nut butter in almost every way.
Firstly, the time and intensity of blending nuts puts an immense strain on your blender. Cheaper blender just won't hold up for long under the stress.
Whereas heavy duty blenders are designed for endurance and durability.
Next, lower-quality blenders also rarely have the horsepower required to sufficiently blend nuts into a creamy butter.
A high-quality blender, like Vitamix or Blendtec, will have horsepower to spare and be built to use it to full effect.
You can use cheaper blenders to make nut butter, but you may need to add oils or settle for a significantly chunkier textured nut butter.
Though the price tag may seem daunting at first, a high-quality blender is by far the better tool.
Food Processor vs Blender for nut butter?
Why you might use a food processor for nut butters:
Less tamping, stirring, and mixing
Less prone to overheating
Why you might use a blender:
More versatile appliance – a professional blender can replace a food processor entirely
First, a few tips:
Don't be embarrassed to try your initial batches with cans of roasted nuts
Avoid raw nuts, as the natural oils are not released like in roasted nuts
Roast your own raw nuts to make into butter if you have some
Don't add water-based ingredients until after you reach your desired consistency (syrups, honey, etc.)
Use a standard blender jar, not a dry grains container
If manually blending, give you blender's motor time to cool off at least every 60 seconds or so
If using a pre-set program don't be worried if your blender pauses – that's the cool down time
Use chilled nuts if your blender is prone to overheating
Consider having some oil on hand to add in little bits to get your desired consistency
Don't be afraid to mix and match nuts, as they all have different oil contents
Messy jar after blender? Make a smoothie with the leavings before fully cleaning!
And a basic almond butter recipe:
Start with 4 cups roasted almonds
Add nuts to blender, secure lid
Begin the blender at lowest speed, and work your way incrementally up to the highest setting
Or, if you have something like the VitamixA2500, choose the nut butter setting
Using a tamper or non-metal spoon, guide nuts away from the sides and into blades
Pause now and then to scrape the sides of excess nut butter
Be patient! Blend for total of 6-12 minutes, with appropriate pauses until desired consistency
Folks who take home a Vitamix should check out this video on nut butters from Vitamix.
Hands down, the best blender for nut butter is the powerful, expertly designed Vitamiz A2500. Its motor is made to handle tough, stressful jobs like nut butter and the comprehensive warranty more than makes up for the higher price tag.
We hope these reviews, informative breakdowns, and nutty tips will help you find your perfect blender!
Add Your Heading Text Here​
Add Your Heading Text Here​
Add Your Heading Text Here​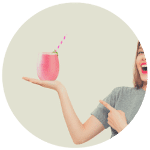 Hi, I am Charms, a self-confessed smoothie fanatic!  Here I will share some of my favorite smoothie recipes, tips and guides and gear reviews.   Learn more .