You don't need a dedicated juicer to make the perfect glass of juice. A good blender with a juice attachment or a "whole" fruit or vegetable function will do the trick. Using a multi-function blender saves you the hassle of buying separate appliances for everyday food-making tasks.
We think the Ninja Duo with the Micro-Juice Filter is the best blender for juicing. It has a dedicated juicing attachment, is high quality, and also reasonably priced.
Our best blender roundup begins below. To learn the difference between blenders with juice attachments and "whole" juicing blenders, jump ahead to the buyer's guide.
Best Blender for Juicing Product Reviews
Ninja Duo with Micro-Juice Technology – Our Top Pick
The Ninja Duo does a bang up job at the asking price. The build is high-quality – sturdy, and compact. It looks good, with a modern black-and-silver finish.
There's an LCD screen on the side, with 7+ quick-press buttons. It comes with a juicer attachment, the main pitcher, single-serve blending cups, and a recipe book.
The Micro-Juice Filter is an attachment mesh you place inside the main blender jar. Any fruit or food you put inside gets crushed in a vacuum, and the juice squeezes out through the fine mesh. The resulting liquid is super smooth and lump-free. It does as good a job as any dedicated juicer.
You may have some trouble cleaning around the blades, but the jar is dishwasher safe and also has a self-cleaning function. This blender is easy to store. The only drawback is the low 1-year warranty, though we don't expect you'll need it.       
The Micro-Juice Filter works exactly as described.
The 1400W motor and sturdy blades crush most blending tasks.
One-touch juicing
1-year warranty only.
A bit of a challenge to clean around the blades.  
Blendtec Designer Series Blender
The Blendtec Designer Series is a high-end blender – expect a sticker shock. But it is of exceptional quality and offers commercial-grade performance. It looks like a premium machine with its slick black, plastic molded body. It comes with a LED display with 8 touchscreen controls.
The high-capacity 90oz jar lets you make juice for your whole family. This is a "whole" juicer. Any ingredient you toss into the machine gets liquefied – skin, seeds, and stalks included.
The Blendtec does a phenomenal job at grinding ingredients to a fine, smooth consistency. You get what you pay for.
This blender is self-cleaning. It's also compact and extremely easy to store. Be aware that it's noisy – but most blenders are.
Amazing at making whole juices.
Extra-large capacity.
Beautiful, high-quality design.
Cuisinart CFP-800 Kitchen Central
The Cuisinart Kitchen Central is a food processor, a juicer, and a blender all at once. It comes with 3 attachment bowls, one bowl for each task.
It's a very good looking blender, with a sleek gunmetal body. It has a simple dial function. You can't make juice just by pressing a button.
The 500W enough offers ample power for juicing. The final juice consistency is smooth.
The juicer bowl has a strainer filter, which keeps away solids and pulp. You can quickly make juice for many people at once.
Unfortunately, 500W isn't enough power for heavy duty blending tasks like crushing ice or chopping dough. Expect this appliance to struggle.
You can put this in the dishwasher, meaning it's super easy to clean. It has a compact shape too and is easy to store.
Convenient 3-in-1 functions.
Excellent at juicing.
Affordable.
Low power causes the blender to struggle with smoothies.
Food processor function is below average.
Vitamix E310 Explorian Blender
The Explorian is Vitamix's most affordable offering. That doesn't mean it's cheap – far from it. This blender costs a significant amount. In return, you get Vitamix's top-notch quality and performance. The blender comes with a 48-oz container and a tamper.
This blender has old-school controls, making it easy to operate. Being a Vitamix blender, the container and blades combine to produce a vortex-like action inside. That means ingredients mix well and churn together properly in a fine consistency. It's an excellent food processor unit as well as juicer.
Remember to keep a hand on the blender at high settings. You can't walk away from it. The Explorian is self-cleaning. It's small and fits almost anywhere.
Simple, no-frills design.
Amazing high-performance motor and blade combo.
Vitamix vortex tech makes fine juices.
Expensive.
Slightly unstable at high power.
The Jamba Juice Company, a well-known health brand, has come up with its own blender. They built the Jamba like a tank – it's hefty, but in a good way. Expect this one to last for a while. The blender has a simple dial for speed control. It also has 4 one-touch program buttons, including one for juices.
You can make excellent whole juices with the Jamba blender.
The extra-powerful 1800W motor causes the stainless steel blades to spin at a staggering 210mph.
Even the hardest ingredients you throw into this beast of a blender will liquefy in seconds.
The only drawback is the plastic pitcher. It's weak and can crack.
Buying a new one is expensive, provided you can get your hands on one in the first place that is.
The Breville "Fresh & Furious" blender is a mid-range appliance. It has a modern design and comes in an attractive silver color. This blender has a LCD screen and a timer, which is a nice touch. Making juice with this appliance is a breeze. There are a handful of quick-program buttons on the side, including one for juicing.
You get a middle-of-the-road performance from this machine. The 1100W is of middling power and the blade movement is good, meaning you won't have trouble making juices. It's a whole juicer and won't separate the pulp from the liquid. It's not a Blendtec or a Vitamix, though. The juice consistency will be fine, but not perfect.
This machine is easy to clean and store. You may have some trouble getting the lid to pop open.
Good at making juices.
Good motor, sturdy blades.
Affordable.
Average blending performance.
Hard-to-open lid.
Blenders with Juicing Attachments vs. Whole Juicing Blenders
Blenders with juice attachments make thin, smooth, pulp-free juice. They filter out the pulp and other small granules through a mesh.
"Whole" juicing blenders will liquefy any fruit you throw at them, pulp included. Which is better? It's your choice. The former option gives you the smoothest consistency possible, while the latter option is usually healthier. 
Drinking juice allows you to absorb nutrients easier than eating the fruit raw. There are more nutrients per ounce, and you can consume additional fruits and veggies. If you or your children can't stomach some fruits or vegetables, juicing them and ingesting them that way may work.
Benefits of Whole Blending
If you blend the fruit with skin and fibers attached – such as a peeled orange – and don't discard the pulp, you ingest extra nutrients.
There are important compounds in the skin, membranes, and pulp. Also, the fibers in the ingredients make it easier for your body to digest it all while keeping your blood sugar level under control.  
The speed settings allow you to control the final consistency of the mixture. The Vitamix Explorian offers precise control when you blend, thanks to its manual speed settings.  
Sturdy blades are important in a blender. They end up grinding against many hard ingredients, including ice and solid foods. The Blendtec Designer Series has 10x extra sturdy patented blades.
Blenders run on powerful, complex motors that may break down. A long warranty can be a lifesaver in this case. The Blendtec Designer Series blender offers peace of mind with its 8 year warranty.
Do you often make juice for many people? The Blendtec has a mammoth 90oz jar, which allows you make juice for 6 people at once.
If the blender cleans itself, you don't have to waste time washing it by hand. The Ninja Duo is a self-cleaning blender. It's also dishwasher safe.  
Blenders For Juicing: What to Look For
Fruits, ice, and other solids are dense and offer a lot of resistance. The more the horsepower the motor has, the less trouble it'll have liquefying the ingredients. The Jamba Blender has a monster 1800W motor.  
Some blenders – like the Blendtec Designer Series Blender – allow you to make juice with the touch of a button. The blender won't tie you down.
Juicer blenders are for making whole juices, which means they won't separate pulp from the juice. The Blendtec Designer Series is an example.
If there's a juicer attachment, then you get just the juice without the pulp. You get this attachment with the Ninja Duo.
Frequently Asked Questions
What is the best Ninja blender for juicing?
We know Ninja has multiple blenders.  However our pick would be the Ninja Duo with the Micro juice technology.
What is the best Vitamix blender for juicing?
The Ninja Duo is a great blender for juicing. It has a useful "micro" attachment that separates the pulp and other granules from the liquid. You can make the smoothest juice imaginable with this blender. It also doesn't cost a lot and also excels at everyday blending tasks.
The Blendtec Designer Blender costs a bomb, but it does a terrific job of making whole juices. It's an investment, but this is the type of blender that lasts a lifetime.  
Add Your Heading Text Here​
Add Your Heading Text Here​
Add Your Heading Text Here​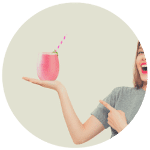 Hi, I am Charms, a self-confessed smoothie fanatic!  Here I will share some of my favorite smoothie recipes, tips and guides and gear reviews.   Learn more .