Indian cooking is hard on your blender – there's a significant amount of hard grinding, chopping, and pureeing involved. The consistency has to be just right, and the batters need to mix perfectly – or else!
Suffice to say not all blenders are up to the task. Fortunately, there are some special blenders out there that do a bang-up job of Indian food-prep.
We've handpicked 5 of the best blenders for Indian cooking for you in this mini buyer's guide.
Best Blender for Indian Cooking Product Reviews
Preethi Eco Twin Jar Mixer Grinder
Product highlights
The Preethi Eco Twin Jar Mixer Grinder is the kind of blender you'd find in every Indian kitchen – and it's there for a reason. Preethi is a top-rated South Indian brand.
This mixer comes with a 50oz main jar where you can blend Indian foodstuffs like wet grains and legumes. The smaller 15oz jar is perfect for making chutneys.
In terms of performance, the Preethi is excellent. It will blend dry, hard spices as well as wet ingredients. The motor doesn't have staying power, but it's great in fits and bursts.
The stainless steel jars are sturdy and long-lasting. There is no danger of them cracking or breaking. Steel is also easy to clean.
The only drawback of this blender is the limited after-sales support you get in the US. You probably won't need it though.
Works perfectly for Indian cooking.
Pocket-friendly price.
Durable design.
Noisier than your average US-made mixer.
Not suitable for extended use.
Limited after-sales support.
Cuisinart Portable Blending/Chopping System
Product highlights
The Cuisinart Portable Blending and Chopping System is a mini blender cum chopper combo. It's easy to use and easy to store.
The 32oz plastic jar is perfect for making batter for dosas and idlis. The smaller cup is great for coconut chutney.
32oz isn't a lot of capacity. You should consider a larger blender if you have a family. On the other hand, this is ideal for singles or couples.
The Cuisinart is affordable and comes with a 3-year warranty to boot. It's a great deal overall.
This blender doesn't have a lot of power. You may need to add water occasionally to help it along. However, it's good enough for every day blending.
Great for making small portions of food/blends.
Ideal for making pastes and grinding spices.
As compact as it gets.
Low-capacity only.
Rare quality control issues.
Non-sealed travel cups.
Ninja BL770 Mega Kitchen System and Blender
Power: 1500W.      
Jar Capacity: 72oz total crushing pitcher, 64oz food processor bowl, 2 x 16oz Nutri Ninja cups.
Speeds: 4 dedicated blending speeds.
Dishwasher safe: Yes.
Warranty: Limited 1-year warranty.
Extra Features: Food processor function, Nutrient Extraction technology.
Extra Features: Food processor function, Nutrient Extraction technology.
Product highlights
The Ninja BL770 is an all-in-one blender cum food processor combo. It's an extremely versatile appliance. You can make any Indian dish under the sun with this beauty.
The dough-making attachment cum blade is perfect for rotis, naan, or paratha dough – or just for chopping veggies.
You can make tomato puree, onion purees, and gravy mixes in the large main jar.
If you regularly grind seeds or spices like jeera, groundnuts, sesame seeds, or nuts, then you'll love the smaller blender attachment. It does a fantastic job.
The only drawback of the Ninja BL770 is the limited warranty and lack of a variable speed dial. However, these shortcomings are not a dealbreaker by any means.  
Most versatile blender for Indian cooking – from spice grinding to dough mixing.
Powerful motor, quality design.
Ideal for families.
Lacks variable speed settings.
Limited warranty.
A minor challenge to grind spices.
Product highlights
The Pro 750 is one of the best blenders ever made. Further, it's made by Vitamix, one of the finest blender manufacturers out there.
The Pro 750 has a super-powerful 1500W motor and high-density stainless steel blades. It tears through tough ingredients with no trouble. Expect it to grind the hardest of spices to dust in seconds.
This blender has friction heating. That means you can cook foods in it, including Indian gravy dishes.
The Pro 750 comes with a 7-year full warranty, which covers everything from shipping to replacement parts.
If you pair the 750 with a dry-grains accessory jar (separate purchase), it turns into the perfect Indian cooking blender. It will be able to handle both wet and dry foods.
Blends anything and everything you throw at it.
Will make short work of spices and chutneys.
Incredibly high-quality and durable.
Seriously expensive.
Must purchase a dry-grains container separately.
Not perfect for small quantities of food.
Product highlights
The Classic 575 is a mainstay in the Blendtec lineup. It's a top-rated appliance with cutting-edge technology and a classy aesthetic.
The 575 comes with Blendtec's patented WildSide+ jar. This jar disrupts the flow of the blend, which causes the ingredients to break against the container and fall into the blades.
The 575 is an all-round appliance. It can chop, dice, and blend extremely well. It can make anything and everything Indian, from purees to paste.
In terms of quality and performance, you can hardly do better than the 575. It has a monster 1500W motor and 10x stronger, thick steel blades.
Bear in mind that the 75oz jar doesn't handle small quantities of food too well. Also, this is by no means a cheap appliance.
Powerful motor, durable build.
Excellent for most Indian food prep.
Clever jar design.
Expensive.
Limited warranty.
Not the best for small quantities.
Indian cooking will be hard on the machine. Stick with well-known brands when possible. A brand's popularity and the warranty on offer is a good indicator of its longevity.   
Look for motors with good thermal cooling and plenty of staying power. If you're going to grind tough ingredients like coconuts and peanuts, then you need a powerful motor.
Brands like Blendtec offer extra thick stainless steel blades. They hold up best after prolonged use with hard ingredients.
Larger jars are excellent for purees, gravies, and batter. However, these same jars don't make paste, chutneys, or powders too well. Look for blenders that come with two jar attachments, or purchase an extra one separately.  
Indian cooking is sticky and occasionally greasy. The jar and the blender base are both going to get dirty. Look for self-cleaning and/or dishwasher-safe appliances.
Look for blenders that come with tampers to scrape foods and paste off the sides. Extra attachments like a spice grinder, dry grains container, and dough mixer can come in handy.  
It's always a good idea to get a mixer with a long warranty. Nothing beats Vitamix in this regard. The brand offers 5+ year warranties that are all-inclusive and include shipping costs.
You will find blenders for Indian cooking from as low as $100 to as high as $1000 – and everything in between. A quality blender with some essential accessories will set you back by a few hundred dollars.
Is a Food Processor or Blender better for Indian Cooking?
Food processors are generally better because they have chopping and dough-mixing accessories. But a good blender – such as the Vitamix Pro 750 – can do almost everything a food processor can. If you stick to the recommendations on our list, you won't have trouble.  
Frequently Asked Questions
Is Vitamix blender good for Indian cooking?
Yes, a Vitamix blender is very good for Indian cooking, even a low-end one. Vitamix blenders have powerful motors and a clever blade design. They can handle Indian ingredients with no trouble.
Is a Ninja blender good for Indian cooking?
It depends on the Ninja blender. The higher-end Ninja blenders are better for Indian cooking. We don't recommend the personal ones.
Is a Magic Bullet good for Indian Cooking?
You will get average results in a Magic Bullet. It won't be able to blend too finely. It has a low-powered motor and okay blades.
Can we make dosa batter in a Ninja Blender?
You can make dosa batter (or any batter for that matter) in Ninja blenders, yes. There might be some bits and pieces left over, but with another cycle and some tamper action, it works just fine. 
Can a blender make chutney?
Yes, blenders can make chutney. We recommend you use blenders with small jars or grinding accessories for the best results. Chutney ingredients like peanuts and chilly tend to stick to the sides of the container. It's less of a problem with smaller jars.
What's better than an Indian blender for Indian cooking? Nothing, it turns out! The Preethi Eco Twin is hands down the best grinder-blender-mixer combo in town.
Not only is it extremely affordable, but it also holds up surprisingly well quality-wise. It can give the likes of Vitamix a run for its money. It has a fabulous stainless steel container and a powerful motor. All in all, it will help you cook anything Indian – from chutneys to purees to batter – quickly and well, year after year.  
Add Your Heading Text Here​
Add Your Heading Text Here​
Add Your Heading Text Here​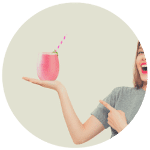 Hi, I am Charms, a self-confessed smoothie fanatic!  Here I will share some of my favorite smoothie recipes, tips and guides and gear reviews.   Learn more .