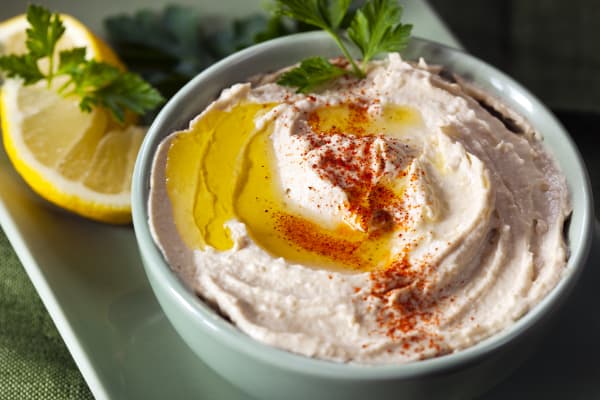 Delighted by dips? Slap-happy for hummus? Luckily for you, making your own creamy, dreamy flatbread topping has never been easier.
Blender technology has come to the point where some can even mimic the capabilities of a good food processor. But how can you tell which blender is the match for your muhammara?
Cut out the guesswork by taking advice from our blender buffs. With out handy tips and thorough reviews you're sure to find the best blender for hummus for your home.
Best Blender for Hummus Product Reviews
Blendtec Designer 650 with Wildside+ Jar and Twister Jar Bundle Countertop
Blendtec blenders are the total package. You get the versatility of a food processor, the power of a professional blender, and a comprehensive warranty to boot.
The Wildside jar is perfect for pouring even the thickest concoctions, and the twister jar top scrapes the sides down for you. With Blendtec's design you'll reduce waste and enjoy every last bite.
The price is a little steep, but it's worth it for the home chef who wants to be able to tackle anything from hummus to ice cream.
What makes it special:
Sleek touchscreen makes for easy cleaning and modern aesthetic
Forged stainless steel blades that are 80% thicker than competition and dull to prevent injury
Precision, variable speed slider increases texture control and pre-programmed cycles
Twister jar increases efficiency and makes removing sticky blends easy
Extremely powerful
High quality construction
Robust warranty
Versatile
Vitamix E310 Explorian Blender, Professional-Grade, 48 oz. Container
Vitamix is another brand that always makes it to the top of our lists. And the E310 is one of their most affordable models.
It still has all the tried-and-true marks of Vitamix quality, but at a reasonable cost. The super strong blades, variable speed control, and powerful but cool running motor will make homemade hummus fast and easy.
What's special about it:
Variable speed control lets you pinpoint the right texture
Thermal protection system prevents overheating
Superior quality blades made from aircraft-grade, hardened stainless steel
Very powerful
Quality construction
Lengthy warranty
Least expensive Vitamix
For those who want a little extra finesse, check out the Vitamix Ascent series.
The speed dial allows you to fine tune the texture of your hummus, and the ultra-powerful motor will whip any ingredients into a fluffy dip in no time.
It's expensive, but the quality, versatility, and extensive warranty make up for the heft price tag.
What makes it special:
Variable speed dial for precise texture control
Quality materials like hardened stainless steel blades and highly durable, metal motor
Easy to use with pre-programmed cycles and smart base that adjust for perfect consistency
Extremely powerful
Hands free settings
Quality construction
Comprehensive warranty
Ninja BN701 Professional Plus Blender with Auto-iQ, and 64 oz. Total Crushing Pitcher
Folks seeking an entry level countertop blender for a wide variety of recipes should look no further than Ninja.
The Auto-iQ function makes it easy to get the right consistency every time, no matter the batch size. And the huge jar will seriously up your party food game.
The warranty leaves much to be desired, but for under $200 you're unlikely to find a long lasting blender.
What makes it special:
Huge jar capacity great for large batches and big families
Auto-iQ and pre-programmed cycles get the perfect consistency every time
Stacked blade assembly blends throughout length of the jar for increased efficiency
Very powerful
Versatile
Good Budget Option
Easily mishandled blades
Wimpy warranty
Very loud
Mueller Austria Ultra-Stick 500 Watt 9-Speed Immersion Multi-Purpose Hand Blender
Dip dabblers and hummus hopefuls may not want to drop an entire paycheck on a blender. The easy to use, handheld Mueller has enough power to do a decent job on hummus and won't break the bank.
You can even take it with you to events, or stash this compact blender in an RV kitchen for good eating while on the road.
Though the construction is quite sturdy, don't expect the motor to last forever. We recommend blending for 30 seconds at a time with brief pauses to avoid overheating and prolong the lifespan.
What makes it special:
Blend in any container and any temperature
Full copper motor outlasts similar immersion blenders
Stainless steel, removable blending arms and attachments add versatility
Not dishwasher safe
Much less powerful
Low longevity
Wimpy warranty
Important Considerations When Buying the Best Blender for Hummus
Immersion Blender vs Countertop Blender
Countertop blenders
The standard type of blender, countertop models are powerful and versatile appliances. They are excellent at pureeing and have plenty of horsepower for thick mixtures like hummus and nut butters.
Advantages:
Better for thick blends like hummus
Highly versatile
Extremely powerful
Disadvantages:
Immersion blenders
Immersion blenders are the super portable little brother to countertop blenders. They're great for blending in any container that suits your task – including right on the stove top!
Advantages:
Better for blending hot liquids
Highly portable
Inexpensive
Quiet
Disadvantages:
Smaller models are significantly less powerful
Don't last as long as countertop
Blender vs Food Processor
Blender
A good quality blender can mimic some of the functions of a food processor, as well as tackle projects that only a blender can do.
Well-designed blenders like Vitamix and Blendtec can handle hummus, salsas, ice cream, hot soups, smoothies, nut butters, baby foods, and more.
Advantages:
Extremely powerful
Versatile
Stands up to long blends
Better for pureeing and homogenous mixtures
Disadvantages:
Food processor
Food processors are squat, wide jarred, and usually have multiple types of extremely sharp blades. They are less adept at pureeing, and more of an all-purpose kitchen assistant.
If you like a lot of texture in your dips, then a food processor may be the choice for you.
Advantages:
Powerful
Versatile
Better for chopping, shredding, slicing, and chunky textures
Disadvantages:
Time consuming to clean
Can be expensive
Thicker mixtures like hummus can be tough on wimpy motors. To avoid issues with overheating and performance degradation, go for an all-metal motor if possible.
Though hummus ends up creamy and delicious, your blender will need a decent amount of power to get from raw ingredients to perfect puree.
We recommend medium to high wattage motors for this type of kitchen project. Shoot for a minimum of 800 watts.
Will you be making big batches of hummus for parties and events? Choose a generous jar size like Blendtec or Ninja.
If you'll be using it for single servings or small gatherings you can go for smaller blenders such as the Mueller immersion blender. The featured Blendtec also has am appropriately small jar for extra versatility.
Easy cleaning/ Is it dishwasher safe?
When you make hummus you also tend to make a mess. Go for dishwasher safe blender in this case.
Blendtec's Wildside jar, twist lid, and included spatula will help remove all the hummus so you have even less to clean.
If you really hate the idea of cleaning all that paste off a full-sized blender jar, consider the Mueller immersion model.
Do you plan to use the blender for other things?
If you plan to blend hot soups, make nut butter, green smoothies or any other smoothie concoction it might be worth your while to invest in a good blender. 
If you plan to make hummus sporadically you can consider the Ninja  BN701 model or the Mueller Austria Ultra-Stick immersion blender. 
Looking for a blender that will last? The length and scope of the included warranty will give you a great idea of how confident the manufacturer is in their appliance's longevity.
Vitamix and Blendtec usually have lengthy, comprehensive warranties to put your mind (and wallet!) at ease.
The more versatile and powerful you want your blender to be, likely the more money you'll spend. For a full service blender, you should be prepared to pay upwards of $300.
Don't need all the bells and whistles? Mueller makes a great entry level blender under $50 and Ninja a wonderful mid-range option.
Can I use a blender instead of a food processor for hummus?
Certainly! The appeal of food processors is usually that they do not fully puree ingredients, leaving a toothsome texture. But you can also achieve that with a blender.
Blenders with variable speed controls like Blendtec and some Vitamix's are your best bet, so that you can get exactly the texture you want.
Why would you choose an immersion blender rather than a full-size blender?
The main draw of immersion blenders is their ability to blend in any size of container and anywhere. That means you can blend boiled chickpeas right on the stovetop.
Also, the compact and portable design is highly desirable for folks in tight spaces or caterers and chefs.
How do you make hummus using your blender?
The folks at Blendtec have got your answer in this instructional video.
Ingredients:
2 tbsp olive oil
2 tbsp lemon juice
1 garlic clove
2 tbsp tahini
1/2 tsp salt
1 can chickpeas
1/4 cup chickpea liquid
Add all ingredients to your blender, select the "batter" setting on a Blendtec and let 'er rip! For other blenders experiment with blending for 30-60 seconds at a time until it reaches desired consistency.
For the total blender package, our top choice is the Blendtec Designer 650. It has the power to make the creamiest, dreamiest dips as well as handy attachments for serving and clean up. Ultra-smooth or deliciously chunky, you can get your hummus just right and have an easy time doing it.
Just dipping your toes in? Then check out the portable, moderately powerful, and reasonably priced Mueller Austria Ultra-Stick.
Happy dipping!
Blenders for Green Smoothies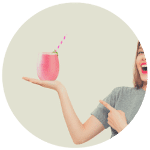 Hi, I am Charms, a self-confessed smoothie fanatic!  Here I will share some of my favorite smoothie recipes, tips and guides and gear reviews.   Learn more .