Green smoothies may be a wholesome, nutritious meal, but they are not easy to make. You need the aid of an excellent blender – not all blenders can handle tough greens and hard fruits.
We're helping you find the best blender for green smoothies here in this guide. If you want us to cut to the chase, it's the Vitamix E310. We offer 3 other options at lower price points and answer some FAQ near the end.  
Product Reviews of the Best Blender for Green Smoothies in 2021
Vitamix E310 – Our Recommendation
When most people think blenders, they think Vitamix. The Vitamix E310 Explorian blender has a clean, simple design. 
It foregoes fancy one-touch buttons – it has knobs and a manual speed dial instead. 
It looks good in glossy black (or red and slate) and is satisfying to use. The 48oz container offers ample blending capacity.
Vitamix blenders are famous for their blending power. The E310 is no exception. It crushes any blending task you throw at it in no time. 
The aircraft-grade blades make mush of tough ingredients. Vegetables and fruits will grind to a fine paste. 
The smoothie consistency is flawless. The accompanying ingredient booklet teaches you how to make prepare smoothies.     
You won't have trouble cleaning the blender. It has a nice self-cleaning function. The blender is medium-sized and not very bulky, making it easy to store too.
Powerful motor + sharp blades = fine green smoothies.
Old-school, no-frills design.
Top-quality from a trusted brand.
Expensive, despite being Vitamix's most affordable blender.
Cleanblend Commercial Blender
The Cleanblend Commercial Blender is a stylish, modern-looking blender, available in black and red options. 
It's rated as a "commercial-grade" blender, which means it can handle heavy-duty blending tasks. It comes with an above-average 8-cup container. It has simple manual controls and is a breeze to use.
This blender has an extra powerful 1800W motor. Combine all that power with 8 excellent blades and you have an appliance that powers through most blending tasks with ease. 
Green smoothies are smooth and even. It can also make other kinds of solid and liquid foods.
You may have to hand-rinse this blender to get it clean. The container being large is a net positive, but it also makes it hard to store.   
Very powerful motor pulverizes greens.
Quieter than average.
Affordably priced.
Hard to store.
Moderately difficult to clean.
Breville BBL620 Fresh & Furious Blender
The Breville BBL620 is one of the prettiest blenders you'll ever see. It comes in a shiny silver finish and has a clear 64oz glass jar with a black plastic lid. 
Unlike our previous two products, the Breville has a much more modern design: It has several one-touch buttons and an LCD screen with a timer.
The 1100W motor and a 4-prong blade do a good job of making smoothies. This blender employs the "even blending Kinetix performance" technology. 
Essentially, it makes smoothies with a consistent texture, without unpleasant lumps. You won't need to temper too much either. Watch out for the noise, though.    
The jar is dishwasher safe and easy to clean, and small enough that you can put it almost anywhere.
Does a great job of blending greens.
Easy to clean in a dishwasher.
User-friendly, precision controls.
When it comes to choosing a blender, you need to evaluate many factors. It's not enough to just choose one with the most power. Here are some things to keep in mind:
Power isn't everything, but it still matters. High-power blenders – generally more than 1000W – have enough oomph to chop through hard greens. The Cleanblend Commercial Blender has a monster 1800W motor.
The blade design and rotation, along with the motor power, determines how finely you can make your green smoothie. The Vitamix E310 has stainless steel blades and creates a speed-vortex in the mixture, creating an extra-fine smoothie.
With the right speed settings, you can create a smoothie of the desired texture. Pulse settings are not required but are a good addition. The Cleanblend Commercial Blender offers variable speeds and pulse mode.  
Blenders are complex appliances and will eventually break down. Needless to say, the longer the warranty, the better. The Vitamix E310 offers an excellent 5-year warranty.
Is the blender easy to operate? Do you need to pre-prepare ingredients to make the smoothie? The Vitamix E310 has a hassle-free design and requires minimum prep time. The Breville BBL620 can make smoothies with a single touch.  
You will have to clean your smoothie maker often. Ease of cleaning is important and will save you time and effort. Look for a self-cleaning option. The Breville BBL620 is dishwasher safe and has a clever, easy-to-clean design.
If you're making smoothies for your whole family, you will need a large capacity food jar. The Cleanblend Commercial Blender has a large 8-cup food container.  
Can the blender double as a food processor? The Vitamix E310 can make a variety of liquid-based and solid food with ease. Liquids: It makes dips, juices, milkshakes, and ice creams. Solids: It grinds nuts, coffee beans, and spices into a fine powder.   
We can't always afford to splurge on a blender. The Vitamix E310 is a significant investment. The Oster Core blender is a fraction of the Vitamix's price and gives you maximum bang for the buck.
The bells and whistles sometimes add value to the blender. The Breville BBL620 can whip up smoothies with a 1-touch pre-programmed button. You can sit back and relax. The Vitamix E310 is easy to clean because of the self-cleaning mode.
Blenders – especially the high-powered ones – make enough noise to rouse the dead. There's no escaping it. The Cleanblend Commercial Blender is quieter than is the norm, but not by much.
Why Are Greens Challenging to Blend?
Green smoothies are a mixture of dense veggies and tough fruits. Veggies are naturally resilient, thanks to thick stems, stalks, leaves, and fibrous walls. 
Fruits like apples and peaches have hard textures, rough skins, peels, and fibers. Seeds, likewise, have tough exteriors. It's hard to bite into them – and the human teeth have enormous compressing power.   
A blender has to not just chop through these dense ingredients, but also pulverize them into a paste, without lumps and hard edges. 
It takes a truly powerful, well-designed blender to do properly. Otherwise, the eventual mix isn't satisfying, to say the least.   
Frequently Asked Questions
Can you make green smoothies in a regular blender?
Yes this is possible.  Add the liquid and  fruit first and the greens last.  You can blend your green smoothie a bit longer to make sure all the ingredients are combined.
Which blender will liquefy kale?
Budget blenders aren't up to the task of liquefying kale, unfortunately. The Cleanblend Commercial blender does an excellent job of liquefying gale, and it's affordably priced.
Can I crush seeds, ice, coffee, and nuts with my blender?
It depends on the blender. Again, budget blenders don't perform difficult blending tasks well, so don't go in expecting miracles. 
The Vitamix E310 is expensive, but it's almost a food processor and will crush seeds, ice, coffee, and nuts into dust.
Can I put boiling liquid or soup into the container?
It depends on the blender. The manufacturer will supply user instructions. If not, check the recipe booklet – if they mention hot soups, you can indeed pour boiling liquids into the container. 
Usually, blender containers are high-quality and can handle boiling liquids. The Breville BBL620 will hold hot liquids without any trouble.
Can a Ninja Blender make green smoothies?
Yes, Ninja blenders can make green smoothies. The high-end versions do a better job of making green smoothies than entry-level ones. 
In our experience, though, the Vitamix models generally do a better job thanks to their "Vitamix Vortex" design.  
The Vitamix E310 Explorian blender is our recommendation. The appliance has a top-notch design, sharp blades, and a high-performance motor. 
The "Vitamix Vortex" function creates a powerful vortex-like motion in the mixture. Smoothie ingredients mix nicely and mince nicely. The final result is a green smoothie that's both foamy and delicious.
If you don't want to invest quite so much in a blender, the Cleanblend Commercial Blender performs almost as well and costs about half as much.
Add Your Heading Text Here​
Add Your Heading Text Here​
Add Your Heading Text Here​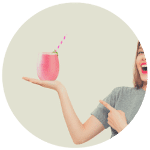 Hi, I am Charms, a self-confessed smoothie fanatic!  Here I will share some of my favorite smoothie recipes, tips and guides and gear reviews.   Learn more .