Finding a great smoothie blender is hard – not because there are so few good ones, but so many. You might be a trifle confused and indecisive on account of all the options. Fortunately, we can help.
We're reviewing the finest blenders in this buyer's guide, including what we think is the very best blender for frozen fruit smoothies at the beginning. It's the Ninja Mega Kitchen System Blender if you're wondering. Read on to find out why.
Ninja Mega Kitchen – This is a good combination of price and performance.L
Vitamix 5200 – This blender has great blending power and is a great option if you plan to use your blender for other things.
Best Blender for Frozen Fruit Smoothies Product Reviews
The Ninja Mega Kitchen System (BL770)
Power: 1500 watts, 2 horsepower pitcher for ice crushing.    
Jar Capacity: 72oz smoothie pitcher.  
Speeds: 4 speeds.
Dishwasher safe: Yes.
Warranty: 1-year limited warranty.
Blade Material: Metal (unspecified).
Extra Features: 4-in-one function: blender, food processor, dough mixer, and smoothie maker.  
The Ninja Mega Kitchen System is a blender cum food processor. It comes with 4 cups: a smoothie pitcher, a food jug, and 2 16oz smaller cups for holding smoothies. The black and metal design looks classy and fits any modern kitchen aesthetic.
You'll need some time to get acquainted with the blender. It's complex. Fortunately, there's a concise instruction manual and several helpful tutorials on the official website. The 4 quick-program buttons to blend, crush, dough, and serve up smoothies make it a bit easier.
The Ninja blender is extremely powerful. Usually, blenders run only at 600 watts, some even as low as 200. At 1500 watts, the Ninja blender is a beast. It crushes large ice cubes into fine powder in seconds.
The metal blades are razor-sharp and employ a "Total Crushing Technology. You can expect smooth, bump-free smoothies.
The blender base is easy to store. It weighs 16.5 pounds and measures 10.8 x 18.8 x 15.6 inches. It should slide into most kitchen cabinets with ease. You do need extra space for all the various accessories, though.
One drawback of this blender is it's very noisy. That's what you get from a processor with a big motor. Also, you only get a 1-year limited warranty. The machine may down if you don't handle it with care.
The blender has a food processor functionality bundled in, meaning you don't have to purchase one separately.
This super-powerful blender with a massive 1500 watt motor can crush ice in seconds.
You get two single-serve 16oz cups with the blender, making it easy to pour smoothies for you and your partner.
The Ninja is extremely loud due to its powerful motor.
It only has a 1-year limited warranty.
Instant Pot Ace Nova Blender
The Instant Pot Ace Nova Blender is a solid 9-in-1 blender with cold and hot blending functions. The design looks high-quality and elegant. It comes with a 3-in-1 food tamper, a measuring cup, a cleaning brush, and a machine-washable strainer bag.
You press one of 9 one-touch buttons to get the blender going. They allow you to make a range of food items very quickly, from smoothies to soups. The heating function is unique, useful, and allows you to keep food warm.
The blender has a 1000-watt motor, which is more than enough power for a smoothie. The blender is heavy-duty and makes quick work of solid food. You don't have to break ice or nuts before putting them into it.
You'll have no trouble storing the blender. It's slim and there aren't many accessories. Cleaning the blender is extremely easy thanks to a self-cleaning feature. You can cook a range of foods one after another without an aftertaste carrying over to the new food item.
A drawback is that you can't put the blender in the dishwasher or soak it in the sink. There are only 3-speed settings. Finally, you can't adjust the temperature of the heating element manually.
The blender does an excellent job of making even, consistent smoothies.
You can quickly prepare several food items one after another due to the self-cleaning.
The heating element allows you to heat food and cook soups.
Not dishwasher safe, making it difficult to wash thoroughly.
Three-speed only.
Vitamix 5200 Food Blender
Power: 1400 watts.     
Jar Capacity: 64 oz glass jar (about 7 cups). 
Speeds: Variable, 10 speeds plus high-speed settlings.
Dishwasher safe: No.
Warranty: 7-year warranty.  
Blade Material: Aircraft-grade stainless steel.  
Extra Features: Self-cleaning, blade friction heating, high-power motor, and a cooling fan.
The Vitamix 5200 is a top-selling blender from the Vitamix Legacy series. It was first released in 2007, so it's a tried-and-tested model. The blender looks a little dated and low-tech, but it's not hideous. You get a starter guide, tamper, and a 64-oz container out-of-the-box with the blender.
A pro of being low-tech is that the Vitamix 5200 is easy to operate. There two knobs and a 10-speed speed control settings, that's it. There are no fancy quick-press cooking options. 
That doesn't mean the 5200 can't cook food quickly, far from it. The 1400-watt motor makes quick work of the toughest of blending tasks.
On average, it takes just 20 seconds for the blender to make a smoothie. The versatile speed-settings allow you to prepare a range of foods quickly. The cooling fan ensures the motor doesn't overheat. There's a handy self-cleaning function that cleans the jar in 60 seconds flat. You just have to add water and soap.
At 20.5″ x 8.75″ x 7.25″, the blender is somewhat large and awkward. It's not going to fit small kitchen cabinets. Cleaning the base is tough because it's not dishwasher safe. Apart from these minor gripes, there's little else to complain about.
Simple 10-speed settings.
A solid 7-year warranty from a trusted brand, with shipping paid for.
Handy self-cleaning function.
Hard to store.
Expensive high-end blender.
Looks dated.
Ninja Professional Countertop Blender
The Ninja Professional Countertop Blender is a lower-priced offering in the Ninja series of blenders. It has a silver-and-grey finish and looks about average. 
It comes with a standard glass pitcher for making smoothies and other foods. You also get two small single-serve cups along with.
Operating the blender is a breeze. There are only 6 buttons: 3 for speed settings, a pulse mode, and a single-serve option. The 72-oz container can hold a family-sized batch of smoothies. 
The 1000-watt motor is powerful and makes a smooth paste, generally. The blades are super-sharp and suitable for ice crushing.
As the blender is dishwasher safe, cleaning it is easy. Also, you can detach the blades, which means you won't have trouble cleaning the jar or blades manually if you have to. You may have trouble storing the blender. It's tall and doesn't fit into cabinets properly.
There are a couple of noteworthy drawbacks. The Ninja Professional Countertop Blender can't make super-smooth smoothies. There are some lumps and the texture can be grainy. Also, the blade-design makes it so that there is often a lot of air in any mixture you blend.
You can conveniently make single-serve smoothies.
The machine is easy to clean and dishwasher safe.
The pour spout on the jar makes it easy to pour smoothies.
Won't make evenly-textured smoothies.
Hard to store.
Low-quality parts and taciturn customer service.
Cleanblend Commercial Blender
Power: 1800 watt.       
Jar Capacity: 64 oz (7 cups approx.) BPA-free plastic jar.  
Speeds: Variable speed dial.  
Dishwasher safe: No.
Warranty: 30-day money-back guarantee, 5-year warranty.    
Blade Material: Hardened stainless steel blades.    
Extra Features: 8 stainless steel blades, BPA-free plastic jar, 9-in-1 function.
The Cleanblend blender is a multi-function food processing unit. It looks stylish and sleek and has two color options: black and red. 
You only get a single 64oz container and a tamper out-of-the-box. The container is special, though, being BPA-free. It doesn't transfer plastic smells to your food.
Using the Cleanblend is no hassle. The jar fits perfectly on the base, and the lid clips securely into place. 
The speed knob allows you to control the powerful motor, for blending low to high. 1800 watts is a huge amount of powerful – it is definitely commercial grade. You can make smoothies incredibly thin and smooth.
You can use a self-cleaning option to keep the jar clean. The machine itself isn't dishwasher safe, which might be a problem. Also, storing the Cleanblend may be a challenge. 
The total size of the base and jar combined is over 21 inches. You won't be able to store it in a standard 18-inch kitchen cabinet.
There are a couple of minor flaws. The slow speed of the Cleanblend isn't very slow at all. You may have trouble creating thick-textured dishes. Another con is that the machine doesn't come with a cookbook or app recipes.
The Cleanblend is a food processor as well as a blender.
The 1800w motor packs a serious punch. Expect super-smooth liquids.
Excellent 5-year warranty from a trusted, reliable brand.
Pricey option.
The "low-speed" setting is actually fast.
Blendtec Total Classic Countertop Blender
Power: 1560 watts.
Jar Capacity: 90 oz (11 cups approx.) BPA-free WildSide plastic jar, 36oz blending capacity.
Speeds: 10-speed manual control.
Dishwasher safe: No.
Warranty: 8-year warranty.
Blade Material: Hardened, cold-forged, corrosion-resistant stainless steel blades.
Extra Features: 10x stronger patented steel blades, commercial-grade motor.
The Blendtec Total Classic Original Blender is a new-and-upgraded version of a much-beloved blender released 25 years back. The Total Blender has a smooth molded-plastic finish and is available in black, red, and white color options. You get a single, humongous 96oz BPA-free plastic jar with the blender.
The Total Blender is difficult to master but easy enough to use if you're making a basic smoothie. There are multiple buttons on the side, including quick-program options, speed settings, and a pulse setting. 
There's an LCD display on the side that keeps track of the program you're running. It also shows the speed and a countdown timer.
You can make a wide variety of food with this blender, not just homemade smoothies. The 1560 watt high-power motor gets the job done – well and quickly. 
If you do make smoothies, they will come out frothy, smooth, and consistent. The large-capacity jar allows you to make smoothies for multiple people at once.
This blender has a self-cleaning function that works well. The blender itself isn't dishwasher-safe. Still, cleaning this blender by hand is no hassle. 
The blades are permanently attached to the canister and are pretty thick, making them easy to clean, as opposed to dangerous. A major drawback of the blender is it's expensive.
Multi-function blender can make smoothies as well as other foods.
Makes non-grainy and non-pulpy smoothies in minutes.
Outstanding 8-year warranty.
It's expensive, being a high-end blender.
Shakes and rattles initially when full.
What should you look for in a blender? There are multiple considerations to make. Below are some of the most major ones:
Are you seriously into smoothies and want something that lasts a lifetime? If you can afford to splurge, the Vitamix 5200 blender is hard to beat. Otherwise, the Ninja Mega Kitchen System is a high-quality product available at a budget price. It will last a good few years.   
Blenders run on complex motors that can break down. Jars and blades break too. If you want peace of mind, Blendtec Total comes with a solid 8-year warranty. You also want good customer service. The Cleanblend Commercial Blender team gets top marks in that department.    
Power matters, but it isn't everything. What's more important is how well the blender processes the food. Any 1000 watt plus blender does a good job of crushing fruit into a fine pulp. Having said that, you can't go wrong with power. The Cleanblend blender has a commercial-grade 1800 watt motor.    
Do you want a simple blender exclusively for making smoothies? Or do you need a multi-function food processor that can do more? Invest a little more and you can get a multi-function unit like the Blendtec Total Classic or keep it simple with the Insta Pot Instant Ace Nova.
Do you want modern quick-press buttons or is a no-frills knob design more to your liking? The Blendtec Total Blender offers 6 quick-food settings and includes an LCD counter. The Vitamix 5200 has a much more simple design with a knob and two flip buttons.  
If you make smoothies every day, you need a reliable blender with excellent design. The Blendtec Total is a commercial-grade product with 10x strong blades that are unlikely to ever break off.      
Common Problems with Blending smoothies
Not all blenders can make smooth smoothies. The Ninja Professional sometimes makes lumpy smoothies. For a smooth, frothy smoothie with no air or lumpy bits, pick a high-power blender such as the Vitamix 5200.   
When you need to make smoothies for multiple people, you need a larger-than-average glass jar. The Ninja Mega Kitchen System comes with a family-sized 72oz plastic jar. There's a separate food jar you can use to process other food.
 A tamper allows you to push food down the jar if there are hard bits not getting processed properly. This is an optional accessory, especially if you have a blender with vortex-creating blades that churn the food automatically. You get a temper free with the Vitamix 5200.  
An ice crushing or smoothie button
Most blenders come with a quick-press smoothie button, which lets you create a smoothie without fiddling with the speed settings or the dial. If you aren't a pro at making smoothies manually, this is a handy option to have. The Ninja Professional comes with a quick-serve smoothie option.    
We recommend blenders with a self-cleaning function, such as the Blendtec Total. You put water in the jar and turn on the function, making the jar and blades clean themselves. It's very convenient when you're making multiple items in a row. You can also choose dishwasher-safe blenders.   
Type of Material used in the container
Are glass jars better for blenders? Not necessarily. Glass breaks easily and can't always handle high speeds. Plastic jars are good if they are BPA-free. They won't transmit strange smells to the food or soak up the nutrients. The Cleanblend Commercial Blender comes with a BPA-free container.  
We recommend high-end blenders – like the Vitamix 5200 – only if you cook a great deal and make smoothies every day. Otherwise, you can't go wrong with the Ninja Mega Kitchen System.
The Ninja BL770 is affordable and offers maximum bang for the buck. It looks good and is durable. The monster 1500 watt motor makes food into pulp in seconds. Smoothies come out lump-free, with a good, even consistency. Finally, it's easy to clean and store.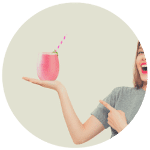 Hi, I am Charms, a self-confessed smoothie fanatic!  Here I will share some of my favorite smoothie recipes, tips and guides and gear reviews.   Learn more .