Daquiris, and slushies, and shakes – oh my! Nothing says fun in the sun like a fluffy, frozen drink. But with so many products available, how are you supposed to find the best blender for frozen drinks without buying and trying yourself?
Our kitchen team has tested hundreds of blenders. And in this article, we go into detail about our current top picks of best blenders for frozen drinks.
Whether you want the most comprehensive blender available or the best margarita machine, these in-depth reviews will help you find the right blender for you.
Best Blender for Frozen Drinks Product Reviews
Vitamix A2500 Ascent Series Smart Blender
Are you looking for a blender that can do it all? From an amazing daiquiri to soups heated right in the blender, the Vitamix A2500 has it covered.
And the best part? This brand is built to last. The materials and manufacturing are stress tested and exceptionally durable.
And you won't need to worry about cracks or malfunctions because Vitamix provides stellar customer service and a superior warranty.
What's special about it:
Wireless connectivity reads container size and automatically adjusts for perfect consistency
Highly versatile: handles any ingredient to make frozen drinks, salsa, smoothies, juice, and even heat up soups
Hardened stainless steel blades resistant to bending or dulling
Professional quality
Lengthy warranty and exceptional customer service
Durable, long lasting, and versatile
Cleanblend Commercial Blender - 64 Oz Countertop Blender
This Cleanblend blender is a winning combination of powerful, well made, and reasonably priced for the quality. We were pleased by how efficiently it crushed ice for pina coladas with the multi-tier blades and high-powered motor.
It isn't as high tech as some professional blenders but is still versatile and sturdy. So, you get the reliability without having to learn about all those extra features which may or may not be useful to you.
What's special about it:
Versatile and efficient: blend, crush, chop, grind, process, puree, liquify.
Blade design and powerful motor are great for frozen fruit and ice.
8-pronged, stainless steel blades
"Absolute protection warranty" covers any break or malfunction
Somewhat expensive
Ingredients can get stuck in-between blades and bottom
Margaritaville Key West Frozen Concoction Maker
Those tired of the struggle to find the perfect middle ground between frustratingly chunky drinks or runny and boring should check out the Margaritaville line. It's quick, easy to use, and consistently delicious.
However, those seeking a blender that can handle multiple kitchen projects will likely be disappointed. 
While not quite a uni-tasker, this machine does not have the power, design, or sturdiness of other all-purpose blenders.
What's special about it:
Great for entertaining and larger gatherings, set and go programs
Top section shaves ice first and deposits it into blender to mix with liquids
Never leaves chunks of ice in your drink
Makes big batches fast
Low versatility
Questionable durability, unimpressive warranty
Ninja BN701 Professional Plus Blender
The Ninja BN701 Professional Plus Blender has an elegant black and dark grey finish.  It also has 7 one-touch controls on the side.  
This blender comes with a large 72 oz. pitcher which is perfect for your frozen drink concoctions.  An added plus is you won't have sticker shock due to the reasonable price.   
This appliance has a powerful 1400W motor. Pair that up with the long stacked blades and you have a blender will give you a perfect frozen drink concoction.   
The Auto-iQ programs allow you to make 3 items with the touch of a button – smoothies, ice crushes, or ice creams.   
An added plus is this blender is dishwasher safe so it easy to clean.  
Quick easy to use and clean
Reasonable Priced
Unlike some appliances, blenders are often a "get what you pay for" investment.
If you just want an occasional blended drink or salsa, then a $50 blender may be fine. But if you want an appliance that has versatility and longevity, $200 or more is reasonable.
Most household blenders have motors in the range of 300-700 watts. Fine for softer ingredients, but when it comes to crushing ice a more powerful motor is recommended.
Look for blenders with at least 1000-watt motors for frozen drinks. Professional grade blenders like Vitamix are incredibly powerful, but also versatile and usually include multiple speed settings.
Blade Design and Material
Frozen drinks often require ice crushing capabilities. For that, you'll need blades of proper design and strength.
Stainless steel is durable, tough, and easy to clean. The more angles from which the ice can meet the blades the better, so choose blades with 4 or more prongs.
All metal motors and bases are strong and dependable, lasting longer than plastic. They are also usually pricier than thick plastics, but the tradeoff may be worth it to those who use their blender frequently.
Comprehensive warranties can safeguard you from all manner of snafus, whether a manufacturer's defect or kitchen accident.
Keep an eye out for companies with warranties that last more than a year and have replacement parts easily available on their website.
Plastic: lightweight, cheaper, durable, shows scratches and dents
Glass: heavy, moderately priced, breakable, does not absorb color/odor or show nicks
Borosilicate Glass: moderate weight, moderate price, shock resistant, withstands extreme temperature shifts, does not absorb odors/colors or show wear and tear
Before diving in, ask yourself: what do you want to use a blender for? If the answer is as simple as making a quick breakfast smoothie a few days a week, maybe you don't need a bunch of extra features.
But folks looking for a more versatile machine – one that can make the perfect margarita, chunky salsa, as well as pureed soup – a professional blender is likely the way to go.
Blending Tips for Frozen Drinks
Powerful motors
Often a wimpy blender just won't cut it for blending frozen drinks with ice, and you'll be left with inedible ice chunky in your drink.
We recommend using a blender with at least a 1000-watt motor. Ninja, Blendtec, and Vitamix are all exceptionally powerful and get the job done.
Crushed ice
For a less powerful blender, try using crushed ice instead of cubes. Breaking the ice up ahead of time limits the chance of overheating your blender.
Don't over blend
The perfect slushy consistency is smooth, thick and spoonable. Blending your beverages for too long leaves you with thin or runny liquid instead of a sweet, fluffy drink.
Frozen fruit
Room temperature fruit will water down your frozen drink. Choose frozen fruit instead – chop and freeze fresh yourself or go for the convenience of prepackaged.
Start on low speed and gradually increase
Cranking a blender up to the highest speed right off the bat is a common mistake. This abrupt speed change can damage blades or the motor over time.
Start your blender out with a few pulses to break up ingredients. Next go to a low speed and gradually crank it up to the highest setting over the course of a minute or so. 
Frequently Asked Questions
How to make a slushie in a blender
Slushies are some of the most basic – and delicious! – treats you can make with a blender designed for frozen drinks.
Here's a simple recipe to get you started:
2 cups of desired liquid (juice, Kool-Aid, etc.) and 4 cups of ice cubes
Blend on high for 1 full minute, then check the consistency
If still chunky, blend for about another minute
Final slushie should be thick – if runny, try adding more ice
Serve immediately and enjoy!
How to crush ice in a blender
Secure the lid and pulse the blender 5-7 times in quick, short bursts.
Use chop/crush setting or set to medium speed and churn the ice manually for about 30 seconds.
Remove lid and stir ice around to get larger chunks closer to the blades. Use a wooden spoon or your blender's included stir lid.
Is it safe to put ice cubes in a blender?
Yes! If you remember to put the lid on, it is totally safe to put ice cubes in your blender.
However, the time it takes to crush the ice to your desired consistency will change blender-to-blender.
How do you blend frozen drinks?
Use a high powered blender.
Start the blender on low and slowly increase
Try and use crushed ice instead of ice cubes
Use frozen fruit in your drinks.
When it comes to overall durability, blending power, versatility, and comprehensive warranty the winner is obvious: Vitamix always has it in the bag. 
The Vitamix A2500's hardened stainless steel blades and all metal motor crush ice and churn out frozen beverages in flash – perfect every time.
And for folks who don't want to compromise on quality but want a slightly simpler machine, check out the Ninja BN701 model.
We hope these thorough reviews have helped you cut through the retail clutter and find the best blender for frozen drinks for your kitchen.
Happy daquiris!
Add Your Heading Text Here​
Add Your Heading Text Here​
Add Your Heading Text Here​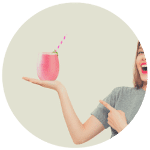 Hi, I am Charms, a self-confessed smoothie fanatic!  Here I will share some of my favorite smoothie recipes, tips and guides and gear reviews.   Learn more .