Crushing ice requires a blender that is strong, reliable, and well designed. But with so many models on the market and so many claims of competency, how do you find the right one without testing them?
That's where we come in. Let our thorough reviews and insightful buyers' tips lead you to the best blender for crushing ice for your kitchen!
Folks who just want to cut to the chase should check out the Blendtec Classic 575 – a true workhorse of a blender, and an incredibly versatile appliance.
But for those with specific needs, or who just love shopping, read on!
Product Reviews of the Best Blender for Crushing Ice
Blendtec Classic 575 Blender - WildSide+ Jar (90 oz)
As the indisputable king of blenders, it's no wonder Blendtec shoots to the top of the list for crushing ice as well.
Though there are only two blades, that's all Blendtec needs! Their incredibly durable, thick, and un-sharpened blades can pulverize any ingredient without posing a risk to your fingers in the dish pit.
And the Tritan copolyester jar will stand up to the use and abuse of years of frozen drinks before becoming scuffed and "fogged" by scratches.
The company's aim is to set you up to never have to buy another blender again.
So, though the price is a little daunting, with the company's extensive 8-year warranty your money is well spent.
What's special about it:
Extremely powerful, commercial grade motor makes quick work of ice
Stainless steel blades are 80% thicker than competitors and dull, reducing cut risks
Impressive capacity jar for generous daquiri batches
Pre-programmed cycles, including crush ice setting
Super strong copolyester jar resilient to scratches
Lengthy, comprehensive warranty
Incredible durability of motor and blades
Versatile, powerful enough for any job
Easy to clean and maintain
Expensive (This model is one of the cheapest in the Blendtec collection)
Vitamix is such a trusted brand that we couldn't pick just one, we had to give you three options for awesome ice crushing blenders!
Between the lengthy warranties, super durable construction, powerful motor, and thoughtful design elements these workhorses are favorites of the commercial café and restaurant industry.
Check out our list below of the models you should consider for ice crushing and beyond.
What models to consider:
Strong motor to power through any recipe
Warranty covers most encounterable issues
Easy to operate and clean
Thermal protection system safeguards motors from overheating
Expensive (cheapest model is the E310)
Breville BBL620SIL the Fresh and Furious
Folks seeking a dependable, versatile blender that don't have quite the commitment to drop $500 on an appliance will greatly appreciate Breville.
It has an auto clean function, as well as a variety of pre-set programs so that you can set it and walk away. The blades are designed specially to pulverize ice and the toughest of vegetables and roots.
Though the warranty is less comprehensive than some, the price is also much more budget friendly.
What's special about it:
Surgical steel grade blades stay sharper longer
Various pre-set programs, including ice crushing
Combines functionality of a blender with some food processor capabilities
Powerful, but affordable
Excellent customer service
Easy to clean
Limited warranty
Even though it has a ice crushing function it doesn't have as much blending power as some of the blenders on our list.
Other Good Blenders for Crushing Ice
Crushing ice is one of the more power and stress intensive things you can do with a blender. And for that reason, motor wattage and horsepower are one of the most important factors.
Professionals recommend a minimum of 1000 watts for your blender to be truly up to the task. We tend to agree, but if you want the full fluffy frozen drink experience shoot for 1500 watts (about 2 horsepower).
Another vital part of effective ice crushing for a blender is the blade design and quality. For example, the more prongs the blades have, the quicker it will crush ice. Look for 4 or more pronged blades.
All blender blades should be stainless steel but keep a particular eye out for hardened steel or professional-grade materials. The stronger the blades, the less likely they are to bend or chip with regular use.
Jar design ideal for crushing ice
The right jar design will help you keep a plastic blender jar looking great and unscuffed when crushing ice frequently. Flat, smooth sides will catch slivers of ice less readily.
Glass is another great option for ice, as it is far more scratch resistant.
What are your least favorite parts about blender care? Cleaning, fiddling with a bunch of dials, cutting yourself on the blades?
Keeping those in mind, try to choose a blender that will mitigate those annoyances and bring down the barriers to using your fancy new blender.
Hate cleaning the jar? Instant Pot and Blendtec are favorites because of their self-cleaning features, which are life savers when you have a busy schedule.
If you want to be able to push a button and walk away, look for models with lots of pre-set programs. Instant Pot, Blendtec, and Vitamix all offer a variety of pre-set options.
Worried about nicks from sharp blades? Some brands, like Blendtec, have dull blades that still get the job done.
Generally, the more powerful the blender the higher the price tag. Folks who just want the occasional slushie likely don't need to splurge too much.
But if you're the designated weekend margarita maker, you're best options fall in the $250 and up category.
Many blenders have pre-set programs that work with your model to maximize blending efficiency.  An example of this is the Ninja models that have auto IQ.  These interface features are especially if you blend things with ice often, go for one with an ice crushing setting.
With some appliances, a "take it or leave it" attitude is fine for warranties. But for blenders, especially ones you may use for tough jobs like crushing ice, you can't be so carefree.
Besides design, a warranty is the most important part of keeping your blender working as it should. Some brands include extensive warranties with their products, like Vitamix. 
Depending on the desired consistency, crushing ice can be stressful on blender motors in particular. Go for all-metal motors when possible, such as Vitamix and Blendtec models.
The two strongest materials for blender jars that will be used for ice are borosilicate glass and copolyester.
Borosilicate glass is thermal shock proof, shatter resistant, and doesn't get scratched or dingy like some plastics.
And copolyester, like the brand Tritan favored by Blendtec, is a super strong and durable plastic. 
Once again you won't have to worry about drops or temperature changes, but even this tough plastic will eventually get scratched up by frequent ice crushing.
Blending Tips When Using Ice
For lower powered motors or quicker blend times try crushed ice instead of cubed
If a recipe calls for liquid, add it before you begin blending to help break down ice
Try not to fill the blender jar more than 1/3 full of ice or you may get some wedged under the blades
What is the best ice crushing blender under $100?
If you are looking for a budget friendly blender we would recommend the Ninja BN701 model.
Blendtec, as per the usual, blasts through the competition to the top of our list.
And it's not hard to see why: motors of incredible power and durability, cutting edge copolyester jar, and incredibly strong but safe blades are exactly the right ingredients for fluffy daquiris and smooth slushies.
Hopefully our well researched tips and reviews have helped you find your best blender for crushing ice, and put you on the path to perfectly crushed ice.
Add Your Heading Text Here​
Add Your Heading Text Here​
Add Your Heading Text Here​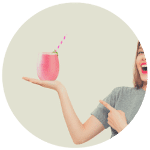 Hi, I am Charms, a self-confessed smoothie fanatic!  Here I will share some of my favorite smoothie recipes, tips and guides and gear reviews.   Learn more .