Regular-sized countertop blenders are a bit of an overkill when all you make is food or drinks for one or two people. Single-serve blenders are just perfect, though. Using one, you can make appropriate quantities of your favorite edibles every day, in a hassle-free way. They are also typically portable and easier to maintain.
We're covering the most worthwhile single-serve blenders in the market here, starting with the best single serve blender there is – the BL480D Nutri from the popular Ninja brand.    
Best Single Serve (Personal) Blender Product Reviews
The Ninja BL480D Nutri is a modern-looking, bullet-shaped blender. It's available in a silver-black color scheme. It ships with 2 small single-serve cups with go-to lids. 
You can make a single serving of your favorite beverage, pop on a lid, and take it with you when you head off to work or the gym.
With 1000W of power, you won't have much trouble blending dense solids. This appliance does a better than average job of crushing ice. Any smoothies you make will be lump-free and consistent. 
It won't be a juice-bar-grade drink, but it will come close. You can use this blender for food-making like chopping veggies and nuts too. Two Auto-IQ programs allow you to make beverages with a single touch.
You won't have trouble cleaning this blender. It's small and portable, so you could potentially take it with you when you travel, though it does need a power outlet. 
The only con is that it's extremely loud. Your whole neighborhood will hear you making a smoothie during morning hours.
Makes lump-free smoothies and blends.
Quality make and design.
Easy to maintain.
Almost as noisy as a jet engine.
Jusseion Smoothie Blender
The Jusseion Smoothie Blender is a beautiful machine that would take pride of place in any modern kitchen. It's has a classy brushed metal finish and a pleasing touch-screen interface on the side. 
It comes with two single-serve cups, with the larger being capable of holding about 2 full smoothie portions.
This machine is fun to use. You fill up the cup, slide it in, and then press a button on the touchscreen. The blender takes care of the rest. It has two blending cycles: 30-60s on "blend" and 45-60s on the "ultra blend" setting.  
The machine controls the speed automatically. You don't have to do anything. The final blend is smooth and consistent. The 1200W motor makes quick work of most tasks.   
This machine is compact, easy to move around and store. You can clean the container in the dishwasher. As a bonus, the Jusseion is quieter than you'd expect.
Quieter than average.
Pulverizes ingredients to powder with even consistency.
Gorgeous design with a touchscreen interface.
Nutribullet Nutrient Extractor
The Nutribullet is a classic smoothie maker. It was a sensation when it launched back in 2012. The manufacturer has released many variants since, but the original remains popular. 
It holds up well even in 2020. The Nutribullet has an attractive, bullet-shaped design and comes with a single 24oz carry cup.
This blender employs a "Nutrient Extraction" technology to break down tough ingredients like fibers, ice, and fruit pulp. In practice, it works well, but not perfectly. 
The 600W motor just doesn't have enough power to crush dense ingredients to powder, and you can't control the consistency thanks to a single speed setting. It will still make a good smoothie, however.
You can clean the Nutribullet quickly. It's compact and fits small cabinets. You get a good quality machine at a reasonable price, and there's a longer-than-average 15-month warranty besides. 
Below average price.
Compact design.
Easy to maintain.
Lacks blending power.
Average performance.
No speed controls.
Ninja Blender/Food Processor
The Ninja Blender/Food Processor is a combination appliance. You can use it to both make beverages and chop up solid foods – like onions and tomatoes – for food preparation. 
It comes with 3 dedicated attachment jars: one for smoothies, the second for processing food, and a small bowl for chopping.
If you own this appliance, you won't need to spend extra on a food processor. But don't expect it to perform miracles. 450W isn't a lot of power. 
The blender does an admirable job, but it's not on the level of a countertop blender. You can't control the blender's speed and you occasionally have to tamp down on the lid to keep it stable.
You can move the top between the 3 small containers to blend different foods. The whole setup is easy to clean, though it does take extra storage space.
Clever design.
Blends beverages and chops solids.
Works reasonably well.
One speed only.
You have to push down on the container lid while blending.
Lacks power.
The Ninja Personal Blender is the cheapest offering in the Ninja series at the time of this writing. It's a small-capacity blender suitable for people living alone or for a couple. 
It's smaller than most personal blenders and comes with two 16oz to-go cups. It has a single manual speed control setting.
The 700W motor is powerful enough to make a decent smoothie. They may be some lumps if you overfill or don't follow the Ninja recipe booklet. You can use the personal blender to also chop up food ingredients like nuts. 
It's not a food processor, but you can use it as such in a pinch. You need to push on the power button (and sometimes the lid) to keep this blender working, which is a drawback.
You won't have trouble cleaning the blender and it's easy to store. The build quality is not the best around though. You will probably have to replace it in a few months if you use it every day. 
Affordable personal blender.
Simple to clean and maintain.
Performs most blending tasks well.
No speed control.
Okay build quality.
Buyer's Guide – What to Look For
Personal blenders won't have as much power as traditional countertop blenders, causing them to struggle with dense ingredients. 
The typical range is between 200-1200W. The Jusseion is the top end of the spectrum and rivals countertop blenders with its powerful 1200W motor.  
Personal blenders aren't known for their durability. With most personal blenders, the motor will begin to die in a few months if you use it every day. 
The Ninja Nutri typically lasts at least a year or two. If you want a better lifespan, you need to get a countertop blender.  
You aren't going to get high-tech blending technology in a single-serve blender, but you will get a cool feature or two. 
The Ninja Nutri has a stacked blade that does a fine job of blending ingredients evenly. The Jusseion has a touchscreen interface.  
Don't expect a multi-year warranty if you buy a single-serve blender. The industry standard is 1 year and few manufacturers stretch it further. The Nutribullet comes with a 15-month warranty.
Single-serve blenders don't usually have fancy one-touch blending programs or speed dials. Some even come with a single-speed setting. 
The Juesseion bucks the trend by providing manual speed settings and two one-touch automatic programs.
Glass jars are almost unheard of in personal blenders – plastic jars are lighter, cheaper, and not as likely to break. Look for BPA-free, non-toxic material. Most blenders, like Ninja Nutri, ship with BPA-free containers.
You will receive one or two container cups with the blender, where the mixing happens. They usually double as carry cups. 
You put on lids, also included, and take them with you. 18oz cups hold a single smoothie serving. 45oz cups hold 2-3.  
It's a good idea to get a blender you can clean in a dishwasher. You don't want to rinse it out and get your hand cut on the blade. If you don't own a dishwasher, look for an easy-to-rinse blender like the Ninja Nutri.  
Benefits of Single-Serve Blenders
The Advantages
Single-serve blenders often cost less than half as much as full-sized countertop blenders.
You can easily move single-serve blenders around and even take them out with you when you travel.
You can whip up a smoothie in a minute with the right appliance.
Many single-serve blenders are dishwasher-friendly and easy to clean.
They don't take up much space and will fit the smallest of kitchen cabinets.
You can measure out precisely the serving portions you need thanks to the single-serve cups.
Some limitations
Single-serve blenders are not as powerful as their countertop counterparts.
Their motors are likely to die out after prolonged use.
The Ninja BL480D Nutri packs in a powerful motor in a compact, portable package. It does a fine job of making smooth, lump-free blends. 
Further, the build quality is good and the appliance is easy to maintain. All these factors make it our single-serve blender of choice.
If you can invest a little more money, the Jusseion is an equally capable appliance that looks better, runs quieter, and has an excellent touchscreen.
Add Your Heading Text Here​
Add Your Heading Text Here​
Add Your Heading Text Here​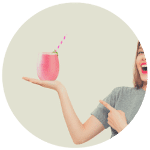 Hi, I am Charms, a self-confessed smoothie fanatic!  Here I will share some of my favorite smoothie recipes, tips and guides and gear reviews.   Learn more .