With so many brands and models of kitchen appliances available these days, finding the right blender for your purposes can be a pain in the neck.
Let our hundreds of hours reviewing kitchen appliances work for you! In this article we'll go over 5 of the best personal blenders that can crush ice.
Our pick for the best single serve blender for crushing ice is the Ninja BL480D. It has the power you need and won't break the bank.  But read on for more options and handy tips for buying and care.
Best Single Serve Blender for Crushing Ice Product Reviews
Ninja BL480D Nutri 1000 Watt Auto-IQ Base for Juices, Shakes & Smoothies
We love the Ninja's combination of power and durability. The hardened stainless-steel blades and smart programs crush ice and frozen fruits with ease and efficiency.
And the best part? It'll cost you less than your next grocery trip! This blender is a great budget buy.
Admittedly, the warranty is a little wimpy. But this blender stands up to everyday use with minimal wear and tear, which is a huge plus on such a reasonably priced appliance. 
And if something does need replacing the company supplies most parts for a fee.
What's special about it:
Auto-IQ program delivers perfect consistency every time
Powerful motor and 6-pronged blades provide superior crushing ability
Durable construction for longevity, readily available replacement parts
Reasonably priced
BPA free and easy to clean parts
Jusseion Smoothie Blender - 1200W Bullet Blender for Shakes and Smoothies
For true ice crushing power, look no further than the Jusseion Smoothie Blender. The 1200-watt base and incredibly durable blades combine for an incredibly effective machine for its size. 
We love how easy to clean all the removable parts are, as well as the commitment to strong and non-toxic materials.
The downside is that the warranty is minimal. Though the programmable timer safeguards the motor against overheating, this model will slowly lose crushing power after a couple years of regular use.
Jusseion is one of the most durable little blenders for the money. But don't expect more than 5 years out of a blender for under $200.
What's special about it:
One of the most powerful blenders of its size
6-pronged, dual-direction blades and strong motor make quick work of ice
Programmable countdown timer means you can set it and walk away
Powerful and durable
Programs reduce overheating
Extra safety features
NutriBullet Pro - 13-Piece High-Speed Blender/Mixer System
For a powerful, single serve blender with superior ice crushing ability the NutriBullet is one of the most reasonably priced options available.
NutriBullet specifies, however, that this blender should not be run for more than 60 seconds at a time. The strong but small motor is prone to overheating during extended blends.
We recommend pulsing the blades a few times to start and give appropriate pauses to safeguard the lifespan of the motor.
What's special about it:
Strong, 6-pronged blades spin in opposite directions for better crushing
Customizable color to match any décor perfectly
High impact, super durable, BPA free copolyester jar material
Powerful for size
Reasonably priced
Motor prone to overheating
Poor durability of accessories
Ninja Personal Blender with 700-Watt Base and (2) 16-Ounce Cups with Spout Lids (QB3001SS)
The Ninja personal blender is compact, easy to clean, and has decent horsepower for the size.
However, the longevity of the motor and lack of comprehensive warranty leaves much to be desired. Many reports say that with regular to heavy use this model often fails within 12-18 months.
It won't be the last blender you buy, but as a short-term solution or RV blender it may be a good choice.
What's special about it:
Lightweight, compact design takes up little counter space
To go cups make taking breakfast with you fast and easy
Small and lightweight
Easy to use and clean
Not very powerful
Unimpressive warranty
Portable Blender, OBERLY Personal Juicer Cup for Shakes and Smoothies
Have you ever wanted to sip on a fresh crushed ice beverage on a mountaintop? Or perhaps you're just in a rush to the gym and want to be able to blend a shake on the go. 
Check out the OBERLY personal blender, a rechargeable battery powered blender that weighs less than 2 pounds.
It is severely lacking in terms of durability and power, so it isn't recommended for everyday use. But for the glamping fanatic or RV traveler this could be the perfect travel blender!
What's special about it:
Comes with appropriately sized ice tray
Lightweight and rechargeable via USB cable for extreme portability
Incredibly portable
Inexpensive
Not very powerful
Battery powered motor will give out faster
Ice crushing is a power intensive task. Besides blade strength and design, the wattage of your blender's motor is the most important thing.
Most professionals recommend 1000 watts or more for crushing ice.
Single serving blenders generally only have one speed: high. For jobs like crushing ice that should be more than enough. But for more precise control, check out the multi-speed models from Ninja and Jusseion.
Blending ice can cause a lot of impact on blender jars. To avoid this, make sure you purchase a blender that allows ice crushing (some specifically say they are not for crushing ice).
Borosilicate Glass : For high impact blending, like crushing ice, one of the best choices for jar material is borosilicate glass. This specially treated glass is impact resistant, thermal shock resistant, and easy to sanitize.
Polycarbonate: One of the cheapest and more durable options for blender jars is polycarbonate plastic. It's strong and unlikely to crack with thermal shocks.
However, some of the cheaper polycarbonates have nasty chemicals and toxins like BPA in them. Be sure to verify that the plastic blender jar you are purchasing is non-toxic and BPA free.
One downside of plastics is that they can become scratched when crushing hard ingredients like ice. Aside from being unsightly, those scratches can harbor bacteria and make cleaning your jar more challenging. 
If you're buying a polycarbonate jar, go for a dishwasher safe option.
Copolyester:  A favorite plastic for ice crushing blenders is copolyester. This non-toxic, BPA free plastic material is tougher, impact and scratch-resistant, has superior clarity, and is resistant to more chemicals than most plastics. 
Most of the Ninja and NutriBullet blenders use copolyester.
If you're looking for a personal sized blender that will last for more than a couple years, durability should be high on your list of considerations.
Look for all metal motors or automatic shut off features like on the Jusseion. Running a blender for too long can overheat and damage the motor, but pre-sets and timers can prevent this.
What do you need your blender to do? For simple tasks like crushing ice or blending drinks, you probably don't need to pay for extra features. Personal blenders often have a minimum of fancy features and are a little cheaper.
If you're looking for a highly versatile appliance, however, go for a blender with multiple speeds and pre-set programs. It will cost quite a bit more, but you can replace multiple appliances with one great blender.
One exception to the "more features means more money" rule is the Ninja BL480D. The Auto-IQ functions make it a great middle of the road choice.
Number of To Go Cups and Sizes
How many people will you need to serve from one blend? If your kid always wants some of your smoothie, consider choosing one of the many models that come with 2 or more blending cups.
One of the most important features of a blender for crushing ice is blade strength and design. Stainless steel is the industry standard, but some brands pull out the stops and use specially hardened steel.
As for design, always go for blenders with 6 or more prongs on the blade when possible. The more angles from which the ice can connect with the blades, the more efficiently the blender will crush the ice.
A lengthy, comprehensive warranty is usually the mark of a well-made product. Not only does it connote the manufacturer's faith in their product, but it can also help you guess how long the appliance is likely to last.
If your busy life makes keeping up with the dishes a pain, then adding sharp or oddly shaped blender parts to the sink is a no go! That's why all of the blenders on our list are dishwasher safe.
Our number one choice is the Ninja BL480D. We were impressed by the power and quality you receive for such a reasonable price.
A close second is the Jusseion, which boasts 200 more watts than the Ninja as well as a handy timer function. Both choices also have automatic shut-off programs to keep their motors cool, and therefore working longer.
We hope these obsessively researched reviews can help you find the best single serve blender for crushing ice for your very own kitchen!
Add Your Heading Text Here​
Add Your Heading Text Here​
Add Your Heading Text Here​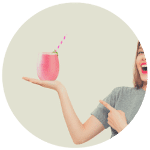 Hi, I am Charms, a self-confessed smoothie fanatic!  Here I will share some of my favorite smoothie recipes, tips and guides and gear reviews.   Learn more .