Does your whole neighborhood know when you're making a smoothie? Do you brace yourself for impact when you're about to flip on your blender? It sounds like (pardon the pun) you need to invest in a quieter blender!
We've collected the quietest blenders on the market in this buyer's guide. We've chosen them based on build quality, effectiveness, affordability, and, of course, quietness. The best quiet blender you can buy right now is the Weston Sound Shield Pro.     
Best Quiet Blender Product Reviews
Weston Sound Shield Pro Series
The Weston Sound Shield Pro Series Blender is a mid-range appliance that works well and doesn't make much noise. It has a black and stainless steel design that's easy on the eyes.  
There's a simple, no-frills speed dial on the side, offering precise speed control. You get an adequate 32oz jar out-of-the-box, which will hold food for a whole family. The jar doesn't have a handle, which makes it hard to hold.  
You get a questionable sound shield with the blender. It doesn't make much difference to the noise levels if you use it. Fortunately, you don't need it. The Weston operates quietly even without the sound shield. 
The 1200W motor has ample power and makes quick work of most blending tasks. The blender is easy to rinse, and the compact size means you can slide it into the smallest of storage spaces.
Reasonably quiet.
Excellent performance.
Compact.
The sound shield is not so effective.
You will feel the lack of a handle on the main jar.
Vitamix 36019-1 Vita-Mix Quiet One Blender
The Vitamix 36019 is the kind of blender you find in a juice bar. It's high-quality and looks spectacular. 
It comes with a noise-dampening plastic cover screen that does an excellent job of dampening the noise, reducing it to a quiet background hum. 
The 48oz container can hold about 4 smoothie servings. Using the blender is a breeze thanks to its one-touch program buttons.
Being one of Vitamix's finest offerings, this blender won't give you any trouble in the performance department. 
This commercial-grade blender does an outstanding job, from chopping foods to making smoothies. It deserves all the accolades it gets. 
However, the 1-year only labor warranty is a bit of a concern if you pay so much for the appliance. You're on your own if it breaks down, however unlikely.  
Seriously quiet.
Amazing performance.
Top-tier quality.
Expensive
Warranty not as high as what you get for other Vitamix blenders.
Hamilton Beach 800W Single-Serve Personal Blender
The Hamilton Beach 800W is a small, portable personal blender. It doesn't cost much and performs incredibly well for the asking price. It's not a standout appliance in the looks department, but we aren't complaining. 
There are two blending buttons on the side for start and pulse settings. This blender is small and portable. You may be able to take it with you when you travel.
The blender comes with a sound shield that you can attach after you pop the container in place. The sound shield does a decent job of keeping out the sound. The 800W motor doesn't make a lot of noise regardless. 
This blender doesn't get stuck on dense ingredients, though you do have to shake it on occasion. It's easy to clean and maintain. The 3-year warranty is the icing on the cake.  
Quieter than average.
Super compact.
Satisfactory performance.
Low power.
You have to shake it periodically.
Hamilton Beach Professional Quiet Shield Blender
The Hamilton Beach Professional Quiet Shield Blender is an affordable blender with an effective quiet shield. The shield does an acceptable job of dampening the noise when you put it on. 
You can hold conversations when this blender is on. The 32oz jar makes enough food or beverages for a small family. This appliance has a simple design and an attractive silver-black finish.
When it comes to performance, the Hamilton does extremely well for the price. It won't perform on the level of a Vitamix, but it comes close. 
You can make smoothies, purees, and other common preparations quickly with the help of the pre-programmed settings. A point of concern with this blender is that it gets loud when you dial up the speed to maximum.
Quality design.
Easy to use.
Self-cleaning and dishwasher safe.
Average performance.
Quiet only on low settings.
Blendtec Professional 800 Blender With Wildside+ Jar
Blendtec makes amazing blenders. The Professional 800 is one of their high-end offerings. This is a high-tech appliance that's a breeze to use – you can control the speed by sliding your finger along the panel. 
It's available in glossy black or red and will take center stage in most kitchens. Being a professional-grade machine, it comes with a huge 90oz "WildSide+" jar that can make food for a large family.
You receive a quality sound enclosure with this appliance, which drastically cuts the blender's noise. This is as quiet as it gets. 
The monster 2800W motor can take whatever you throw at it – and then some. The 10x stronger patented steel blades hold up well after years of use. The 10-year warranty exceeds expectations.
We would rank this blender higher save for some persistent quality control issues. Some blenders work perfectly, but others fizzle out in a few weeks' time.  
Super quiet.
10-year warranty.
Impressive performance.
Expensive.
Some quality control problems.
You may need a smaller jar.
Buyer's Guide – Everything You Need to Know
Don't expect to hear a pin drop if you buy a "quiet" blender. Even the best quiet blenders will be noisy. But at least they won't wake the whole neighborhood. The Vitamix Quiet One is as quiet as a mouse.   
The more the power the motor has, the better it will push through the ingredients mix. The Vitamix Quiet One has a 2200W motor. It's a professional-grade machine used in juice bars.
The blades need to sturdy enough to withstand hard dense ice and other tough ingredients. The Blendtec Professional 800 comes with 10x stronger, patented stainless steel blades.
You don't want to spend too much time cleaning up after the cooking or smoothie-making is done. Dishwasher-safe is always best. The Hamilton Beach Professional is dishwasher safe and also has a self-cleaning function.
Blenders come with powerful motors, which wear down with time and eventually go kaput. Having a long warranty will spare you some expenses down the road. 
The Weston Sound Shield Pro has an outstanding 5-year warranty for a low-mid-end blender.
Sound shields are a great idea in theory, but they don't always work as advertised. They can also make operating the blender a cumbersome experience. 
The Weston Sound Shield Pro has a sound shield, but it isn't very effective. Fortunately, this blender is quieter than average and makes about as much noise as an air conditioning unit.  
What makes blenders so noisy?
Vitamix vs BlendtecThe average car has an engine with a peak RPM ("Revolutions per Minute") of about 6000, which is the speed at which the engine spins. 6000 spins a minute causes car engines to make a lot of noise.   
Blenders – especially high end ones – have enormously powerful motors. Some of them run 2x-6x as fast as car engines! It's why they're so noisy.
The Vitamix 36019 Quiet One blender has a peak RPM of 37,000 with a peak speed of a staggering 240mph. Without its sound proofing, it would make almost as much noise as a jet engine.    
I already have a blender. How can I make my blender less noisy?
Here are some tricks that should make your blender less noisy. We recommend using many at once for best effect:
Sound proof it
You can try sound proofing strategies for your blender:
Wrap a thick towel around it when you use it.
Move it to a different part of the house with better dampening – like the basement.
Buy a special plastic noise dampening cover.
Position the blender better
If you place the blender back against the wall, the noise may echo off of it. Consider moving the blender to the edge of the countertop, which will cause the sound to fall off and distribute better.
Buy a sound enclosure box for your blender
This is likely going to be expensive, especially when you're spending $200 or more on a blender already. But buying a good quality sound enclosure box is almost guaranteed to make your blender work silently. You may be able to make one yourself. 
Blend during the evening hours
If you need a smoothie in the morning, consider making one the evening before. This should also give you a bit more time for yourself in the morning. You can even make large batches of food and put them in the freezer.
Place a mat under the blender
Placing a thick plastic or other mat under your blender will work wonders. Thick materials will absorb a significant amount of the noise as well as the vibrations. This has the bonus of not costing you a lot.
If you buy a "quiet" blender, you can still use a few of these hacks to reduce the noise to negligible levels.
The Weston Sound Shield Pro is our blender of choice – it's quiet, affordable, and is a reliable machine overall. The 5-year warranty offers peace of mind. 
The Vitamix Quiet One Blender is a better appliance – more high-quality and much quieter. 
The caveat is it costs over 6 times as much as the Weston. Still, this is a blender that will stand the test of time. You will probably recoup your investment in the long run.
Add Your Heading Text Here​
Add Your Heading Text Here​
Add Your Heading Text Here​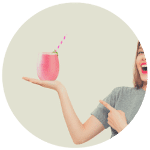 Hi, I am Charms, a self-confessed smoothie fanatic!  Here I will share some of my favorite smoothie recipes, tips and guides and gear reviews.   Learn more .