Do you often catch yourself wishing for a pick-me-up during work hours or after an intense workout? A portable blender should help satisfy your cravings. This handy device can whip up fresh smoothies, protein shakes, and juices in minutes – no electricity needed.
We're covering 6 of the most high-quality, feature-rich blender in this buyer's guide here, including the best portable blender for travel there is – the Ayyie Portable Blender.
Best Portable Blender for Travel Product Reviews
The Ayyie Portable Blender – The Best Portable Blender in Town
The Ayyie Portable Blender is a stunning appliance with a polished gold exterior. It has a pleasing bottle-shaped design, with the food cup making up the base of the "bottle".  The Tritan, BPA-free food jar is a nice addition. The Ayyie runs on 2 2000mAh rechargeable batteries, which allow you to blend 20 cups on a single charge.  
You can churn out smoothies, slushies, and other beverages in minutes with the Ayyie. The 22,000 RPM offers enough power to crush even solid ice.
This blender only has a difficult time with blending seeds and nuts. You can double press the power button to run the blender in power mode, or single press to run it on a gentle setting.
The Ayyie blender is easy to carry at 1.389 pounds. It's also easy to clean, thanks to a "one button wash" feature. All in all, we think it's a steal at the asking price.
Gorgeous, award-winning design.
Quiet, lightweight, and fast-charging.
Powerful motor for lump-free smoothies.  
Not suitable for blending seeds and nuts.
The OYeet Personal Blender
The Oyeet Personal Blender is a gorgeous appliance, available in Prussian Blue and Coral Red. The jar and lid are of non-toxic, BPA-free Eastman Tritan. You can blend as many cups of food or beverages as you like – it's a corded, plugged in "personal" appliance.
What the Oyeet loses in portability, it makes up in power. The 1000-watt motor does an excellent job of crushing anything you throw at it.
It can crush ice in 5 seconds, and make smoothies in about 50. However, the Oyeet needs rest stops once a minute. Otherwise, it will overheat and breakdown.
The Oyeet is very easy to carry, thanks to a rubber grip. It's lightweight and will fit large bags and backpacks. It has a self-cleaning function too.
Extremely powerful 1000 W motor.
Compact design, rubber grip, easy to carry.
Easy to clean, dishwasher safe.
You need to plug it in.
Runs for a minute only before overheating.
Tenswall Portable Blender
The Tenswall Portable Blender doesn't look premium. But at that asking price, you can probably overlook minor shortcomings like that.
The Tenswall can make about 13 cups of food or beverages on a single charge. It's powered by a USB-charged 2000 mAh battery.
You may have some trouble with blending frozen food and fruits with this appliance. For best results, you have to prep the food by cutting it into small pieces or chunks before processing it. It takes some time for this blender to make lump-free foods and smoothies.
While the Tenswall has a one-touch cleaning function, food tends to get caught up in the blades. You can use the included cleaning brush to get rid of it.
Budget pricing.
Good-quality BPA-free design.
6-blade design.
Smaller-than-average battery size and capacity.
Has trouble with blending frozen foods.
The OBERLY Portable Blender is available in 5 quirky colors: Pink, White, Green, Blue, and, and Black. It has a curved food jar and looks modern and compact. The 4000 mAh micro-USB charged battery lets you make about 18 cups of food on every charge.
The 22,000 RPM, 7.4 V is reasonably powerful. It can make cocktails, soups, baby food, and smoothies with no trouble. It struggles to crush frozen fruit and ice into fine paste or powder, though.
This blender weighs just 1.3 pounds and has compact shape. You can quickly rinse the cup to clean it. The OBERLY is affordable, making it easy for us to recommend.    
Easy-to-use and easy-to-clean.
Lightweight and portable.
Attractive color options.
Has trouble blending frozen fruit.
Lower-than-average capacity.
The LaHuko portable blender has an elegant silver design. It's one of the more affordable options on our list. This blender can make about 20 cups of food on a single charge, which is less than average. It runs on a 4000 mAh battery, which you can charge with USB.
The 7.4V, 24000 RPM motor does a solid job of blending food. You will need to prep the food before you blend it, though. The manufacturer recommends making 0.5 – 1-inch cubes of food before you process them. It shuts off 40 seconds after use automatically, as a safeguard.
This blender weighs only 350g. It's one of the most lightweight blenders around. It's easy to clean, and you can put the cup in the dishwasher if needed.  
Convenient, portable, easy to clean.
Quiet; makes little noise.
Looks good, affordable price.
Has trouble with large ice chunks or frozen fruit.
Use 12 times between charges.
Ninja Nutri Pro Compact Personal Blender
The Ninja Nutri Pro Compact Personal Blender is awkward-looking. However, Ninja is a well-known brand and makes quality blenders, so we can forgive the strange design. This Nutri Pro is a corded blender with a powerful 900 watts motor and a large 24 oz blending capacity.  
The Nutri Pro has no trouble with blending tasks. You can make all sorts of food with this blender in addition to your usual smoothies and juices. The appliance comes with a "Twist on the Sip & seal" lid, which turns the detachable food jar into a carry cup.
It's easy to clean the food jar in your dishwasher, or just with water. This blender is heavy at 4.8 pounds and slightly tough to carry. Being a Ninja blender, it's not cheap either.
Very powerful motor blends just about anything.
An 18oz and a 24oz "go-to" cups included.
75-recipe cookbook included.
Extremely loud, and heavy.
You have to plug it in.
Not a budget option.
Buyers Guide – Everything you need to know about choosing the best portable blender
Look for food-grade, non-toxic material on the bottle or jar. Most of the options we've reviewed – like the Ayyie Portable Blender – have BPA-free containers.
Portable blenders come with either a rechargeable battery or a cord. If you get a corded blender, like the Oyeet Personal blender, you get more power. The tradeoff is less portability.
On average, battery-powered personal blenders can make 15 cups of food on a single charge. The bigger the battery, the better. Look for blenders with maximum battery capacity, such as the Lahuko Blender with its 4000 mAh battery, so you won't need to charge as often.
Non-corded blenders are generally not very powerful. Expect some trouble when crushing ice or frozen fruit. Our top choice, which is the Ayyie Blender, does a better-than-average job of crushing ice.
When you need a portable blender
Portable blenders let you enjoy refreshing beverages when you're out-and-about. They make for handy travel accessories, whether you're headed for a picnic or traveling out of state in your car. 
If you love the great outdoors and spend most of your time there, you can enjoy some favorite creature comforts without having to be at home.
If you're traveling with a small child or baby, a portable blender is a lifesaver. Thanks to the device, you can feed them healthy, nutritious food at any time, anywhere. 
You can pack the ingredients with you or pick them up at a corner supermarket. And it's surprisingly easy to make baby food on-the-go.     
Finally, in the Digital Age, people tend to rush hither and tither. The stress is high, and anxiety eating is common. It's hard to maintain a healthy lifestyle – and easy to gorge on junk food. 
With a portable blender, you can eat healthy foods like smoothies and soups whenever hunger strikes.     
Benefits of a portable blender
Take anywhere: Portable blenders are lightweight and sturdy. Some are small enough to fit into a purse or bag. You can take them with you everywhere you go, and whip up a delicious beverage in less than a minute. The LaHuko Portable Blender weighs just 350g.
Make anything: You can make a variety of foods with the right portable blender, not just smoothies. Some examples include smoothie bowls, juices, cream, ice crush, slushies, nut butters, soups, sauces, batters, baby food, and cocktails. The OYeet Personal blender offers enough power to make a range of foods.
Easy to maintain: Despite being generally messy appliances, portable blenders are surprisingly easy to maintain. Many of them – such as the Aiyee Portable Blender – come with self-cleaning You just add some dishwasher soap and water to the cup and blend. It cleans itself in less than a minute.
We love the Ayiee Portable Blender. It's small, powerful, and affordable to boot. The burnished gold finish looks stunning, and it's very easy to carry around. It should cater to most of our readers' needs nicely.
If you need a little more oomph, we recommend the OYeet Personal Blender. This beast of an appliance has a 1000W 30000RPM motor than can crush hard ice in seconds. The only drawback is that it's corded, and you don't always have access to a power outlet outside.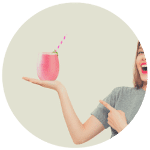 Hi, I am Charms, a self-confessed smoothie fanatic!  Here I will share some of my favorite smoothie recipes, tips and guides and gear reviews.   Learn more .