Salsas, smoothies, sorbets – oh my! With so many iced treats and drinks, now is the best time to invest in your very own blender. And when it comes to safety, ease of cleaning, and functionality glass jar blenders are the way to go.
In terms of power, size, and cost we recommend the Oster Blender Pro 1200 as the best overall blender in its class. Oster offers double the power and puree of comparable blenders for a fraction of the price.
And for all you kitchen nuts, read on to get the full scoop on all our picks. In this article, we offer extensively researched insights, a handy buyer's guide, and in-depth reviews on the 6 best blenders with glass jars on the market.
Best Blenders with a Glass Jar Product Reviews
The Oster brand is well known for offering quality kitchen appliances at a competitive price. And the Oster Blender Pro 1200 is no exception. This borosilicate glass jar blender combines power, functionality, and versatility with its thoughtful design and extra attachment.
At nearly double the power of most blenders the Oster can take on nearly any kitchen project you can imagine. The 1200-watt motor and heavy-duty, stainless steel blades puree frozen foods, crush ice, and blitz greens and veggies.
We were particularly impressed by this small blender's sorbet capabilities. The consistency was smooth and velvety, even using solidly frozen fruits.
Folks with crowded countertops will especially enjoy this little glass jar blender, because all that blending power comes in a surprisingly small package. You'll dedicate less than 1 square foot of counter space to the Oster and it weighs in at under 15 pounds.
While it isn't the quietest blender, so it doesn't make the best choice for a dorm or crowded home. But small apartment and RV kitchens will get a much-needed boost from this tough little machine.
What's special about it:
Mid-range price for high quality construction
Borosilicate glass has superior corrosion resistance and can handle extreme temperatures
Super powerful "dual direction blade" pulls ingredients into blades for faster, smoother blend
Double the power of an average blender
Long lasting, all metal motor and extensive warranty
Compact, takes up little counter space
Not compatible with any other brands of jars or blades

Smoothie cup seal may loosen over time with use
Instant Ace Plus 10-in-1 Smoothie and Soup Blender
An up and comer in the kitchen appliances world, Instantpot, now has an affordable and high-quality blender. Folks looking for a blender that is up to the challenge of nearly any kitchen project should look no further than the Instant Ace.
With its stunning combination of features, this is the ultimate all-in-one blender. It has borosilicate glass, eight sturdy blending blades, and more settings than you'll know what to do with at first. Whether you want to cook soup, churn out nut butter, or make crushed ice cocktails Instant Ace has you covered.
It is expensive in comparison to many similarly sized glass jar blenders, but not exorbitantly. And the higher price tag isn't just for a superior blender – you're getting multiple appliances in one with this versatile machine.
The Instant Ace is perfect for people that want to clear some of the clutter. Because with all the settings and capabilities, you can finally toss all those secondhand crock pots taking up space! Apartment dwellers and small kitchens will rejoice in the slender, but powerful machine.
Blends and cooks, super versatile
Compact design won't clutter your kitchen
Medium-range price for a premium quality product
Most parts not dishwasher safe
Short coverage warranty
Ninja Foodi Cold & Hot Blender HB152
Another highly functional blender and cooker is the Ninja Foodi Cold & Hot Blender. It boasts a whopping 1400-watt motor, 12 smart settings, and a powerful heating element that can boil liquid in minutes. This model can replace multiple heavy, cumbersome appliances and weighs under 7 pounds!
The lack of extended warranty is unfortunate. However, Ninja's website has a host of reasonably priced replacement parts. Don't fret if the O-ring gives out eventually, or a piece goes missing – the company has all the bits and bobs you need to keep your blender running like new for years to come.
And easy access to those parts is especially great because there are a few design elements that may prove challenging. If not replaced in exactly the right position, the base can leak liquid onto the sensitive heating element and electronics.
It also lacks a manual blend function. So, it is dependent on the internal computer to work, but easy mistakes can make said computer very vulnerable. Those who purchase a Ninja blender should reassemble it with care every time to avoid accidental damage.
Multiple settings, blends and cooks
Super lightweight
Parts readily available on manufacturer's website
Most of the pieces are not dishwasher safe
No manual blend mode, dependent on internal computer
Base design can allow for liquid to slowly seep into electronics
Oster Reverse Crush Counterforms Blender
Folks looking for a mid-range blender without too many frills and settings should take a look at the Oster Counterforms Blender.
Dual blade technology is Oster's claim to fame and is the main selling point of this blender. Two sets of strong, stainless steel blades are moved in opposing directions to create a vortex effect. This vortex pulls ingredients down into the blades for fast blending and an end to smoothie jams and clogs.
It has sufficient power to churn out smoothie and sorbets. And the borosilicate glass means you can blend at any temperature. No lengthy clean up time either – the design is simple to clean, and entirely dishwasher safe.
However, the long warranty leaves a few things to be desired. The base is plastic, and rather cheap in comparison to the all metal motor and tough glass jar. Things like a cracked base are not covered on the 10-year warranty, and replacement parts are often out of stock or costly.
Easy to clean, dishwasher safe
Reverse blade design reduces jams
Plastic base, lower quality and less sturdy
Extremely loud
Some parts not included on warranty.
Hamilton Beach Wave Crusher Blender
Hamilton Beach is a respected name in blenders and provides a vast range of powers and uses. For an inexpensive and high-performance blender, consider the Hamilton Beach Wave Crusher.
The blades are uniquely designed to crush ice with clean efficiency and can even eat through 2 tons of ice without trouble. That's a lot of daiquiris! And the easy pouring spout lid means that you can keep those smooth drinks flowing all summer long.
The removable blades, thermal shock tested glass jar, and lid are all dishwasher safe and exceedingly simple to clean and reassemble. However, the cheap plastic base defies the quality of this blender's other parts.
Though much is solidly built, the base is pivotal to functionality. A sturdier base would make this product a truly excellent buy.
Less expensive than your next manicure
Removable blades, dishwasher safe
Low cost means less functions
Plastic base, poor durability
Noisy motor
Buyers Guide – Everything you need to know about choosing the best glass blender
Will you be blending hot liquids?
Probably one of the main reasons you are looking at a glass blender is for health considerations.  If you want to blend hot ingredients in a glass blender you should be fine. 
However, you will find that most of the high end blenders don't utilize glass for their pitchers so if you are planning to make hot soup from cold ingredients you will find it hard to find blenders that have this functionality.   
However, one of the blenders on our list the Instant Ace Plus 10-in-1 smoothie  and soup blender has a work around for this problem.  This blender utilizes a hot heating element unlike blade friction heating blenders.
What do you plan to use it for?
The first thing to ask when looking for a new blender is: what do you want to be able to use it for?
If you plan to use the blender every other day and plan to blend only soft ingredients you don't need a lot of blending power.  
However, if you plan to blend ice, frozen fruits and make nut butter the blending power and durability are essential.  You want to look at the watts of the blender, the type of warranty, and also how easy is it to get replacement parts if something goes wrong.
Aesthetics and Type of Glass Jar
One of the benefits of a glass jar is you don't have to worry about discoloration or scratching of the jar.  You will find that most of the blenders on our list are made of borosilicate glass.  This type of glass is safe and environmentally friendly.   Borosilicate glass is also thermal resistant.
How well does it blend? Price vs Performance
The more powerful the motor, generally the pricier the blender. What kind of power do you need from a blender? For ice and frozen fruits, a wimpy motor just won't cut it.
Until you turn it on, it's easy to forget that blenders can be incredibly noisy! If you live in a dorm, or thin walled apartment building you should seek out something that runs quiet and smooth. And don't forget, the more powerful the blender the more likely it is to make a ruckus.
Type of Blades. Does it have removable blades?
A blender's blades are equally important to the motor and jar. Most blades are a variation of stainless steel and are incredibly durable and rust resistant.
You can also find ceramic blades, which are also strong but often more expensive to replace. Ceramic blades can also chip and break. For blending it's better to stick with steel, or risk losing a piece of your blade in your smoothie.
Another aspect of the blade to consider is whether or not they are removable. Removable means easy cleaning, and a much cheaper ability to replace the blades when needed.
The shape of a blender's blades should also be noted. Some models are simple and effective workhorses, while others boast two sets of reverse moving blades to suck ingredients down and speed up blend time.
Speed Settings. Is it Programmable?
How many speeds a blender has will play into how many different projects you can use it for. Those who just want a one-and-done smoothie maker won't need to pay the extra money for multiple speeds.
Do you want to be able to roughly chop one batch, and puree another? Go for a blender that has a variety of speeds and programed settings. They are pricier, but make up for it in versatility.
Can you repair it? What is the warranty?
When it comes to the longevity of your blender, consider things like these:
Does it come with a warranty?
Is it a limited warranty or a full warranty?
Does the company sell replacement parts?
If the blender is simple to disassemble and clean, you'll have an easy time keeping it in tip-top shape.
But if something goes wrong, a good warranty and ample supply of replacement parts can save you from being forced to purchase a whole new machine.
Ease of cleaning and diswashwer safety?
How easy is it to clean?
Is it dishwasher safe?
Are the blades removable?
There are few things more frustrating when you have blended up dinner, drinks, or simply finished food preparation than having to then wash all of the blender's components by hand.
Look for a blender that has dishwasher-safe parts so you can simply toss everything into the dishwasher when you are finished.
Generally, items will need to go on the top rack, but this still makes it a lot easier to clean up your kitchen, especially when you are in a rush to get out the door or are having people over for a meal and want to make sure your kitchen is clean.
Some blenders have self-cleaning technology.  This takes the hassle out of after-meal chores.
How much space do you have to store a blender? If you have a small kitchen, or live in an RV or a dorm then a bulky appliance may be a big concern.
And since counter space is always a fight in a busy kitchen ask yourself: why have 4 appliances cluttering up your counter when you can have 1? Many glass jar blenders are multi-functional to a mind-boggling degree, like the Instantpot brand products.
What are the benefits of glass jar blenders vs plastic?
The biggest benefit of glass over plastic when it comes to blender jars is the durability and safety. Plastic can crack under extreme temperature change, and any scratches that form over time can harbor nasty bacteria.
Regular glass can also crack, but most blenders are made from an extremely durable, chemically treated glass. Borosilicate glass is thermally tested, shock resistant, and many times stronger than plastic and standard glass. When it comes to safety, borosilicate glass is the way to go.
Unlike plastic, a glass blender jar does not retain any smells or colors from the ingredients you use. Glass is easier to clean, and more sanitary.
And let's not forget, glass just looks classier than a dingy plastic blender. Glass retains a clear, un-fogged look and ice won't scratch it up over time.
Those worried about the weight of their blender pitcher may want to avoid glass. But for most kitchen equipment, glass is simply better!
Can you blend hot liquids?
That all depends on the temperature and type of glass. Standard glass blenders can handle warm liquids. But never pour steaming or boiling liquid directly into regular glass. The abrupt temperature change can cause the glass to crack, or even shatter.
Borosilicate glass, on the other hand, can handle any temperature! If your blender has a borosilicate glass jar you can pour boiling or ice-cold liquid in with no worry of damage. Folks who plan on using their blender for anything other than room temperature or cold liquid should spring for borosilicate glass.
Are Ninja blenders glass or plastic?
Ninja brand blenders come in both glass and plastic models. All their plastic jars are BPA free, and completely non-toxic.
Are Vitamix blenders glass or plastic?
Vitamix's high speed blender pitchers are only available in a high-density polymer plastic. They are all BPA free and non-toxic.
What are some other blender manufacturers that have glass jars?
If you're looking for even more reputable brands to source a glass jar blender from check out these manufacturers: Oster, Braun, Cuisinart, Black + Decker and Kitchenaid.
For the combination of price and blending performance, the Oster Blender Pro 1200 is the top pick. It is reasonably price, has a powerful 1200-watt motor, and the sturdy borosilicate glass can blend ingredients of any temperature.
And for folks looking for some more bang for their buck, the Instant Ace Plus is the best blender, food processor, cooker, and more! This all-in-one machine can take on almost any recipe without the help of other appliances, and will help you clear your counter and cabinets of dreaded "uni-taskers."
No matter your price range, there's a glass jar blender out there for you!
Add Your Heading Text Here​
Add Your Heading Text Here​
Add Your Heading Text Here​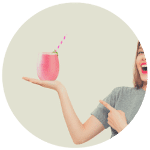 Hi, I am Charms, a self-confessed smoothie fanatic!  Here I will share some of my favorite smoothie recipes, tips and guides and gear reviews.   Learn more .