The question is not only "will it blend?" but will it keep blending through thick and thin? With the right commercial blender, you'll be able to keep the smoothies flowing all day long!
Our staff has years of experience in commercial kitchen and cafes, and in this article, they are here to tell you about the 5 best commercial blenders available today.
As per the usual, Blendtec makes it to the top of our list again. For a fast-paced café or food truck, you can't go wrong with the Stealth 895.
Best Commercial Blenders Product Reviews
Blendtec Stealth 895 NBS - Nitro Blending System
If you're looking for the best possible commercial blender for your food truck or smoothie stand, look no further. Blendtec has done it again, this time revolutionizing the commercial blender to make it even easier for high volume output.
It's rated for over 200 uses per day, cuts your waste with the jarless operation, increases your profit margins, and the blades are blunt and won't cut up your hands in the dish pit.
And it's quiet enough to have a normal conversation while in use.
What's special about it:
Innovative "jarless" blending eliminated waste
One of the quietest commercial blenders available
Extensive blending programs for superior consistency
Built for super high volume: 200+ blends per day
Exceptionally powerful motor
Extremely durable, great warranty
Mid-range price for high-quality appliance
Jarless operation suited to commercial use only
Vitamix 36019 36019-1 Vita-Mix Quiet One Blender
Another exceptionally quiet model for the commercial blender world is the Vitamix Quiet One.
We love the durability, versatility, and good warranty coverage. And with 92 speeds, 34 optimized programs, and 6 program buttons you can be sure that this machine can handle any recipe you can think up.
What's special about it:
More speeds and programs than any other brand
Quieter operation won't disrupt atmosphere
Precise jar measurement markings make it easy to follow recipes
Powerful motor, but less noisy
Easy to clean design
Durable, good customer service
Need to be on the lookout for fakes and knockoffs
Vitamix, 64 Oz 62826 Vita-Prep 3 Food Blender
For a more versatile pick, check out the Vita-Prep 3. It will shine in restaurant kitchens due to its dependability and good warranty and can take on nearly any ingredient or recipe.
The variable speeds allow for precision control, but the requisite lack of timers and programs may be a downside for cafes and smoothie bars that need consistency and quantity.
What's special about it:
Versatile and durable – can make nut butters, flours, soups, smoothies, frozen drinks, and more
Precise, variable speed control lets you get the texture just right
Powerful motor
Large, tall jar reduces spills and fits awkward shapes
Tough, suitable for variety of ingredients
No presets or programs
Need to be on the lookout for fakes and knockoffs
Blendtec Commercial CONNOISSEUR 825 Blender - With Two FourSide Jars & Soft Lids
Another excellent super-duty commercial blender from Blendtec, the Connoisseur can handle over 150 uses per day. 
We really appreciate the blunt, but super strong blades that make quick work of frozen fruit but won't cut your hand while cleaning.
However, the operation of this model is somewhat complex and a little clunky. Training on these may take some extra time, but once you're familiar with it the results are consistent and fast.
What's special about it:
Blunt blades make cleaning safer and easier, but don't sacrifice effectiveness
Built for 150+ blends per day, and as fast as 14 seconds
All metal motor lasts longer and needs less maintenance
Blade design is safer, and just as effective
Lower price range for the type
Slightly less powerful motor than competitors
Heavy, awkward operation
Hamilton Beach Commercial HBH550 The Fury Blender
For a budget commercial blender, take a look at Hamilton Beach's Fury. It's strong enough to take on ice and frozen fruit, and the timer allows you to set it and forget it.
However, the warranty leaves something to be desired. This supposedly heavy-duty blender has only 2-year limited coverage. 
That means most breakage, labor, and wear and tear are your responsibility. Not what you want to hear for a high-use appliance if you will be using it commercially!
And, unfortunately, it doesn't have a sound barrier. Overall, this model is better for kitchens and not quiet café settings.
Powerful motor
Relatively inexpensive
Less comprehensive warranty
Lack of pre-sets and smart programs limits versatility
The first thing folks notice about commercial blenders is that they are significantly more powerful than any appliance designed for home use. 
Most personal blenders have motors somewhere in the 200-1000 watts range. Commercial often exceed 2,000!
Most commercial blenders come standard with a larger jar capacity than personal. Do you make big batches of soups or multiple smoothies at a time? A bigger jar is a must.
Some commercial designs, like the Blendtec Stealth, eschew a jar altogether and are compatible with the disposable cups used to serve beverages. Nothing is wasted, meaning you can finally plug all the leaks in your profit margin.
The most standout part of commercial blenders is the durability. In a fast-paced environment these blenders can see high usage, and the most reliable brands can handle anywhere from 50 t0 200+ blends per day.
Though the durability is higher, when compared to personal blenders these workhorses have much weaker warranties. The most comprehensive warranty on a commercial blender you are likely to see is around 3 years, often less.
All that oomph comes at a serious price. Whereas a good home blender can run up to a couple hundred dollars, commercial blenders are almost never under $500! 
Don't be surprised by price tags well into the $1,500 plus range for a commercial blender worth its salt.
Those powerful motors are also much louder than their home use counterparts.
If you're trying to cultivate a quiet, cozy atmosphere in your café don't let a buzzsaw blender ruin it. 
Seek out blenders with noise guards/shields that encase the entire machine. Vitamix and Blendtec are particularly well known for their unobtrusive operation.
Like personal blenders, you can find any number of features and attachments for the commercial models. Pre-sets, sensors, tampers, and more.
What do you plan to use your Commercial Blender for?
Bar blenders are fast, efficient machines. They have exceptionally well-designed blades, because for daquiris and margaritas the ability to handle frozen fruit and crush ice is a must.
Restaurants will likely need a more multipurpose blender. This type is appropriate for sauces, purees, soups, and drinks and can work with both hot and cold ingredients.
A bit more specialized, food blenders are some of the biggest and strongest on the market. Durable blades and a powerful motor are important for blending even the toughest of foods, and jars are massive to accommodate whole vegetables and fruits.
Frequently Asked Questions
Commercial vs Household blenders
Commercial blenders are for high volume use (50+ per day) and are very expensive.
Household blenders are much cheaper, but significantly less durable and meant for a few times daily use at most.
What blender is good for a bar?
For frozen drinks and crushing ice, Hamilton Beach makes a dependable bar blender. Their blades are specially hardened and designed for ice, meaning those daiquiris come out smooth and fluffy every time.
What is the most versatile blender?
The Vitamix Vita-Prep 3 is a food blender that can handle nearly any kitchen project your throw at it. The jar is big enough for any ingredient, and you can even pulverize whole grains into flours in this bad boy.
What blender should I use if I plan to do over 100 servings per a day?
Blendtec is king when it comes to high volume blending. The Stealth 895 model is designed to be operated more than 200 times per day.
Blendtec vs Vitamix vs Hamilton Beach commercial blenders
As the three most prominent commercial blender brands, here's a quick rundown of the differences between Blendtec, Vitamix, and Hamilton Beach:
Blendtec: extreme durability, lengthy & comprehensive warranties, very expensive
Vitamix: very durable, medium term warranties, expensive
Hamilton Beach: decently durable, shorter warranties, less expensive & wider range of prices
The Blendtec Stealth 895 NBS is our favorite because of its stunning combination of features. It cuts out food waste, runs quietly, and delivers perfect consistency over 200 times per day.
But the Vitamix Quiet One is a strong runner up. With a staggering number of speeds and programs, as well as low noise operation it will make a solid addition to any café.
We hope that this article has helped cut down on some of the research to find the best commercial blender for you, so that you can stop scrolling and start blending!
Add Your Heading Text Here​
Add Your Heading Text Here​
Add Your Heading Text Here​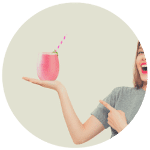 Hi, I am Charms, a self-confessed smoothie fanatic!  Here I will share some of my favorite smoothie recipes, tips and guides and gear reviews.   Learn more .