Bullet blenders. They're tiny, fast, and perfect for that morning smoothie on the go.
But with so many models springing up after the initial hype, how can you be sure you're buying the best bullet blender the first time?
Our experienced staff of smoothie fiends and kitchen wizards are here to help. In this article we've selected our top 5 best bullet blenders, included in-depth reviews, as well as buying tips and considerations.
Jusseion Smoothie Blender – This bullet blender has a powerful 1200 watts motor and has two smoothie cups.
Nutribullet Blender Combo – If you prefer a bullet blender thats more versatile have a look at our pick. This blender also comes with a 64 oz. container.
Ninja BL480D – This blender comes with 2 Auto-IQ programs.
Best Bullet Blender Product Reviews
Jusseion Smoothie Blender
Folks seeking a more versatile little blender will love the Jusseion. The impressive 1200-watt motor can handle crushing ice and smoothies with ease, and even tackle nut butters and soups.
Our favorite features of this blender are its safety and thoughtful design. The grippy feet keep this pintsized powerhouse from "walking" off the counter – no more messy accidents! 
And the smart-touch programs will blend to perfection while also safeguarding the motor from overheating.
It is pricier than most bullet blender models, but when you have that kind of protection and longevity it becomes a lot more economically sound to spring for a great product.
What's special about it:
Double the power of most bullet blenders
Multi-angle, 6-pronged, stainless steel blades
Suction cup feet hold blender to counter
Incredibly powerful
Solid warranty and customer service
Easy, hands free operation
Expensive for a bullet blender
NutriBullet ZNBF30500Z Blender Combo
NutriBullet has a reputation for powerful and compact blenders. And now you can get their legendary high-performance blades and jars in a more versatile package.
Because this combo has a standard blender jar made of super strong copolyester, as well as a bullet – all on one souped up motor base! Perfect for the chef looking to expand their kitchen repertoire.
Bullet blenders can't be used for hot liquids, but with the included standard blender jar and vented lid you can even blend soups, coffees, and more.
Unfortunately, this model does not come with any pre-set programs and only has a limited warranty. That means you'll need to take care not to blast the motor for long periods, or you risk overheating.
What's special about it:
Combination bullet and standard style blender
High performance blade and jar materials
Appropriate for hot or cold blending
Incredibly powerful
Easy to clean
Highly versatile, 2-in-1 appliance
Wimpy warranty
No pre-set programs
Ninja BL480D Nutri 1000 Watt Auto-IQ Base
Ninja has been providing excellent, mid-range blenders for hundreds of years. So, when you need a low profile, but beefy blender that won't break the bank look no further.
We love the hands-free operation provided by the intelligent Auto-iQ blending programs. 
Not to mention that pre-sets like these will go a long way toward extending your motor's life by preventing overheating and building in cool down periods during the cycle.
However, that strong motor is also ridiculously loud to operate. Probably not a smart choice for those with small children or roommates who like to sleep in.
What's special about it:
Auto-iQ programs give perfect blends every time
Super strong, Tritan copolyester jars
Impressively powerful for the size
Powerful motor
Hands free operation
Reasonably priced
Wimpy warranty
Super noisy
COSORI Blender for Shakes and Smoothies
Seeking a cheaper option, but don't want to completely sacrifice power? COSORI has the perfect, middle-of-the-road bullet blender for you.
Our favorite feature is the blade design. They sit at multiple different angles, and each has a different shape to power through different ingredients. 
Which means that even though it's less powerful than bigger brand names, you can still get great performance.
The warranty and customer service leaves much to be desired, but if you take care of this blender using the auto blend feature to prevent overheating then this inexpensive appliance will last quite a while.
Also, we recommend purchasing the extended protection so you can replace any leaky seals with ease.
What's special about it:
Super strong, Tritan copolyester jars
Auto blend: 3 seconds and pauses for 1, reducing risk of overheating
Hardened steel, 6-pronged, specially designed blades handle a variety of ingredients
Decently powerful
Auto blend program
Around $50
Wimpy warranty
Sub-par customer service
Seals develop leaks
Magic Bullet Blender, 11 Piece Set
First available on late night infomercials, Magic Bullet introduced the bullet shape to personal blenders. And college kids or those new to bullet blenders will love the superior accessory array and low price point of Magic Bullet.
But that cheap price comes with a few major downsides. There is no included warranty, though you can buy one.
And with no pre-set programs to keep the motor from over-stressing, that means it's up to you to watch over your blender as it works.
What's special about it:
Inexpensive, lots of bang for your buck
Includes one set of blades for grinding and chopping, and one for blending
Costs around $40
Accessories galore
No warranty included
No pre-sets
Low power
Buyers Guide - Features to Consider
How much power do you need? For the daily protein shake drinker that doesn't experiment in the kitchen much, a low power bullet blender like the Magic Bullet may be perfect.
But, if you want to be able to blend up frozen beverages, nut butters, and more then you should find the most powerful option available.
Jusseion and NutriBullet offer exceptionally powerful bullet blender models.
Many less expensive bullet blenders are "one speed fits all." This is great for quick blends, chopping, and spice grinding. However, leaving a blender running at full speed for extended periods can cause issues.
Motors can heat to extreme temperatures as they are used. When motors overheat it causes stress on the motor itself and can even melt some nearby parts.
Pre-set programs that can run a blending cycle at the touch of a button are convenient and safer. These cycles have pauses and cool down built in to keep your motor running in tip top shape.
Folks planning on using their bullet blender for time consuming projects (like nut butter) should go for a model with pre-set programs that will keep the motor from overheating and breaking down.
Like their full-sized cousins, bullet blenders come in a wide range of prices. So, what you spend is entirely up to you!
Generally speaking, the more you spend the more you get. Bullet blenders that cost over $100 will likely be more powerful, made from better quality materials, be more versatile, and have a longer warranty.
The NutriBullet Blender Combo is the most luxurious on our list and comes in at a little under $150.
Are you a college kid who needs something inexpensive, but all-inclusive? The Magic Bullet is less than $50 and a great little blender that has tons of accessories, lids, and cup sizes to beef up your kitchen.
What Is the Best Bullet Blender for Frozen Fruit?
Smoothies can be as fast and easy as freezer, blender, program, go! And bullet blenders like the Jusseion, NutriBullet, Ninja, and COSORI all have super convenient pre-set blending programs.
But for a truly smooth frozen fruit drink you'll want to go for a powerful blender too. We recommend at least 1000 watts of horsepower to be confident in a blender's ability to make chunk-free blends.
What is the Best Bullet Blender for Crushing Ice?
As with frozen fruit, you'll want to look at the power of a blender first. Most kitchen experts recommend a minimum of 1000 watts, but the more the better!
Jusseion, NutriBullet, and Ninja all offer bullet blenders with more than 1000 watts of power. All three also have pre-set programs to help keep the strong motors from overheating.
The next most important feature for perfectly pulverizing ice is the blade design. The more blades and angles, the more the blades come into contact with the ice and the quicker and easier the blender will crush it.
Blades that feature 4 or more prongs are most desirable. Jusseion's blades have 6 prongs that are at 3 different angles. NutriBullet and COSORI also feature bullet models with 6-pronged blades.


What Is the Most Powerful Personal Blender?
The most powerful bullet blenders on our list today are:
Jusseion Smoothie Blender, 1200 watts
NutriBullet Blender Combo, 1200 watts
Should I Buy a Juicer or a NutriBullet?
That entirely depends on what you would like your appliance to do. Let's take a look at the difference between juicing and blending to get a better idea of which is the best fit for you.
Juicing
No pulp or fibrous plant materials, just liquid
Higher concentration of nutrients by volume
Quicker and easier to digest, less filling
Plant fibers are leftover
Blending
Lots of fiber, which supports healthy digestion and blood sugar
Slower to digest, more filling
Includes nutrients only found in skin & flesh of ingredients
For a more in-depth look at the difference between juicing and blending, check out this Healthline article.
Though some blender companies advertise that their products can juice as well as blend, there is yet to be a true juicer blender combination appliance.
If a company says their blender can also juice… chances are they're fibbing. We have yet to encounter a blender juicer combo that is not just making a well-blended smoothie of juice-like texture.
When you need a solid, long lasting bullet blender that can take on the power intensive jobs of the bigger guys then Jusseion is your man. 
It's more powerful than many standard blenders for similar prices and has the hands-free operation you'll love.
Happy bullet blending!
Add Your Heading Text Here​
Add Your Heading Text Here​
Add Your Heading Text Here​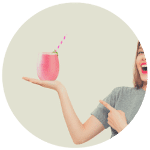 Hi, I am Charms, a self-confessed smoothie fanatic!  Here I will share some of my favorite smoothie recipes, tips and guides and gear reviews.   Learn more .