Blenders are some of the most versatile of kitchen appliances. But they can also be the most expensive if you aren't savvy. With such a wide and diverse array of blenders available, how are you supposed to find the one that fit on your counter, crushes ice, and won't break your budget?
That's where our team of kitchen mavens come in. Because with our knowledgeable reviews and handy buyer's guide, finding the best blender under $50 for you can go from chore to treat.
Product Reviews for Best Blender under $50
Ninja Personal Blender (QB3001SS)
In terms of power and ease of use, the Ninja Personal Blender outclasses every other model under $50.
This little guy sports one of the most powerful motors for its size, BPA free plastic cups, and four-pronged stainless-steel blades for extra puree power. And all the parts are dishwasher safe. No tiny hands or bottle brush necessary.
And perhaps our favorite part: it's remarkably quiet for the power! You'll be able to use it in the early mornings or at the office without worry.
What's special about it:
Powerful motor for such a small package
Quick and convenient design – grab and go breakfast smoothies!
Can handle ice, frozen fruit, nuts, and greens with ease
Cup shape funnels ingredients down to blades for faster blending
Dishwasher safe, easy to clean
Compact, but powerful enough for small jobs
Quiet for the blending power
Small jar capacity, not for every project
Oster 6684 12-Speed Blender, Black – Countertop
Folks seeking a more versatile blender for under $50 will appreciate the Oster 6684. Featuring a surprisingly powerful, all-metal motor and 12 speeds this blender purees with panache and does a decent job of crushing ice. 
We love the sturdy borosilicate glass jar, which can go straight from the dishwasher to blending ice-cold ingredients without fear of cracking. It also takes up remarkably little counter space, but the jar is big enough to handle medium-sized jobs with ease.
What's special about it:
Borosilicate glass can handle extreme temperatures and drops
All-metal motor plus extensive warranty for longevity and durability
12 speeds, plus a pulse setting for stubborn ingredients
Safe, sanitary, and strong materials
Large jar capacity, small footprint
Cleaning is a breeze
Long wait for replacement parts
Fairly noisy
Blender, Smoothie Blender, with Glass Jar, by Comfee (Silver) - Countertop
Another excellent budget option is the Comfee blender. It's less powerful than some, but a solid middle of the road choice that should last you a while.
Though the warranty is a little lacking, we're huge fans of the sturdiness of this blender. The base is made almost entirely of stainless steel, and the jar is shatter-resistant borosilicate glass
The 6-pronged stainless steel blades do a lot to make up for the modest motor power. Smoothies and salsas will come out just right. However, the intensity of ice crushing is a little beyond this Comfee blender.
What's special about it:
6-pronged, stainless steel blade for superior blending capability
Borosilicate glass looks great and can withstand drops and extreme temperatures
Suction cup feet keep it firmly on the countertop
Easy to clean, safe materials
Sturdy base and jar, long lasting
Easy to overheat, caution necessary
Fairly loud, only moderate strength
Ninja Blender/Food Processor with 48-Ounce Pitcher and 16-Ounce Chopper Bowl (QB900B)
Ninja's top-down blender for chopping and smoothies is handy and inexpensive. The pulse button on the top allows you to dice ingredients to your exact desired texture, a feature which takes the time and wrist strain out of food prep and makes dinner than much easier.
We did notice, however, that the warranty is severely lacking. Defective models often require steep fees to replace, and we were distressed to see that there is a high failure rate for this model. The mostly plastic constriction and poor reviews lead us to believe that this is a short-term blender.
What's special about it:
Easy to use, press down pulse button offers precise control
Great for finely chopping vegetables and salsas
Small blender and food processor in one
Mostly plastic, may not last
Warranty is lacking
In this section we'll give you some tried and true tips for finding your perfect blender.
One question to keep in mind for all these considerations: what do I want to use a blender for?
These days, most blender jars are made from plastic. And when it comes to bargain pricing, make sure you aren't getting fooled by cheap materials. Always check for BPA and phthalate free plastic, as lower quality materials can be full of nasty toxins.
Ninja is a manufacturer that holds themselves to high standards of customer health and safety, and always ensures that their plastics are completely non-toxic.
Jars can also be glass. Glass is heavier and more breakable but doesn't absorb color or get scratched like plastic. Those seeking a glass jar should consider Oster's borosilicate glass – a special, shock resistant, high and low temperature tested material.
For small motor blenders, like many of the ones we go into detail about in this article, consider using the pulse function.
Intermittent blending, or "pulsing," will remove the danger of overheating the motor, and even help get those stubborn pineapple chunks pureed. Some blenders have a pre-programmed setting, but you can also do it manually.
Oster blenders all come with a convenient pulse setting, which keeps them working longer than similarly priced models.
Blade material and design is the most important factor in how effective a blender is at various tasks.
Stainless steel is the most reliable material, as it is incredibly durable and easy to sterilize. Some manufacturers use hardened stainless steel to add oomph to your ice crushing capabilities.
Middle of the road blenders come with two or four pronged blades. But folks looking for a higher performing blender should seek out brands with 6 or more prongs, and multi-level blade setups. The more blades and angles at which those blades can break up ingredients, the more blending power.
Do you live in a dorm or apartment building? Does your partner work a different schedule than you? Is there a new baby in the house?
If you answered yes to any of those, the amount of noise a blender makes should be high on your list of considerations! Otherwise you'll be dealing with a crabby neighbor or cranky baby every time you want to drink a smoothie.
Often higher wattage motors make significantly more noise, so a moderately powerful option may be best for you.
The materials you should be most aware of when purchasing a blender are:
Blades – stainless steel is the strongest, most sanitary option
Jar – BPA free plastic is inexpensive and durable, borosilicate glass can handle any temperature
Base – metal will last significantly longer, but thick plastic will be more affordable
Frquently Asked Questions
How much should you spend on a blender?
To ascertain how much your blender budget should be, ask yourself some questions:
How often will I use a blender?
What kind of kitchen projects am I planning to tackle with a blender?
Which features are most important to you: chopping, ice crushing, frozen food blending power?
How much money could you save by having your own blender at home?
If you're a morning smoothie drinker, or just need the occasional salsa whipped up perhaps a more cost-effective purchase is wiser. And as we cover in this article, there are plenty of reliable blenders for under $100 on the market.
How many watts should a good blender have?
That depends on what you want to use your blender for.
Smoothies, sorbets, salsas, and everyday kitchen projects can easily be accomplished with home use blenders of 300-700 watts.
For juicing and pureeing a variety of ingredients into super fine, homogenous textures you'll likely want to go for a professional-grade blender. Most professional blenders are at least 1,200 watts.
For crushing ice, most recommend blenders be at least 1,000 watts.
Can a 300 watt blender crush ice?
Yes and no.  Blade strength and design is the most important part when it comes to crushing ice, with higher motor wattage playing a secondary role.
If a lower wattage blender has blades of hardened stainless steel or multiple layers of blades with 4 or more prongs, then it will likely do a decent job of crushing ice.
All that being said, for true ice crushing tenacity you should ideally have a blender with at least 1,000 watts of power.
Want to skip the blow-by-blow and get to the winners? Here's the scoop"
Our favorite, and the best blender under 50 dollars, is the Ninja Personal Blender. It packs serious power for the size and won't wake your whole house in the process!
But perhaps you want a bigger jar size, or a glass blender? Then the Oster 6684 is where it's at. Safe and sanitary borosilicate glass combined with a supremely durable motor makes this blender the obvious runner up in our tests.
We hope that these tips and thorough reviews have helped you navigate the vast seas of internet retail to find the right machine for you. Happy blending!
Add Your Heading Text Here​
Add Your Heading Text Here​
Add Your Heading Text Here​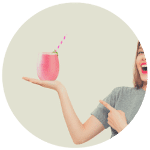 Hi, I am Charms, a self-confessed smoothie fanatic!  Here I will share some of my favorite smoothie recipes, tips and guides and gear reviews.   Learn more .